Cordon in city centre lifted as package determined non-suspicious
The public were asked to avoid the area around Rose Crescent after reports of a suspicious package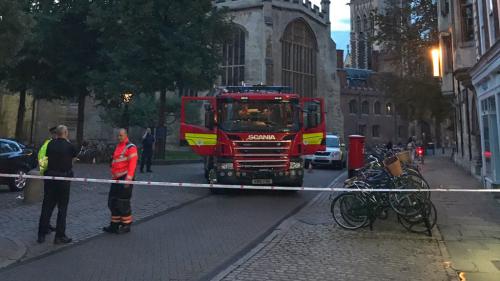 Police have dropped a cordon in central Cambridge, after determining a suspicious package did not present any danger to the public.
Several streets in central Cambridge were cordoned off after a package in Rose Crescent was reported to police.
Good news - cordon down outside Caius after suspect package found to be... not suspect. Hurray! Night all.

- Gonville & Caius (@CaiusCollege) 31 August 2017
The road has reopened in Rose Crescent. The package was found to be non suspicious. Thank you for your co-operation.

- Cambridge Police (@CambridgeCops) 31 August 2017
Trinity Street and Rose Crescent were both closed, and Trinity porters alerted students about the situation. Gonville & Caius students were told to enter the college via the Great Gate. Cambridgeshire Constabulary told the public to avoid the area. 
A bomb disposal van from the Royal Logistics Corps arrived at Trinity Street just before 10pm. They left at around 10:40pm.
The incident was first reported at around 7.55pm, when the Cambridge photo-diarist Sir Cam tweeted a photo of a cordoned off section of Trinity Street. The Cambridge police Twitter account confirmed that the force was dealing with reports of a suspicious package at 8.40pm.
At 9:05pm, Trinity's deputy head porter, Frank Barker, emailed the college, saying: "On behalf of Mr [Jonny] Bourne (Junior Bursar) I write to inform you that there is currently an incident taking place in the centre of Cambridge. We are liaising closely with the emergency services and are planning for any potential contingencies.
Trinity Street and Rose Crescent have been closed off by police after a suspect package was found near Michaelhouse - no evacuation of Caius

- Gonville & Caius (@CaiusCollege) 31 August 2017
Bomb squad here. No one in our accommodation close by - we're out of term. All calm in the Lodge!

- Gonville & Caius (@CaiusCollege) 31 August 2017
"At present there is no need for any member of the College to take any action. Should the situation change I will inform you as soon as I possibly can."
A passerby, George Pitts, told Varsity that he had seen that Trinity Street was cordoned off while walking down Green Street. "We overhead a man telling the police that his boss noticed a bag outside," he added.
He was moved on shortly afterwards after the bomb disposal van arrived, but said that the situation had "seemed to be under control", and that "it didn't seem to be anything serious."
Caius students were told they can enter the college via the Great Gate, which faces towards King's Parade, as the porters' lodge entrance was within the police cordon. No evacuation was undertaken. Caius said that there were no students in the accommodation around the incident area.
It is the third police incident in Cambridge involving a suspicious package over the past two months. Last week, police cordoned off much of St. Andrew's Street after being alerted to a suspicious package in All Bar One. The package, a suitcase, was destroyed by a bomb disposal squad, and found to contain clothes.
In June, King's Parade was evacuated after a suspicious briefcase was found at Great St. Mary's Church. Controlled explosions were carried out and the contents of the package was determined not to be suspicious. It was later confirmed that the case had contained books.