Controlled explosions carried out on King's Parade
King's Parade was evacuated and a bomb squad was called out after a briefcase was found near Great St Mary's
Footage of the two explosions that were heardLouis Ashworth
Police have carried out controlled explosions left on a briefcase at Great St. Mary's Church. However, the contents of the briefcase were "not suspicious", according to a tweet posted by Cambridgeshire police at 10:24pm. Police later clarified that the briefcase had contained books.
At around 7:30pm, Cambridgeshire police officers cordoned off a sizable portion of King's Parade, much of which remained closed to the public until 10:15pm.
A bomb squad arrived at the scene at around 9:30pm, and the controlled explosions took place shortly afterwards. No further detonations are expected to occur.
The cordoned area included the Senate House, Great St. Mary's, the marketplace, and King's College. Corpus Christi College accommodation on Bene't Street was also evacuated.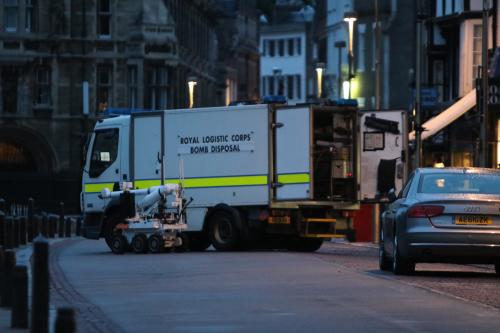 Students at Gonville & Caius College were confined to the bar as a precaution. Some have now been allowed to return to their accommodation, and the college has confirmed that all those who remain evacuated are "safe in Old Courts".
While the bomb disposal unit was on the scene, police warned King's students in nearby accommodation to stay well clear of their windows, and to remain indoors where possible.
Diners at the Cambridge Chop House were evacuated to a safe distance. One customer told Varsity that "a police man came down and demanded that everybody got out the restaurant, so I grabbed my crème brûlée and ran".
Today was the first day of an increased armed police presence in Cambridge following the terrorist attacks in Manchester and London. Chief Constable of Cambridgeshire Police Alec Wood promised "a heightened visible policing presence across key locations in the county" in response to the events of the last few days.
The University reported through its Twitter account that "King's Parade and Market Square cordoned off as precaution after suspect package found on street. Some colleges evacuated, everyone safe", but have otherwise not made comment