Pink Week fundraising total exceeds £33,000
The final fundraising total for Pink Week was announced today, surpassing last year's total by almost £10,000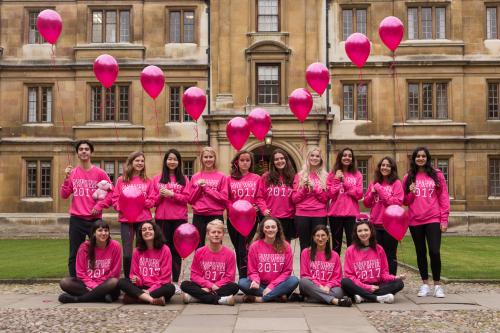 Cambridge Pink Week 2017 raised a total of £33,688.35, the Committee has announced.
The funds raised exceed last year's total of £24,000 by almost £10,000, and surpass the 2017 committee's goal of raising £30,000. The money will go directly towards a number of breast cancer charity groups, such as Breast Cancer Care, Cancer Research UK, Breast Cancer Haven and CoppaFeel.
The student-led breast cancer charity initiative, founded by Clare College student Nina Rausch in 2011, held eight University-wide events and a number of smaller college events from February 2nd to February 11th, raising funds and awareness for breast cancer care and research.
The Pink Week Ball was the pinnacle event, officially opening the week and attended by approximately 600 students. The Ball raised £15,000 in the first half an hour of ticket sales, and was a well-received event, despite allegations of bad behaviour by a small group of Ball-goers. 
2017 Committee President Olivia Buckland told Varsity, "The enthusiasm for Cambridge Pink Week has grown year on year, and we hope that our fundraising achievements are paralleled by an increase in awareness of breast cancer, and individual body norms."
"A month on from Pink Week 2017, we hope that a monthly check for signs of breast cancer becomes routine. Because early detection saves lives."
Over 60 students were involved in the curation of Pink Week, with Buckland expressing her appreciation for "the continual support of the committee especially Joe Landman, Issy Pearce-Mason, Emma Walsh, Gordon Hao, Kate Hair and Lydia Marsden - without whose dedication and love for Pink Week and what it stands for, the festival of events would never have come to fruition in such spectacular style."
Pink Week is now present on a number of university campuses in the UK, including Bristol and Birmingham. Preparations are already underway for Cambridge Pink Week 2018