Angel Olsen Phases review: 'a magical tour of Olsen's artistry'
Perdi Higgs praises the magical musical tour of Angel Olsen's career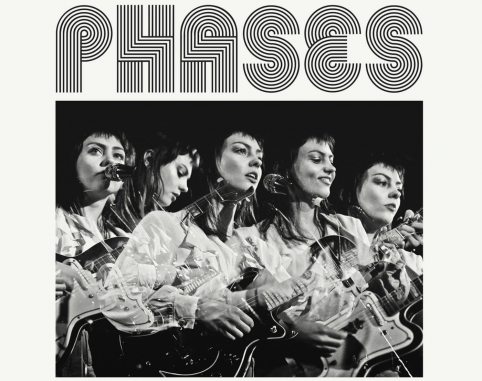 "Our love never made it – it's still mine, if only real in my mind."
Phases is a window into the constant evolution of Angel Olsen. Standing as a collection of B-sides, demos and covers, the tracks are generally short in length, the average being two or three minutes longs. For Phases, this seems rather apt, as it gently passes through Olsen's career, never fully stopping or settling. We feel like a visitor in her creative process, and the effect of this is rather wonderful.
Phases misses out on the electricity of Angel's studio albums like MY WOMAN (2016) where she stirs up a raucous. 'Shut up and Kiss Me' was a playful romantic declaration where in the video she danced in a tinsel wig. 2014's Burn Your Fire for No Witnesses held its fiery power in its grittier tracks, 'High-Fi' or 'Stars', where the clash of guitar led Olsen's voice through an almost cacophonic reverb. Phases appears a departure from this, and is in a sense, rather stripped down. However, this is what is at the core of the album's intensity.
"Her clear, often quivering voice shines through, creating profound moments of great vulnerability, where I believe Olsen is at her strongest"
In Phases, Olsen's power is presented in an entirely different way. It is found in Olsen's voice, unmatched, without any competing sound. Her clear, often quivering voice shines through, creating profound moments of great vulnerability, where I believe Olsen is at her strongest. "May as Well", echoes like a Roy Orbison ballad, and across her work, Olsen is at her most emotionally powerful in the final moments of her songs, when she often utters the same phrase in repeat. "I'll never forget you all of my life."
This gentle utterances are where Phases feels most like a lullaby, despite that the world Olsen paints is far from perfect. Olsen's softer songs have the ability of evoking a sense of loneliness in a way that is still strangely comforting. 'How Many Disasters' is a particularly special moment for this, and as Olsen almost whispers, "how unfair to have a heart that's still beating", it pushes forth a strange sense of melancholic acceptance: none of this really makes sense, yet here we are.
Tracks show the inflection of country-style ballads, singers such as Crystal Gale or early Dolly Parton. These artists who sung of heartbreak, in their pure voices and engaging melodies, flew to the top of their respective charts. Country music has historically enabled songwriting and performance of great female artists, navigating pain in contrast to their almost saccharine voices. It feels like an unexpected upper-cut to the heart, as in their softness, they have a special force behind them.
"This isn't a 'greatest hits' of any kind, and yet it tells us about Olsen's work in a way nothing has before"
An example of this in Phases, is found in 'Tougher than the Rest', a Bruce Springsteen cover taken from his 1987 album, Tunnel of Love. Olsen reimagines this soft-rock ballad in a simple acoustic form, allowing a tinnish vocal to echo through. The effect is quietly haunting. As Olsen sings, "Some girls like a sweet-talkin' Romeo, Well 'round here baby I learned you get what you can get", Springsteen's weathered romances are reimagined. Reducing to almost a whisper, Olsen only becomes more sincere.
The final track, 'Endless Road', a little-known Hoyt Axton cover, is a two-minute conclusion that sounds like a long-forgotten Johnny Cash ballad. It seems a fitting ending for Phases, imagery of a "rolling stone" almost reflects the experience of the listener travelling through Olsen's career. This isn't a 'greatest hits' of any kind, and yet it tells us about Olsen's work in a way nothing has before. The track list has been selected masterfully, and in its final moments, Olsen's lone voice that has led us through this journey becomes more resolute: "I nevermore will roam, and every road I see will lead me home."
Phases is a magical tour of Olsen's artistry. While we are just visitors in her mind, as a diverse collection, each track effortlessly masters the fiery power hidden in every word sung. The album feels like a hushed confession, that in its sincerity, urges you to listen