Skepta Vicious review: 'not far enough out of his comfort zone'
"A dilution of what distinguished grime as an innovative genre in the first place" – Max Goodall is conflicted about Skepta's ambitious EP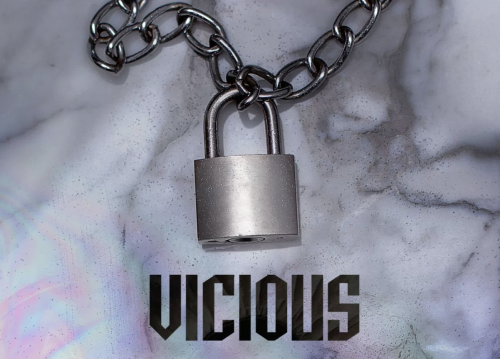 Skepta is clearly keen to persuade listeners success hasn't changed him. The dark chains dominating the cover of his new EP Vicious represent an artist confidently committed to his roots, as he states in 'Ghost Ride', "Man I got six chains, and I wear them anywhere".
The EP is a work composed of two twin impulses: British grime authenticity alongside a new trajectory of cross-Atlantic expansion. In many ways it represents a hugely significant moment in Joseph Adenuga's career. Following a period of surging success, including critical acclaim, a Mercury Prize and an album peaking at number 2 in the UK charts, many options are now open to the grime figurehead. A scan down the record's feature list illustrates this, with appearances by Lil B, A$AP Nast and A$AP Rocky, as well as South London's finest, Section Boyz.
Skepta has appeared alongside A$AP Rocky in the past, featuring on the track 'Put That on My Set' from the A$AP Mob release Cozy Tapes, Vol. 1: Friends. Moreover, 'Ghost Friends' is the fourth Skepta x A$AP release overall, following previous features of A$AP Bari on 2014's 'It Ain't Safe' and A$AP Nast on 2016's 'Ladies Hit Squad'. This a connection which has clearly been developing during recent months, with Skepta's shoutout to "my A$AP family" on the original release of 'No Security' last Halloween. Cross-Atlantic partnerships such as this are arguably what's so exciting about grime right now. The fact that Skepta can command the respect of Rocky, AJ Tracey is appearing on tracks alongside Rick Ross and Giggs can bring out Drake at a UK Festival appears only positive for grime as a genre and a movement. However, in some ways this EP is also evidence that crossovers represent a dilution of what distinguished grime as an innovative genre in the first place.
The effect of this stateside focus is certainly present throughout Vicious, especially on tracks such as 'Sit Down' featuring Lil B, where over a trap-influenced beat Skepta parodies Kanye's American Boy verse, rapping "Whose killin' 'em in the U.S, everybody gonna say U-S/Reluctantly, 'cause most of the fake don't fuck with me". Moreover, Lil B's mumble-flow is a far cry from the clear, sharp and concise bars usually expected of a Skepta track. The beats throughout the record maintain a strong US influence, and represent a definite step away from the riff-based, self-produced sounds that have always been fundamental to Skepta's style, as well as being instrumental in the success of Konnichiwa.
'Ghost Ride' is slightly more of a stylistic blend. Though the American light snares and relaxed feel are there, so too is a quintessentially Skepta chunky piano line and the classic grime menacing sense of harmony. Moreover, though the appearance of the triplet flow of A$AP Rocky is a departure, Skepta's supremely confident bars arguably put both him and Nast down with ease. He raps "Live a bit in these streets, I teach you how to survive/You disrespect me, you playing around with your life" – perhaps competition is what pushes Skepta to raise his game.
"Caught between these twin impulses, at once Skepta seems to be stepping too far and not far enough out of his comfort zone"
On first listen there is an apparent lack of vintage Skepta bangers on Vicious. Originally dropped on Halloween 2016 and now completed with an additional second verse following release as a single in February, 'No Security' goes some way to making up for this. The almost whispered hook exudes danger and menace, and Skepta goes in, silencing critics with his success, commenting "At the awards, intoxicated/The most nominated/And the dress code is understated." Many commentators, however, have noted the similarity of 'No Security' to 'It Ain't Safe', the fifth track on Konnichiwa. The beat certainly evokes a sense of familiarity, sounding slightly unoriginal and losing momentum as a result. Caught between these twin impulses, at once Skepta seems to be stepping too far and not far enough out of his comfort zone.
The main candidate for new classic is probably the album opener 'Still'. The track has a typically tense opening, and though maybe not a potential club banger, the beat gets my head nodding in seconds. Skepta goes in hard, covering topics from his experiences selling coke as a kid - "Sold white on a pushbike in my brand-new jeans so I had the right leg tucked in/Phone line rang so much that the ringtone started to sound disgusting" - to his own now certain status within UK hip-hop history. The track's hook and title is a reference to 'Reflecting', the opening track of his 2009 album Microphone Champion, on which he displayed an awareness even then that his concise style would lead him to success ("you write a hundred million flows while I write that one classical line"). His confidence only grown in the intervening 8 years, on 'Still' he raps "Top boy for too many years and still nobody can top me/It's me they all tryna sound like, it's my gang they all tryna copy".
Despite this, in one of the EP's most interesting moments, Skepta arguably shows an awareness of the limitations of his own style. On 'Hypocrisy' he spits "No, I don't do that conscious rap, but/Man still know about Wretch and Kendrick". Perhaps this is the point. Skepta doesn't need to be Kendrick, or Rocky, or Kanye. On this EP there are undoubtedly flashes of what Joseph Adenuga should and can be, but never quite to the standard which made Konnichiwa such an instant classic