Marvel plays its Endgame
Film & TV Editor David Rennie reflects on the strengths, weaknesses and seismic cultural impact of this superheroic swansong.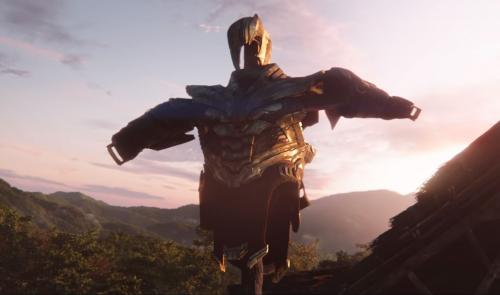 Beware: SPOILERS within
Midnight at the Cambridge Arts Picturehouse and the atmosphere of expectation is stifling. Hope hangs in the air, mingling uneasily with the palpable buzz of giddy anticipation; this midnight screening, a practice once reserved for costume-wearing diehards, is overflowing. Yet this is an identical scene replicated simultaneously not only in 15 other showings in Cambridge, but in over 50 countries, from China to Colombia: the same hopes, the same thrills, the same primal responses.
The Russos' 3-hour teeming blockbuster behemoth is a celebration of just how much Marvel know they can get away with
It all sounds preposterous, but over eleven years, Marvel have earned this. Films and franchises come and go, each leaving their own unique imprint on cinema history and the population at large, but very few transcend their runtimes to become a socio-cultural lynchpin, a marker of our world at a given time. The frightening ease with which Avengers: Endgame has demolished box-office records, and at such an ineffable rate, is dumbfounding. As a thronging mass, the people of the world have gathered to witness one film studio wrap up loose narrative threads, gawp at visual wonderment and, frankly, watch Hulk smash. And it delivers.
Ranging from emotive introspection to absolute balls-to-the-wall action insanity (see: Tom Holland's Spider-Man leaping atop a winged horse), the Russo Brothers' 3-hour teeming blockbuster behemoth is a celebration of just how much Marvel know they can get away with (again, flying horses) as a result of their vice-like grip on their devoted audiences, while also being an unashamed, fan-serving celebration of their 11 years redefining the popular cinematic landscape.
The story picks up with half of all existent life obliterated in one cataclysmic finger snap and, while Josh Brolin's villainous Thanos enjoys blissful retirement, it is up to those super-powered individuals left behind to pick up the pieces, both mental and physical, and settle some old scores, in one last-ditch attempt to restore balance and return lost loved ones.
Kevin Feige et al duly deliver an often moving, balmy, borderline campy, but nonetheless satisfying conclusion
The film's first act is the key to Marvel's success, and explains why hopeless imitators have failed so dramatically to conjure up the same magic. Daring to play with narrative convention, the Russos deliver a sucker-punch shock fifteen minutes in, which then gives way to an hour of bold, inward-looking character study. Among the human menagerie of A-list megastars, Robert Downey Jr., Chris Evans and Scarlett Johansson are handed the lion's share of the emotional weight, with the former, stricken by a sense of failure, seeking the solace of quiet family life and the latter given some desperately-needed depth.
The performers revel in the range offered to them, tackling all from poignant grief to broad comedy ('America's ass'). Earning the time to explore these affecting character nuances is what sets these films apart in the crowded blockbuster market, and is the key component in meriting audiences' enduring faith; for a generation, Endgame is the payoff for a decade's worth of sentimental investment in beloved, believable characters.
As a Return of the King-esque extended farewell and victory lap (teetering dangerously on highlights reel), however, Endgame does threaten to overstay its welcome, straining, albeit very rarely, to pull off its unenviable juggling act of plot threads and timelines. Lacking the tight coherence and zip of Infinity War, this installment perhaps needed one more ruthless round in the cutting room, trimming the superfluous and offering more time to overlooked subplots. Regardless, Kevin Feige et al are knowingly aware of their creative freedom and power, and - although its predecessor is arguably the more complete package - they duly deliver an often moving, balmy, borderline campy, but nonetheless satisfying conclusion to it all.
In short, Endgame is the apotheosis of a franchise whose many component parts (22 of them to be exact) have permeated every stratum of popular culture, and which $2 billion dollars later sits comfortably among the entertainment gods. Its characters, quips and post-credit scenes are now indelibly seared into the collective consciousness of this generation. Yet, despite all this weight, a breezy three hours and a minute later at 3 o'clock in the morning, it all felt an elated blur. While this machine's meteoric ascent has, yes, come at the detriment of independent cinema, and inspired some appalling imitators (Universal's Dark Universe, anyone?), witnessing a teeming theatre sent into raptures of cheers and applause proves that, above all, this franchise has tapped into something innate: the sheer, unbridled joy of cinema.