Beauty is in bronze eyes and smoulder
Makeup artist Majida Begum walks you through how to create the perfect eye look for the autumn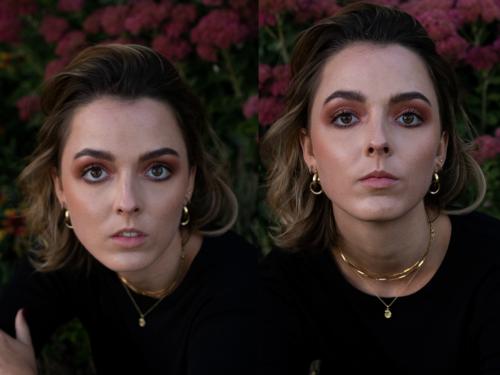 Fenella's look was created firstly with a focus on the skin, providing a clean base for a pop of colour on the eyes. A heavy-duty moisturiser like Embroylisse, which works for both skin prep and under-makeup primer, is a great start. Go with what your skin needs, and prep your skin before applying makeup. For the base of the skin, mix a full coverage foundation like MAC Pro Longwear with a few drops of a much lighter option like MAC Face and Body. This thins out the formula while maintaining the coverage. 
A peachy orange-toned blusher works better than a pink for this look in order to avoid a clash with the heavier eye makeup
Blend the foundation all over the face and neck, skipping the under-eye area to avoid a build-up of makeup. To prevent streaking, use a generous amount of setting spray and a damp beauty sponge to gently buff in the foundation. Conceal if needed – I started with the under eye, using a mixture of the Fenell'a own concealer shade with a brighter yellow-toned concealer. After blending the concealer, pat a transparent powder on top. 
Onto the eyes: I covered her entire lid with a warm matte shadow. I used En Fuego from the Urban Decay Naked Heat palette, but any pigmented warm brown tone will do – a matte bronzer could also work. Pat this over the lid and blend, paying particular attention to the crease. 
Next is the shimmer. I chose a pinky peach-toned shimmer that also has gold running through it. I mixed Scorched from the same palette with a creamy rose gold eyeshadow from NYX (Sparkle Nude), but any shimmery cream eyeshadow will work for this when followed up with a pressed pigment, which will maintain the pigment and let the natural sheen of the cream shadow peep through. I used my fingers and a flat brush for this, then a fluffy brush to ensure the crease remained matte.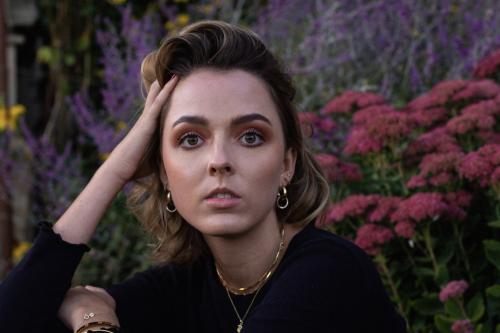 Keep shimmer concentrated in the centre of the lid, not in the matte crease. I followed up with the same warm matte shade under the eye, just lining below the lashes. We skipped false eyelashes, and kept a softer look with a lengthening mascara – any will do, although my personal favourites are the Maybelline Lash Sensation, Lancôme Hypnôse, and L'Oréal Telescopic.
For the lip we needed a perfect, skin tone nude. I took some creamy concealer and patted it directly onto Fenella's lip to block out the natural pink, and followed with a mainly transparent gloss with a slightly pinky tone. Once the mascara had dried, I added some more setting spray for a healthy hydrated glow. 
To complete the look, I added definition and colour to her face. A peachy orange-toned blusher works better than a pink for this look in order to avoid a clash with the heavier eye makeup. Sleek's blush in Sahara worked perfectly. For the brows, I kept Fenella's natural fluffy shape, just brushing them through to neaten and keep them in place. 
Photographer: Sarika Datta

MUA: Majida Begum
Makeup direction: Julia Davies
Model: Fenella Atkinson