Culture cuts
Lydia Sabatini combs through the effects of Tory austerity on the arts as we stare down the barrel of another five years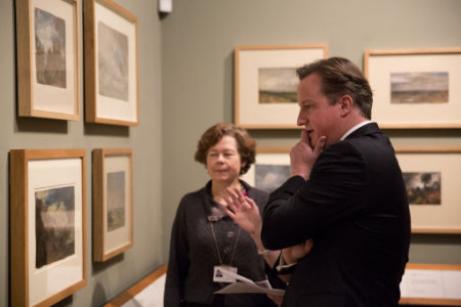 Under the Conservative regime of austerity, many sectors have had to squeeze to make savings, so there is no reason why the arts sector should be exempt. Of course, the assumption that such cuts, or their magnitude, are necessary or desirable simply because 'it's just art' is a proposition that should be questioned. Nevertheless, they have occurred, and the consequences of having slashed arts funding since 2010 are all the more important to analyse in the light of the widely-predicted Tory victory in June.
First of all it is important to highlight the significance of the culture sector. One easy justification for spotlighting it is financial. There aren't that many industries left in Britain that can still be called success stories, but the creative industry is undoubtedly one. According to government statistics published in 2016, the UK's creative industries are now worth a 'record' £84.1 billion to the UK economy. Furthermore, the arts have another less measurable, yet equally important impact. How would you describe the current 'culture' in the UK right now? Many would say 'divided.' The reasons an individual may find the arts valuable are obvious, but the spread of individuals accessing these arts needs to be made more diverse, or a prime opportunity to start to tackle some of these divisions is being lost. Avoiding elitism in the arts does not merely necessitate that 'high culture' is made accessible to a more diverse audience, but that there is a more diverse understanding of what culture matters. In the current fiscal climate, however, the potential for widening accessibility is being severely threatened.
"If arts institutions can't even maintain a progressive culture within their own walls, what hope is there for their impact on wider society?"
Local authority cuts are at the heart of the problem. It is difficult to blame the authorities themselves of course: squeezed local councils are understandably more likely to cut funding for the local art gallery than the local hospital. While London still seems a thriving arts hub, the picture is drastically different outside the bubble of the metropole. Taking the west of England as an example, in February of this year Bath and North East Somerset Council abolished arts grants entirely. Shortly after, Bristol City Council approved £380 000 worth of cuts to its arts budget by 2022. Stephen Spence, Equity's Deputy for the General Secretary, called this "cultural vandalism."
So what happens to an arts institution when it has to face such cuts? It is important to remember that such museums, galleries and theatres often have high running costs, so programmes that promote access to the arts may have to be cut just to keep the building open. Recently on the BBC's Front Row, Sarah Munro, director of BALTIC Centre for Contemporary Art in Gateshead pointed out that it was "harder to attract sponsorship" and donations from private individuals in the regions than in London. Clearly, public funding can be invaluable. Indeed, Emma Morris, director of the Towner Art Gallery in Eastbourne said during the same programme that if the proposed 50% funding cuts go head they will have to cut outreach and education programs and reduce output generally. This reality seems to stand in stark opposition to the government's purported aim of creating economic and cultural hubs outside of London.
It is not inherently unproductive for arts institutions to review their funding arrangements and recalibrate their purpose and vision. Of course, the advantage of funding by taxpayers is that institutions become more accountable and have a duty to spend in socially constructive ways, including small, long-term schemes that may not have the glitz-factor to attract the attention of big businesses. But corporate funding of arts institutions is immensely facilitative to those who receive it. However, there are partnerships that send mixed messages, in particular the dirty business of fossil fuel sponsorship, which seems to directly contradict those institutions' stated progressive vision of the future. Furthermore, there have been several reports about tensions caused by the poor and precarious pay of staff in even prosperous institutions like the Tate. If arts institutions can't even maintain a progressive culture within their own walls, what hope is there for their impact on wider society?
On a more grass-roots, entry-level note, it's also important to consider cuts in school funding and its consequent impact on arts education. The Public Accounts Committee says "funding per pupil is reducing in real terms" and that schools spending will be cut by £3bn by 2019-20. This almost certainly means that there will be fewer school trips to museums and galleries, and less class time devoted to creative subjects, meaning that many schools will not feel able to engage with the resources that are still available. There is a crucial link between arts education and the diversity of the industry. If state schools are not engaging children from lower socio-economic backgrounds in the arts, then where can we expect the next generation of creators and curators to come from? From the middle classes, of course. Inequalities in the sector will become entrenched. And when culture is partitioned into silos, communities more easily become suspicious of each other, and we all lose out