College Football Weekly Round Up 8th February
Inter-college football league chairman (CUAFL) Sam Ernest gives us a round up of the weekends action.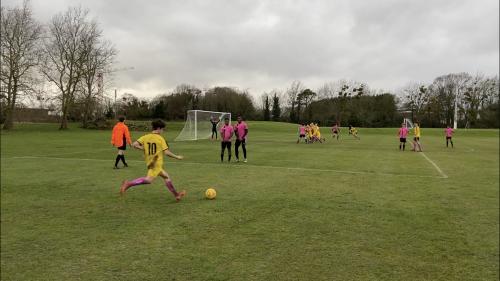 With Storm Ciara making headlines across the country on Sunday, a large majority of this weekend's fixtures fell the same way as Man City vs West Ham and were postponed. Given the destruction caused to football infrastructure up the road in Wisbech, this was probably for the best. In spite of this, we still had 12 fixtures across the divisions and in cup competitions which were hotly contested.
The Cuppers quarter-final between Division 1 high-flyers Churchill and Division 3 promotion challengers Clare was played despite 60mph winds sweeping in. The conditions made for scrappy football with the Churchill side pinned inside their own half for most of the first 45 minutes and a Clare side full of energy seemingly on top only for the half to end 0-0. A second half moment of magic from full-back James Burdock saw a 30-yard strike fly past the Clare goalkeeper into the far corner. That was enough to earn a 1-0 win that sends Churchill into a semi-final fixture against Queens which will be played next weekend, and promises to be a competitive tie.
Clare's impressive performance will leave them knowing they have enough to clinch promotion come the end of the season if they can repeat their aggressive style of play in the coming weeks. The fourth quarter-final between Fitzwilliam and Caius was postponed and is also due to be played this coming weekend (15th February).
The only Division 1 fixture to be played this weekend was the relegation battle between Robinson and Sidney Sussex and it did not disappoint, with Robinson coming away 7-1 winners. A tense first half ended 1-1, however it was Robinson who looked to be in control. After half time the floodgates opened for Sidney at the back and five goals from striker George Pugh, who has been on lethal form all season, helped Robinson to their second win on the bounce and gives them an solid chance of staying up.
Sidney's fate is now out of their own hands, with a big win required against Trinity as well as the St Johns vs Robinson result going in their favour to stand any chance of avoiding the drop. 
Division 2 saw two games played. Trinity Hall's promotion hopes were dampened after Girton I played well to earn a 2-2 draw. Relegated Christs I claimed their first win of the season beating Emma I 2-1. Emma will now be hoping Fitzwilliam II do not take advantage of their games in hand in their relegation battle towards the bottom of the table. 
In Division 3, Churchill II's 4-9 loss to Caius II in rough conditions will see them almost certainly relegated back down to Division 4 come the end of the season. Elsewhere Johns II were able to claim a vital win in their efforts to avoid relegation after a 1-0 win over Jesus II.
The only match played in Division 4 saw Girton II keep their promotion hopes alive with an impressive 6-2 victory over Selwyn II, and in Division 5 CATS's dramatic 3-2 win against Fitzwilliam III leaves them almost certain to secure promotion in second place. Clare II continued their 100% record at the top of Division 6 with an 8-5 win over Emma III.