'If you allow yourself to be dragged along eventually you are going to crash and burn' – Liam Hughes talks mental health
As the FA embarks on it's first 'Heads Up' weekend, we speak with former Cambridge United midfielder and academy graduate Liam Hughes on his own battle with addiction and the highs and lows of professional football.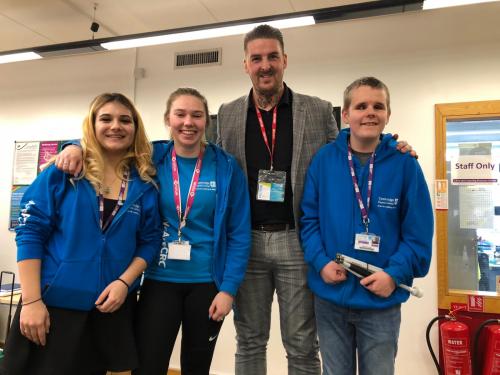 The importance of good mental health in sport has rightly been an issue receiving far greater coverage in recent years, and football – as the nations most watched and engaged in sport – naturally occupies a big part of that conversation in the UK.
In the past two years, footballers such as Aaron Lennon and Danny Rose have spoken out about their struggles with mental health and abuse playing the game. Former Man Utd midfielder Michael Carrick previously revealed he suffered from depression for two years following the teams defeat in the 2009 Champion League final. West Ham Women's captain Gilly Flaherty has also bravely described her battle against suicidal thoughts and impulses.
But these players, as those willing to go on the record about their own struggles and vocal advocates for positive mental health, are still very much exceptions in their sport. At the end of last season, the Professional Footballers' Association (PFA) reported that the organisation expected to help 'double or treble' the number of players in 2019 than in 2018. These numbers had already increased dramatically, with accessing treatment in 2018 up from 160 in 2016.
"I would love to become a sort of mental ambassador to the fans"
In order to shine a light on this area of paramount importance, the FA has determined to use the 2019/20 season to boost awareness and make some statements. Last weekend (8-9th February) the FA embarked on it's first ever 'Heads Up' weekend, launched by FA president and mental health campaigner, the Duke of Cambridge. Teams across the land will come together to 'kick off the biggest ever conversation around mental health through football'.
This follows on from matches played on 4th and 5th of January this year, where kick offs were delayed by 60 seconds in order to broadcast a film featuring a range of football stars and narrated by the Duke encouraging viewers to create their own 'Mind Plan' to help deal with stress and anxiety. As the testimonies and statistics demonstrate, the FA's intervention could not be more timely, and it is crucial that these conversations continue to take place within clubs and between supporters around the land.
In Cambridge, one of those courageous enough to do just this in describing his own experiences with mental health and the stigma around it is former Cambridge United midfielder, Liam Hughes. After coming through the Cambridge youth system, Liam would go on to gain 161 professional caps for the U's over six years before moving on to Barrow in 2016.
Returning to Cambridge to speak with students, Liam discussed spiraling out of control and turning to drink and drugs instead of talking openly about his feelings. Having played at the Abbey for eight years, he spoke about the emotional rollercoaster of being a footballer along with the pressure and limelight that comes with becoming a professional.
"I struggled with the highs of Wembley and scoring there and then the lows of injuries. If you allow yourself to be dragged along on that rollercoaster of emotion, of constant ups and downs, eventually you are going to crash and burn out and that is what happened to me.
"When I realised I had a real problem was when I was driving down the A14 thinking I wanted to drive into oncoming traffic with a bottle of Disaronno in my hand, but I decided to reach out and asked former club physio Greg Reid and the club doctor for help. They were there for me and took the time to listen and for that I am forever grateful."
It is this availability of a support network that is absolutely crucial for those suffering: the ability to speak, and the ability to be listened to.
"There are good people out there who are willing to help and listen. Cambridge United is a great club, with a great fan base and I have lots of fond memories from my time here. I would love to become a sort of mental ambassador to the fans and give my time back to anyone that needs help talking about mental health."
Since leaving the Abbey, Liam has played at a range of different clubs including Inverness, Guiseley, Billericay and Darlington, and is now part time at Bradford Park Avenue. It was at Darlington, under Tommy Wright, that Liam admitted to still drinking heavily. Here, he was drinking on a daily basis, relying on his natural footballing ability to get him through.
Deciding enough was enough, Liam checked himself into rehab to seek further help. This proved to be a turning point. Having now fought off his addiction, Liam has set up his own business, WAND, to help others by giving talks and holding workshops on developing young people's understandings of mental health, anxiety, addiction, stress and stigma.
In dedicating his energy to this cause, Liam becomes another like Danny Rose, Aaron Lennon, Michael Carrick or Gilly Flaherty, who are using their experiences to positively influence these discussions. And, as the 'Heads Up' game week continues, conversations like these – that Liam engages in week in, week out – will hopefully be making it easier for someone, somewhere, to speak up.