Cambridge United Say 'Balls to Homelessness'
Ben Phillips reports on the U's innovative initiative in tackling rough sleeping in Cambridge.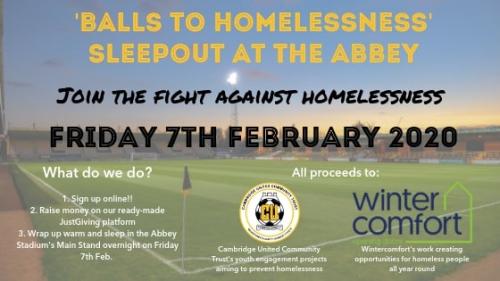 Walk through the city centre streets of Cambridge and one thing you will notice is a large amount of people having to spend the night out in the elements as rough sleepers. The natural response is of course one of sympathy, sadness, and being left wondering what we can do to offer help and support.
Here, Cambridge United are at hand with an intriguing approach.   
This month Winter Comfort and Cambridge United Community Trust have partnered to run the 'Balls to Homelessness' fundraising campaign culminating in a sleep out event held at Abbey Football Stadium on Friday 7th February 2020. Both organizations are calling on the local community, community groups and local businesses to sign up to participate in the Sleep out. Participants are asked to raise a minimum of £100 and whilst it might be the most comfortable night's sleep participants have ever had, it may be one of their most important.
Sam Gomarsall head of Cambridge Community trust said, "We're really excited about our third Sleep Out which is happening on the 7th February. We are hoping for some slightly better weather than in previous years – but we also recognize that whatever the weather, this one night does not compare to what it must be like to be homeless night after night."
"We are grateful to the 40+ brave souls signed up to sleep out and still have room for a few more sleeping in the stands at the Abbey Stadium. Please support this event by donating or even making the decision to join us on the evening."
All the money raised will be split between Winter Comfort's works with the homeless community in Cambridge & Cambridge United Community Trust. Winter Comfort was formed in 1990 and has come a long way as a charity which started out by distributing food, blankets and sleeping bags from an old bus (the 'Blue's Bus') within the city. Today, Winter Comfort supports men and women who are homeless or vulnerably housed by offering them vital welfare services and opportunities for learning and training. The day center opens 7 days a week all year round, and relies on volunteers to keep the service running.
Cambridge United Community Trust was setup over a decade ago as a fundraising body to support Cambridge United youth schemes. During this time, the trust has endeavored to positively affect the lives of disadvantaged people in Cambridgeshire whilst always looking to expand its reach and the variety of initiatives and projects it supports. One of the main assets of the Trust as a charity is its access to a group of professional footballers, who are models of aspiration for many young people across the city and county. The trust relies on donations as a charity to keep it running hugely valuable work delivering sessions with disadvantaged children and young people across Cambridgeshire.
The organisers say there is still plenty of room to sign up, come along and join in on the night out in the Abbey Stadium to raise crucial funds and awareness for Winter Comfort and the Community Trust. Anyone interested in doing so should email sam.gomarsall@cambridge-united.co.uk for more details.
Donations can also be made here.