BUCSCast: Lent Gameweek 3
In the first in a new series, we link up with the University Sports team to give you all the highlights and the lowlights of a Light Blue week in BUCS.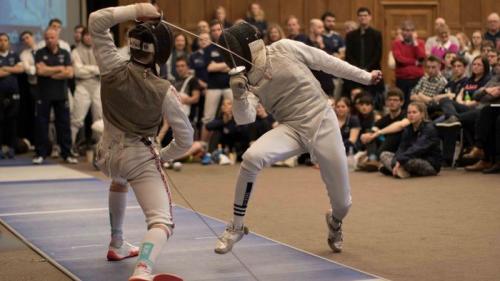 In the week before the BUCS Nationals in Sheffield, Cambridge teams were out in number and looking to build up momentum before the journey northward. With 17 wins out of 24 teams in action, it certainly looks like full steam ahead for the Light Blues across all manner of disciplines. Some choice results from the week include… 
Fencing – Royal Holloway vs Men's 1st – Result: Win  
 Travelling to Royal Holloway despite missing a number of core players, the Men's 1st were up against it before the sabers had even rattled. However, nerves were maintained as the Light Blue's racked up a very convincing 131-108 victory. The team now progress to the next round of the Trophy to face Warwick away as they attempt what would be a stellar league and cup double. 
Football – Men's 1st – vs Bristol – Result: Loss
In an absolute nail-biter of a contest, CUAFC were narrowly pipped at the post by an unbeaten Bristol side who converted a controversial penalty in extra time to give the visitors a 3-2 win. Despite this, Wednesday saw a typically formidable and spirited performance from a Light Blue side that keeps on going. Special mention goes to CUAFC keeper Tim Wallace, whose acrobatics denied Bristol on multiple occasions and almost denied them at the penalty spot.
Netball – Women's 1st vs Loughborough – Result: Win
A tense encounter with a spritely Loughborough side ended with a 40-37 win for the Light Blues to keep them in touching distance of promotion. Next up the team host league leaders Warwick on 19th February in back to back triple header which see's three Cambridge teams in action. This is not one to be missed, and we implore you to get yourselves down if possible.
Fencing – Men's 2nd vs Warwick 2nd – Result: Win  
Emulating the success of the first team, the Men's 2nd's lodged a very comfortable 135-60 win at home to Warwick to ensure progression to the semi-finals of the cup. This sets up an enticing Cambridge derby against Anglia Ruskin on the 26th of Feb, and the potential for a final over at UEA on March 11th.
Football – Leicester vs Women's 1st – Result: Win
The Women's 1st travelled away to Leicester and registered a performance worth the trip in a 5-1 drubbing of their hosts to move three points clear at the top of the league. A home clash with Lincoln before a tricky visit to Warwick are now all the stand in the way of promotion to the Women's Midlands Tier 1.
Tennis: Women's 1st vs Loughborough; Women's 2nd vs UEA – Results: Win
W1 and W2 both head straight to the top of their respective leagues after claiming wins over Loughborough and UEA. The 2nd's now boast a six point lead over Nottingham having played two more games whilst the 1sts lead the vanquished Loughborough team by four points. Could a fairytale double promotion be on the cards? 
Volleyball: Men's 2nd vs ARU – Result: Win
Finally, heroic performance of the week has to go to Men's 2nd volleyball. Facing off against Cambridge rivals ARU, the team found themselves a set down and further 23-18 down in the second set. Showing no signs of pressure however the Light Blues pulled off a stunning come back to claim the tie, a victory made all the sweeter having lost both outings against ARU this season. Mention must also go to the Women's 1st who managed to take a set off a so far seemingly invincible Bournemouth side.
Full results and fixtures available on the BUCS Play website.