College Football Weekend Round Up: 25th-26th January
Inter-college football league chairman (CUAFL) Sam Ernest gives us a round up of the weekends action.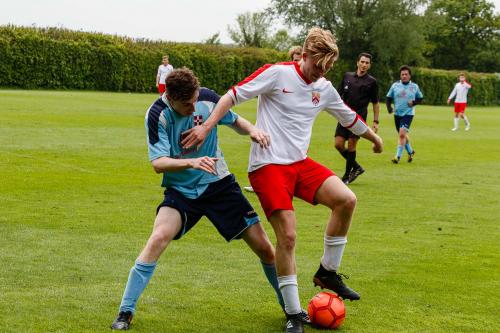 The weekend before the Cuppers final brought plenty of drama yet again in the college leagues with key results at both ends of all league tables.  
One of the most hotly contested games of the weekend took place on Fitzwilliam pitches where the hosts first team battled to a 1-0 victory over rivals Queens' I on Sunday afternoon. Fitzwilliam kept the ball for long periods of the game, but the Queens' defence were solid, and it took a special long-range volley from Joe Young to break the deadlock.
A red card for Fitzwilliam saw Queens' pushing on for the last 20 minutes, agonisingly hitting the post with the last kick of the game. The result keeps Fitzwilliam three points clear at the top of the table with a healthy goal difference, whilst Queens' hopes of challenging for the title are all but over after three straight league losses.
Fitzwilliam's closest rivals for the title remain Churchill I, after a feisty 3-2 fightback against Johns I keeps them within touching distance of top spot. After Churchill conceded a scrappy goal and a penalty their opponents were 2-1 ahead leading into the final five minutes. However, captain James Burdock's second goal of the game followed by Max Turney's last minute back post header secured Churchill's third successive 3-2 victory and another important three points.
There was also drama at the bottom of the table with Robinson securing their first win of the season (5-2) against Trinity as their attempts to pull off a Watford-esque great escape continues. The pick of the goals here came from Lawrence Atkins,whose half volley from the edge of the box soared high before cannoning in off the crossbar. Trinity remain winless and pointless in 10th place.
Robinson's win, along with Sidney Sussex's unconvincing 0-4 loss to Downing, sets up a vital game for the fellow strugglers in two week's time at John's playing fields. The other result in Division 1 was Caius's 3-1 win over in-form Homerton.
In Division 2, Pembroke's emphatic 7-2 win over Trinity Hall leaves them only two points away from guaranteeing promotion with two games in hand whilst simultaneously dampening Trinity Hall's own hopes of promotion. Christ's remain rock bottom and pointless after their 7-2 loss to St Catherines which will leave them relegated come the end of the season if Girton pick up any points over their final four matches. Elsewhere in the division Emma beat Jesus 3-0 after a superb performance.
In Division 3, Kings I came out 3-2 winners against Darwin I to keep their hopes of promotion back to the second division very much alive as one of five teams within three points of second place. After their 7-3 victory over Johns II, Selwyn I have both hands on the division title with seven wins out of seven and a seemingly unsurmountable lead of 9 points. 
In Division 4, CCCC stay in the top spot with Emma II remaining in second despite only managing a 1-1 draw with Girton II. Elsewhere,  Selwyn II keep their hopes of avoiding relegation alive with a 4-2 win over bottom side Queens' II.
38 goals in just four Division 5 matches provided much for the spectators, the two highest scoring games being Peterhouse's 11-6 victory over Fitzwilliam III and CATS riotous 13-0 win over Johns III.
Full tables, fixtures and results can be found here.