Oxford and Cambridge squads announced for Varsity Rugby showdown
The squads for the eagerly-awaited Varsity matches at Twickenham on 6th December have been announced, with an exciting array of talent in both light and dark blue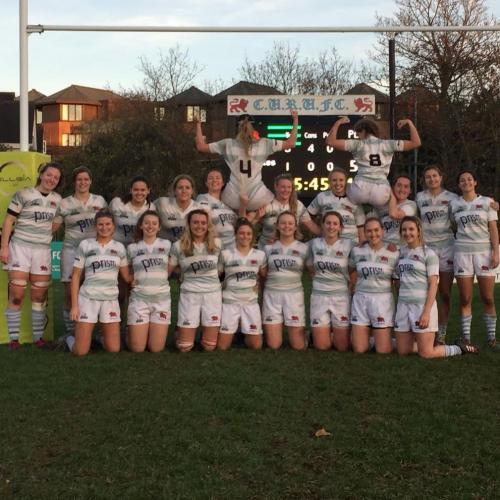 Cambridge University Rugby Union Football Club Women's captain Kate Marks has named her squad for the historic 30th anniversary of the Women's Varsity match, including ten of her team-mates from last year's 24-0 triumph.
On the men's side, 29-year old captain Nick Koster, former professional at Bath and Bristol, is one of 10 returning Blues in the match day 23, as they look for a repeat of last year's 20-10 victory in this year's 147th Varsity match. The Cambridge side have been impressive in the build-up to Varsity and are currently on the back of a four-match winning streak, including particularly impressive wins against Trinity College Dublin and an experienced Steele-Bodger's side.
The Cambridge women's side is boosted by the experience of last year's captain Lara Gibson at full-back, while centre Mary Coleman is set to win her third Blue. Vice Captain and Number Eight Emily Pratt has also particularly impressed this season with her strong ball-carrying.
"The stage, then, is set for the big day on the 6th December, when everyone connected to Cambridge University will be hoping for a repeat of last year's double success."
 The female Blues have been dominant in BUCS Midlands 1A this season, winning all six of their matches in one-sided fashion. Though Oxford play in a tougher division (the BUCS South Premiership), they have yet to win in any of their seven matches this season, and Cambridge will be strong favourites to retain the title on the 6th December.
In a recent interview with Varsity, though, Marks warned against complacency, noting that "we'll be going into the Varsity game with a quiet confidence, is the way I like to put it. I don't think we are overly confident. I don't think we're imagining we're going to walk all over them. Oxford are a good side and any captain would be stupid not to recognise that."
Cambridge's relatively youthful men's side will be hoping that last season's Alistair Hignell winner scrum-half Chris Bell can repeat his try-scoring heroics of last year, while 20 year-old Jake Hennessey, former Harlequins and England Sevens centre, has been in fine form this season, scoring four tries in a 45-14 victory against the Pacific Islanders, scoring two tries in the win against Trinity College Dublin and scoring the winning penalty in a narrow win against Crawshay's Welsh XV.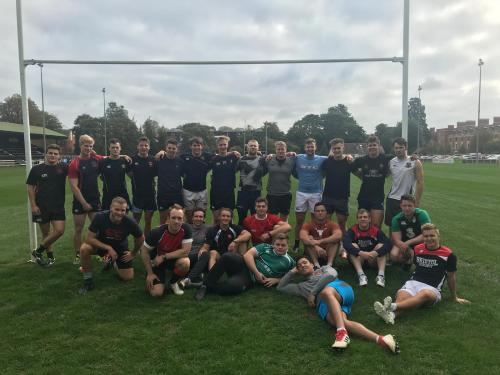 There are also high hopes for promising fresher Joey Gatus, an academy player at Yorkshire Carnegie, who has experience of playing at Twickenham after featuring in last year's National Schools Under-18 final.
 Oxford's men's side however, have also been in excellent form this season, winning seven of their ten games, and putting up a strong fight in a 26-20 loss to the Canadian national team. This year's side also boasts a number of players with great pedigree in the game. Most notably, 33 year-old former England and Harlequins lock George Robson, studying for an MBA at Keble College, will start at lock while 31-year old captain Dom Waldouck is a current Newcastle Falcons centre, having previously won the Heineken Cup with London Wasp's and represented the England Saxons (the England men's second national rugby union team).
Waldouck, playing at centre, will  be joined in the back-line by the former England under-20, London Irish and Saracens professional Ben Ransom and scrum-half George Tressider, formerly of Leicester Tigers. In the forwards, Oxford will be calling on the services of former England Under-20 international and Worcester Warriors prop Joe Morris, as well as Charlie Pozniak, former Sale Sharks under-18 captain.
On the Varsity Match website, Koster admitted: "We are very firmly the underdogs because Oxford have got six or seven players with professional experience. So we aren't feeling any pressure going in the Varsity Match. What happened in previous games is almost irrelevant because every contest is a new year because of the turn-over of players. Our team is largely a team of undergrads that is willing to learn with every game"
 The stage, then, is set for the big day on the 6th December, when everyone connected to Cambridge University will be hoping for a repeat of last year's double success.
Oxford University Women:
Connie Hurton (QEGS, Penrith / Pembroke)
Harriet Wigginton (Cockermouth School / Brasenose)
Sophie Trott * (Sheldon School / Wadham)
Abby D'Cruz * (Como Secondary School, Perth / Keble, Captain)
Helen Potts * (Bolton School / New)
Fiona Kennedy (Kingston GS / St Hilda's)
Georgia Ling (Charters School / St John's)
Hazel Ellender * (King Edward VI GS / Pembroke)
Anna Bidgood * (Sedbergh / University)
Sydney Sopher (Cheltenham Ladies College / Jesus)
Shekinah Opara (Tolworth Girls School / Keble)
Katie Collis * (City of London Freemen's School / Lincoln)
Maria Bernier (Villa Maria HS, Montreal / Regent's Park)
Honor Murison (Oundle / Worcester)
Hannah Cooper * (Bolton School / Worcester)
Replacements:
Gwen Cartwright * (Stanwell School / New)
Susannah Rees * (Tiffin / Keble)
Zoe Durbin (The Perse School / Lady Margaret Hall)
Desiree Vodounon (Groton School, New York / Hertford)
Joanna Male (Monkton Combe / St Edmund Hall)
Megan Wellens (Christ Church)
Megan Carter (Invicta GS / Lincoln)
Laura Simpson (Sponne School / St Edmund Hall)
Cambridge University Women:
Lara Gibson* (Streatham & Clapham HS / Lucy Cavendish)
Sophie Farrant* (Colchester RGS / Emmanuel)
Bluebell Nicholls* (Varndean College / King's)
Mary Coleman* (Simon Langton GS for Boys / King's)
Amelia Miller (Lady Eleanor Holles School / Downing)
Lucy Gimson (St Swithuns / St Catherine's)
Kate Marks* (Exeter School / Murray Edwards)
Jenny Orriss* (Ashmole Academy / St Catherine's)
Samantha Chan* (Cardiff Sixth Form College / Churchill)
Emma Pierce* (Bournemouth School for Girls / St Catherine's)
Alice Elgar* (South Wilts GS / Girton)
Jacqueline Bramley (Dame Alice Owen's / Girton)
Fiona Shuttleworth* (Olchfa Sixth Form / Pembroke)
Jenni Shuttleworth (Olchfa Sixth Form / Churchill)
Emily Pratt* (Keswick School / Emmanuel)
Replacements:
Jessica Abele (Schickhardt Gymnasium Herrenberg / Girton)
Sophie Taylor (St John's, Marlborough / Homerton)
Charlotte Spruzen* (Beaconsfield HS / Queens')
Joa Hoshizaki (Elmwood School / Churchill)
Elisha Clark (South Holderness Technology College/St John's)
Sydney Bradshaw (Hillfield Strathallan College / Wolfson)
Maxine Meju (Lancaster Girls' GS / Fitzwilliam)
Tabbie Brough (Oxford HS / Queens')
Oxford University Men's Blues:
Ben Ransom (Tonbridge / St Catherine's)
Dan Barley * (Hampton School / St Edmund Hall)
Conor Kearns * (Glenstal Abbey / Jesus)
Dom Waldouck * (Latymer Upper School / Kellogg, Captain)
Tom Stileman * (Cranleigh / St Peter's)
Tom Humberstone (Peter Symonds School / Hertford)
George Tresidder (QEGS, Ashbourne / Harris Manchester)
Ben Parker (RGS, Newcastle / Brasenose)
John Aaron Henry * (Cambridge House Grammar School / Somerville)
Joe Morris * (King Edward VI, Aston / St Edmund Hall)
Jasper Dix (The Perse School / Oriel)
George Robson # (Bromsgrove / Keble)
Charlie Pozniak * (Manchester GS / St Benet's Hall)
Sam Miller (Harrow / St Edmund Hall)
Sven Kerneis (Whitgift / St Peter's)
Replacements:
Josh Navarajasegaran (Haberdasher's Aske's Boys School / Merton)
Conor Hennessy (Rice College, Ennis / St Catherine's)
Alasdair King (Sydney GS / Keble)
George Warr (Eton / New)
Ryan Jones (Ibstock Place School / St Edmund Hall)
Dylan McGagh (Rockwell College, Tipperary / Magdalen)
Louis Jackson (King Edward VI, Stratford / Oriel)
Henry Martin (Marlborough / St Benet's Hall)
Cambridge University Men's Blues:
Joey Gatus (QEGS, Wakefield / Corpus Christi)
Elliott Baines (QEGS, Penrith / Peterhouse)
Henry King * (Chipping Campden School / St Catharine's)
Jake Hennessey * (Kings Wimbledon / Trinity)
Joe Story (Dubai College / Trinity)
Mike Phillips * (Bedford Modern / Emmanuel)
Chris Bell * (St Paul's / Girton)
Charlie MacCallum (Magdalen College School / Downing)
Miles Huppatz * (Sir Joseph Williamson Mathematical School / Downing)
William John Dean * (Clifton / St John's)
Jordan Eriksen (Chipping Norton School / Girton)
Andrew Hunter * (Cranbrook, Sydney / St Edmund's)
Stephen Leonard * (Llandovery College / Emmanuel)
Sean McMahon (Clongowes Wood College / Gonville & Caius)
Nick Koster * (Bishops College / Queens', Captain)
Replacements:
Sam Schusman (Haberdashers' Aske's Boys' School / Magdalene)
Henry Somers (Silverdale School / Hughes Hall)
Jonathan Dixon * (Royal School Armagh / Downing)
Rowan Beckett (Bradford GS / Peterhouse)
Olly Smart (Merchant Taylors' School / Downing)
Charlie Saunders (Radley / Selwyn)
Oliver Gnodde (St John's College, Johannesburg / St Edmund's)