Queenswood reign over Cambridge in Varsity warm-up
Cambridge came up short against Queenswood in their final warm-up match before their Varsity match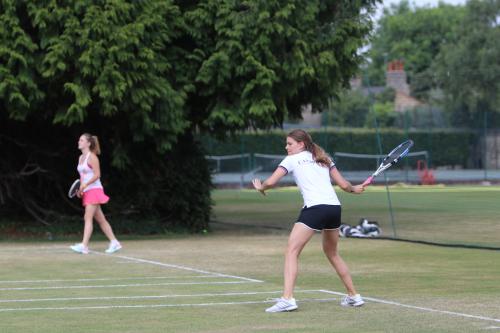 Cambridge University Lawn Tennis Club, Fenner's
If the pre-Varsity preparations for Cambridge University Lawn Tennis Club (CULTC) have not been totally victorious, it can be said that at least they have provided their worth in other ways as valuable correctives before facing the Dark Blues over the next couple of weeks. On Tuesday afternoon, it was the turn of the Cambridge women to take to the grass courts of Fenner's, and, although succumbing in every match to the prowess of four young starlets from Queenswood School, the day's play was characterised by good-quality tennis from the Ladybirds against their extremely strong and talented visiting opposition.
After the men's Blues' warm-up matches against Norfolk and Essex, a mixed team of Blues and Ladybirds confronted the daunting opposition of a four-strong team from Queenswood School. The Hertfordshire's school's pedigree was undoubted: crowned the national schools champions in July 2016, three of the four that made the trip to Cambridge had just come off the back of a campaign at the ISF World Schools Tennis Championships in Recife, Brazil, where, representing England, they came away with bronze medals.
The Ladybirds' first round of doubles matches were tight contests but were ultimately clinched by the travelling Queenswood players. Lara Spirit and Magdalena Danowska pushed Alexis Peet and Charlotte Tatham all the way before losing 10-7 on a match tiebreak. The first set barely augured the things to come for Cambridge. Spirit's strong right-handed baseline rallies were complemented by Danowska's sharp volleys and dextrous wrists at the net, while Tatham struggled with her serve, with a flurry of double faults and low first-serve percentages helping the Cantab pairing to break their opponents multiple times en route to a resounding 1-6 first-set win.
The Cambridge pair, however, were never allowed to dominate in a deadlocked second set which only a tiebreak decided 7-4 in Queenswood's favour. Tatham's serving revived and the away duo's game improved its results dramatically. The diminutive but deadly Tatham came more into her own as the game wore on, hitting some sweet groundstrokes with little distance between the ball and net and a lot of topspin, while Danowska's serve and erratic ball toss made her first-serve percentages suffer in the windy conditions despite her effective plays during points. Peet and Tatham's revival earned them the key points at the match's end in a 1-6 7-6 (7-4) 10-7 victory.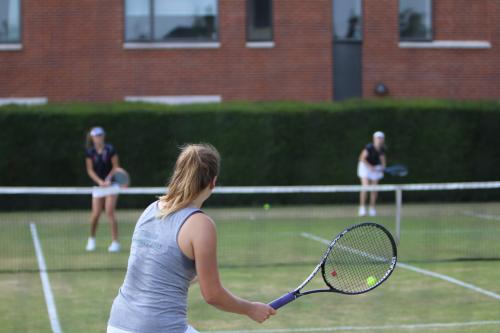 Meanwhile, twin sisters Anna and Leah Grace could not prevent Annabel Davis and Arabella Moen from coming away with a 7-5 7-5 win. In contrast to the other game, this one swung much less dramatically throughout, but in the long run Moen's accurate and aggressive serving was vital to edging the Queenswood pair ahead despite the in-point positivity and lusty hitting of the Grace sisters. When her serve was returned, it usually resulted in easy pickings at the net for Davis, who herself stood out for some terrific deep returns with ferocious topspin. Another high-quality match therefore swung Queenswood's way despite the valiant groundstrokes and suppleness at the net from the Graces, who nonetheless could be pleased with their performances.
Although the Ladybirds in the first round could appreciate a profitable afternoon of practice, the same could not be said of the Blues who replaced them in round two, both losing 6-0 in single-set encounters. Claudia Dickinson's duel with Tatham was a short-lived one. The Trinitarian never got into her stride, continuously seeking rhythm in her serve and double faulting too much for her liking. Tatham, on the other hand, was exceptional, hitting deep returns and an enviable collection of cross-court winners that had Dickinson chasing the ball throughout the set. Tatham appeared to have every shot: double-handed backhand winners, drop shots and forehand winners all contributed to an eye-catching performance and a resounding win.
The Blues doubles pairing of Monika Kondratowicz and Georgina Shepherd also had to shake off some rust against Davis and Moen. Kondratowicz's serving remained erratic and wayward, her footwork slightly too slow when moving towards the ball, and the in-form visiting duo, whose fluent form only continued, made the Cambridge pair pay. The final score of 6-0 therefore reflected another clinical performance from national champions Queenswood, whose classy all-round performance proved to be an instructive day for the CULTC women.
"It's great to play some doubles matches, and especially on the grass against some good young players, and this is good practice for our second team to practise what we've been working on in training", onlooking Blues captain Jenni Mair told Varsity. "Putting what we've been practising into the matches is the most important thing. We play a lot of matches in our training against each other, which is really helpful, and we have internal tournaments. Even in our training sessions we warm up and play a lot of doubles, so we've been practising a lot of matches even though we haven't had as many external ones. Internal matches are just as valuable, I think."
The Caian finished on a positive note looking ahead to the two Varsity match weekends that constitute the culmination of CULTC's entire season. "Everyone's training hard now because it's three to four days until 2s Varsity and only just a week or so more for the first team's Varsity, so everyone's at the final stages of preparations, and it's good for everyone to keep practising, mixing in and just getting some good match practice before this weekend."
CULTC: Lara Spirit, Leah Grace, Anna Grace, Magdalena Danowska, Georgina Shepherd, Claudia Dickinson, Monika Kondratowicz
Queenswood: Alexis Peet, Charlotte Tatham, Arabella Moen, Annabel Davis