Cambridge Blues outclassed by Essex in Varsity warm-up
Cambridge were thoroughly outplayed as they lost 8-3 in their Varsity warm-up match against Essex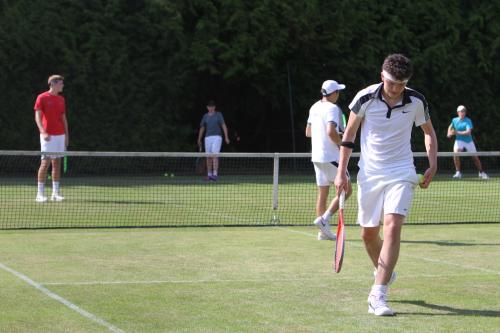 University of Cambridge 3
University of Essex 8
Cambridge University Lawn Tennis Club, Fenner's
Cambridge University Lawn Tennis Club's (CULTC) men's Blues were comprehensively outplayed by a superb visiting team from Essex on a day of searing heat at Fenner's on Sunday. The Blues, continuing to look for optimal rhythm and cohesion with absentees and players returning from injury, lost 8-3 and still have questions to answer in what remains of their Varsity preparations, despite the squad's encouraging aspects as a unit.
With Jack Long-Martinez absent and Toni Morales only just returning to the side, Cambridge were left one man short throughout the afternoon against their excellent Essex opponents. The tussle was a tightly fought one during the singles stage as Essex narrowly prevailed 3-2. Cambridge's Michal Kaminski on Court One found his match in the form of Henry Patten, whose taller build meant that the Girtonian did not enjoy his usual advantage in raw power, height and serving. Patten edged ahead, helped by the extra bounce generated in his serves, and his left-handed game posed different challenges to the right-handed Kaminski. The Cantab's lower first-serve percentages and more frequent unforced errors contributed to swinging the result in Patten's favour by fine margins 6-4 7-5.
Martin Florea's 6-2 6-2 loss to Essex's Ed Pudney on Court Four, however, was more disappointing from a Light Blue perspective. For the majority of the game Pudney retained the upper hand in the baseline and net exchanges, executing effective approach shots, hitting more winners, and moving more sharply than the St Edmund's man. Finding his adversary unyielding, he cut an increasingly frustrated figure in his body language and self-remonstration, with some careless shots and, more frustratingly, a series of double faults undoing his breaks of the Pudney serve in both sets.
The positives for Cambridge were undoubted, though, with the return of Tim Prossor and James Shemilt. Prossor, the former Blues captain, had to be at his best to defeat Tom Pudney 6-4 7-5 on Court Two. Pudney's baseline resilience, dextrous wrist play at the net, and general accuracy on serve and in rallies made him a tough nut to crack. Prossor, however, eventually created the opportunities to break Pudney at the end of gruelling rallies, featuring some wonderful cross-court winners, and upped his game to achieve victory.
Shemilt's return to fitness from a niggling elbow injury, meanwhile, saw him ease past William Butler 6-2 6-3. The Christ's man aggressively advanced at the net to good effect and got into a good, consistent rhythm to showcase his quality and form.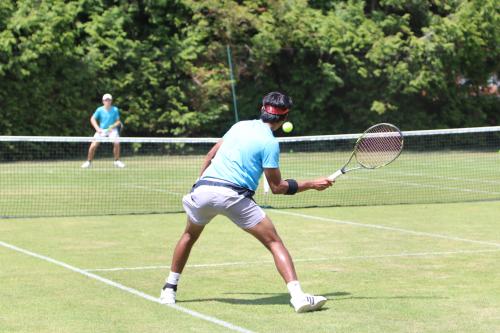 The worrying moment for Cambridge occurred on Court Five, where captain Jerry Ganendra was forced to retire against Alexander Graves in the second set after injuring his left knee. The match seemed set to become another Ganendra marathon, the first set lasting for almost 90 minutes and only decided by a tiebreaker that the Jesuan lost 7-4. Both players' resilience when pushed back deep behind the baseline made it a contest of similarly matched opponents. The end came with the second set at 3-2 to Graves, as Ganendra slipped and twisted his knee, forcing him to concede the match and giving Essex a 3-2 advantage going into the doubles format.
By this point, the temperature had soared to above 30°C, and it was Cambridge who wilted as they lost 5-1 after two rounds of doubles. The duo of Ed Putney and Patten blitzed their way to a rapid 6-0 6-4 victory against Kaminski and Prossor. The Essex men's ruthless efficiency, power and consistency featured some vicious returns of serve that the Cantabs never came to terms with. Next to them on Court Two, Shemilt and the returning Toni Morales fell to a 4-6 6-3 7-6 defeat to Randle and Tom Pudney. The Cambridge pair constituted a strong partnership; especially noteworthy were Shemilt's sliced serves, whose devilish bounce and swerve frequently outfoxed their opponents. But the duo's strong start was not maintained, and a handful of unforced errors handed the match to Essex 10-8 in the deciding set tiebreak.
With Cambridge a man down, Isbell joined Florea against his Essex teammates Graves and Butler, but another three-set epic went against Cambridge 6-4 3-6 12-10. Florea rallied from his singles disappointment with more confident and measured strokes, albeit without completely eradicating the double faults, and Graves continued his strong singles showing with some terrific winners. With the reliable Butler, he managed to secure a tight and exhausting win under the burning sun to confirm Essex's overall victory.
By now Cambridge were playing for pride and pre-Varsity form, and Kaminski and Prossor found some with a morale-boosting 6-2 7-6 win against Tom Pudney and Randle. The heat was perhaps getting to the players as both sides squandered simple smashes into the net and imprecated their own mistakes. But gradually Kaminski's serving prowess resumed – in the second set, his first-serve percentage was up to an impressive 78 per cent, while Prossor's defensive work saw him return 52 per cent of first serves en route to a 7-4 second-set tiebreak win.
No more Cambridge joy, however, was to be had. Shemilt and Florea succumbed to the combination of Patten's power and Isbell's nimbleness 6-4 7-5, but both players displayed encouraging form against high-quality opponents. The in-form pairing of Ed Putney and Graves also narrowly proved too good for Morales and Butler, winning 6-3 7-6. Several engaging rallies and sharp net play from both pairs characterised a tit-for-tat match, especially in an extremely close second set, but the loss consigned Cambridge to a comprehensive doubles defeat of 8-3 overall against the excellent all-round strength of Essex.
Jerry Ganendra note the valuable nature of a tough day's play to Varsity: "You always take the positives away, and there were so many positives today, and a lot of matches that could have quite easily gone either way", he said. "We took some stats on all of the matches and highlighted some aspects that we need to work on. But overall they're a very strong team and, for sure, they deserved the win. We're clearly not happy with a defeat like that, but we'll build on it. And it's good to have a defeat every so often so that you can keep everything in perspective."
The large doubles disparity between the sides was something the Blues captain was not counting on: "I expected the doubles to be our strong point rather than the singles. I was unable to play because of my knee, which meant that James played with players he doesn't normally play with. Michal and Tim performed pretty well. So it's not too disheartening: frustrating on my part, but it was surprising."
With only one match left, against Nottingham, before the Varsity clash on 1 and 2 July, Ganendra admitted there remained issues to work on for all of the Blues. "In my case, [it's] being aggressive in general. It varies from player to player. But we've each got a notepad as to exactly what we need to be working on, whether it's first-serve returns, our first-serve percentages, general aggressiveness, mixing things up a bit and coming to the net a bit more, et cetera." 
CULTC: Michal Kaminski, Tim Prossor, James Shemilt, Martin Florea, Jerry Ganendra (c), Toni Morales
Essex: Henry Patten, Thomas Pudney, William Butler, Ed Pudney, Alexander Graves, Cameron Isbell, Harry Randle (c)