Phenomenal Cambridge women make Varsity cricket history
Imran Marashli reports on a remarkable 9-wicket win for the Cambridge women at Fenner's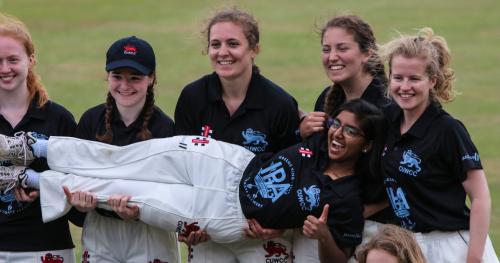 University of Cambridge (77-1, Barber 33*) beat the University of Oxford (74-9 after 20 overs, Brown 18) by 9 wickets after 11.4 overs
Women's Varsity Twenty20 Match, Fenner's
Cambridge's women's cricket Blues made a piece of Varsity history on Friday afternoon, and in some style. In a scarcely believably good exhibition of accurate bowling, disciplined fielding and composed batting, the Cantabrigians overwhelmed their Oxford opponents from the very start to easily chase down 74 runs with more than seven overs to spare and nine wickets in hand.
It all began in the very first over. Oxford had won the toss and chosen to bat under the sunny skies at Fenner's. But a dreamy-looking day to bat turned into a nightmare for the visiting Oxonians, as a rush of blood saw Charlotte Graham run out after sharp work in the field when there was no run to be had at first leg.
The mayhem continued apace as the overs wore on. Hannah Fisher and Lucy Binsted provided tight lines and disciplined bowling to limit Oxford's scoring opportunities with three-over spells apiece. And they were backed by immaculate fielding: not a catch was dropped throughout the afternoon. However, it must be said that Cambridge were aided by some questionable shot selection and game management from the Oxford top and middle order, who asked too much of the tail to boost their total to respectability. Sophie Taylor was next to go, looping a catch to Bradshaw, followed by Picker, who was bowled by a full ball from Binsted after mindlessly charging down the track, swiping at and missing the ball.
Imogen Brown, watching the madness unfolding at the other end, was next as she was bowled by Chloe Allison's full leg-spinner for 18 – remarkably, this would be Oxford's highest score all afternoon: on level pegging with extras. And, by the eighth over, Oxford were reeling at 47-5 when Attrill could only pick out Katie Gibson at mid-on to give Nadia Blackshaw her first wicket.
Moore provided some stability with 15 off 19 deliveries, but when she fell off a brilliant catch off her own bowling by Christine Viney, it was a question of whether Oxford would last their overs. Preeti Kate made short work of the tail, dismissing Lucy Taylor brilliantly with a sharp catch off her own bowling, and Alycia Jewes for a golden duck. Oxford did use up all of their available deliveries, but could only limp to 74-9 at the end of 20 overs.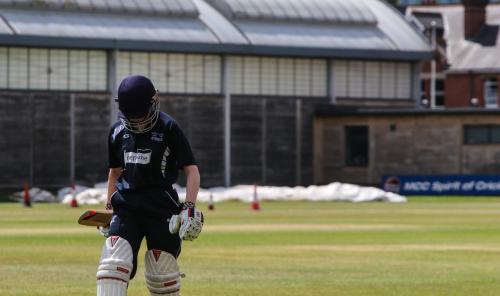 If the opening pair of Frankie Barber and Hannah Fisher had any nerves, they didn't show them. The run chase from Cambridge was intelligent and composed as the two negotiated the opening Oxford overs with singles and twos, and put on a solid 38-run opening partnership to give Cambridge an optimum start to the pursuit of 75. Moore and Imogen Brown, although neat and tidy, never looked threatening enough to veer Cambridge off course and barely created wicket-taking chances against the measured approach from Cambridge's opening pair. Frankie Barber was pleasing to the eye in her innings of 33 not out, executing three textbook fours, including a sweetly timed drive down the ground that ranked as the shot of the match.
When Attrill bowled Fisher for 14, Oxford's hopes briefly revived, but captain Chloe Allison provided a steady partner for Barber to seal the game after only 11.4 overs. It was, quite simply, a stunning performance from start to finish, and a magnificent way for Cambridge to clinch their first – and thoroughly deserved – Varsity win over Oxford.
Captain Chloe Allison, the ecstatic returning Full Blue, spoke with Varsity shortly after the post-match celebrations: "We're happy with pretty much everything! We just want to take that performance through to Lord's next week and do the same again.
"I knew that if we put them under pressure at the beginning, we could restrict them to a really chaseable total. Our fielding particularly, we've worked so hard on it this year. We took some fantastic catches, and that run out: backing up the bowlers like that is just fantastic to see.
"They do have in their top four or five some very good players. I think we just really put them under pressure today and took our catches when we had our chances. We were just thinking that, if we bat through our overs and rotate the strike, we don't have to take any risks to get this total."
Although the Murray Edwards student cautioned against excessive celebrations ahead of the 50-over game in a week, she savoured the prospect of a historic first Varsity win for Cambridge over their bitter rivals. "We are certainly going to celebrate this: we are absolutely thrilled!
"What is really, really special is that both Frankie [Barber] and I have played in a lot of Varsity matches against Oxford now, and we've lost all of them. To turn it round together, and to win it together at the end, is just such a proud moment for both of us. This is my tenth game against Oxford, and we've been on the back of some quite heavy defeats during my time, so just to be able to turn it around like that was extra special"