Premier League title caps unprecedented season for Fitz football
Fitzwilliam College's football teams won the CUAFL's Premier League, Cuppers, Shield, Vase, and Division Four in a season of unprecedented success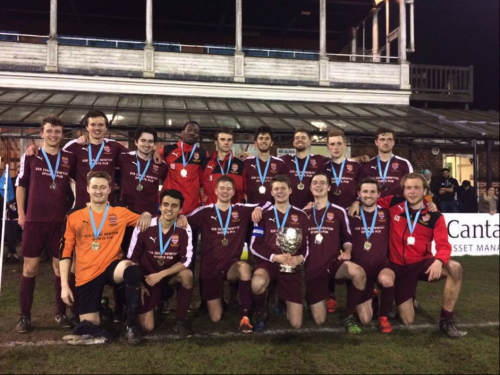 Fitzwilliam made university footballing history on Sunday by securing the Premier League title courtesy of Girton's 3-1 defeat to Robinson. The result that means the hill college are the first side in the recorded history of CUAFL to hold all four major trophies simultaneously.
Having already won Cuppers, the Shield, and the Vase ahead of the weekend's title decider, Fitz were reliant on results elsewhere going in their favour in order to complete their unprecedented feat. With Girton only requiring a point to lift the Premier League title, and having already beaten Fitz 2-1 earlier in the season, the Green Men were firm favourites heading into their match against Robinson. And slip up they did, as the Green Men, who only needed a point to lift the Premier League title having beaten Fitz already this season, failed to overcome a resolute Robinson side that still boasted remnants of last season's Cuppers winning contingent.
Fitzwilliam had done all they could to pile the pressure on Girton by securing a hard-fought 1-0 win over Queens', last season's title winners, courtesy of a Peter Rutzler free-kick in their final game of the season. This put them level on points with Girton – albeit with a superior goal difference. Yusuf Mushtaq's early opener for Girton was cancelled out by goals from Lorenzo Leoni and Dami Adebayo, who bagged a brace, meant it was Fitz who would be celebrating come full time, securing the title on goal difference as both they and Girton were tied on 22 points.
"The last time a side came close to winning all four major titles was Queens' last season"
The result means the Fitzwilliam first team have completed a league and cup double, having secured the Cuppers trophy in Lent Term following a 2-0 victory over Pembroke at Grange Road. This ensured a tenth Cuppers title for the club, repeating their success from five seasons ago. Fitzwilliam's success has not solely been limited to the first team though, with the Seconds also completing a double of their own by winning Division Four and the Shield, with the college Thirds winning the Vase and ensuring Fitz currently hold five trophies in total out of a possible six available.
The last time a side came close to winning all four major titles was Queens' last season, who picked up the Premier League crown, the Shield and the Vase, but were denied the Cuppers crown after suffering a second round loss to Selwyn. Fitz's success is undoubtedly due to their strength in depth, with the hill side fielding twenty-four different players in the first team this season, including nine in the University set-up, as well as Blues captain Henry Warne.
Unsurprisingly, Fitz's club captain Tom Dunn-Massey was clearly delighted to have seen the fruits of his labour result in the college's name being etched into the history books. Speaking exclusively to Varsity, Dunn-Massey credited the team's preparation as the major contributing factor behind their success: "Myself and the 2s captain James Dilley Skyped over the summer to discuss how to approach the season and what we wanted to change. Winning all four major titles was definitely beyond our expectations, but not beyond our ambitions." He went on to cite the camaraderie fostered by the team as another reason behind the team's historic season: "There's no special formula for creating a winning mentality, but the one thing that's definitely felt different this season compared to previous ones is the team spirit. The team are genuinely good friends off the pitch: we have dinner together, play pool together and go out together. I'm sure it's not a coincidence that we've all become closer this year and also won a lot more games"