Don't put non-League football on the bench
Hastings United supporter Alfie Denness calls upon football fans to overlook their prejudices towards the lower end of English football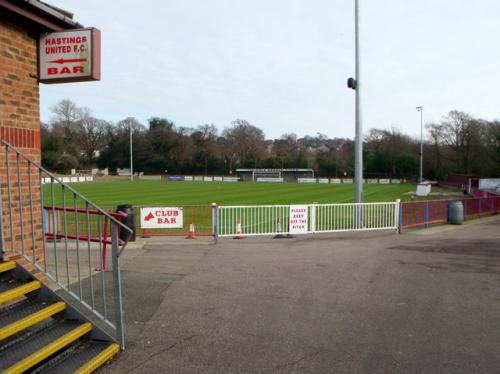 Hastings, my hometown, has a rich history. The fact that this year marks the 950th anniversary of our eponymous battle should be proof enough of that. What we do not boast, however, is a similarly impressive history of footballing success. 
Despite being a reasonably sized town – around the same as Wigan and considerably larger than Burnley, both of which host football clubs with recent top-flight experience – the only Premier League action that this corner of the south coast has ever witnessed was in the Isthmian Premier League. As I write, Hastings United lie in 13th position in the Ryman League Division One South, the eighth tier of the English football pyramid. Their last home game was watched by a crowd of 322, a respectable attendance at this level. 
Throughout my childhood and teenage years, if asked what football team I supported, I would always promptly reply, "Hastings United". This, though, proved not to be a socially acceptable response and would be met with confusion, then derision, and usually the question: "yeah, but what proper team?" 
As it happens, I do also follow a Premier League team, but my best experiences of watching football haven't involved Özil, Sánchez, and co. They have been at The Pilot Field, home of Hastings United, a club I feel far more intimately attached to. I maintain that as Premier League football becomes more and more distant from and dismissive of the ordinary fan, as transfer fees and wages continue to balloon to obscene levels, the non-League game becomes an ever more enticing alternative.
I can imagine the main objection is that 'the standard is so poor'. There is, of course, some truth in this. Semi-professional footballers who only train together a couple of times a week are not going to produce the beautiful passing of Barcelona. But when you go and watch football – and I mean at the ground, not on TV with Gary Neville, Jamie Carragher and a high-tech whiteboard – the standard of play is not the most important thing. It is a football cliché, but at the end of the day there is only one stat that matters, and it is not the pass completion rate of your deep-lying playmaker.
No matter how beautifully your team has played, walking out of the ground after a defeat feels terrible. Conversely, if your team have had 10 men behind the ball for 90 minutes and sneaked a scrappy goal, you will leave with a spring in your step. Watching your team is about losing yourself in the game's big moments, in the injury-time winners and last-ditch tackles. This is true regardless of what league your club plays in.
If that is the case, then why watch non-League over top-flight football? One standout reason is the cost. Premier League football is prohibitively expensive. This February, around 10,000 Liverpool fans left their match against Sunderland after 77 minutes to protest proposed pricing changes that would see some tickets sold at £77. By contrast, a student ticket to watch Hastings United is just £6, with under-18s going free. 
And once you are through the turnstile, you can expect a good matchday experience. You may not think that a few hundred supporters can create any atmosphere, but you would be surprised. All it takes is a couple of dozen enthusiasts behind the goal – preferably armed with a drum – and the usual assortment of chants will ring out throughout the game. 
This is facilitated by the presence of terraces, which provide the rare opportunity to stand up throughout the entire 90 minutes of a match without an irate steward motioning for you to sit down. And besides, if you've ever been to the Emirates, you will know that a large crowd does not necessarily lead to a good atmosphere. 
Also, there is a community feel to the non-League game that you just do not get at a Premier League club. You are watching players that you've played football with in the past, that you know personally. At one time, it seemed that the entire P.E. department at my old school turned out for United at the weekend. Contrast this to the Premier League, where the players are far removed from the often working-class communities they represent, with the average Premier League salary reaching £1.7 million last season.
Since 1992, when the Premier League's broke away from the Football League to negotiate its own commercial deals, money in football has become more and more concentrated at the top, leaving non-League and lower-league clubs behind. This season has seen the introduction of some Premier League clubs' Under-21 teams into the Football League Trophy, an ominous sign of what the future could hold for the lower leagues, relegated to the status of a training ground for the future stars of the top flight. Supporting your local non-League team is a show of defiance against this process, and against the extortionate ticket prices and impersonal character of the top clubs.
Ultimately, for those of us in the footballing wildernesses –  whether that be the south of England outside London, North Wales or (increasingly) the North-East –  non-League football is a gem waiting to be discovered.