Basketball Blues' trophy hopes dashed by Glasgow
It was so near but so far for Cambridge as they were edged out 56-50 in their BUCS Trophy quarter-final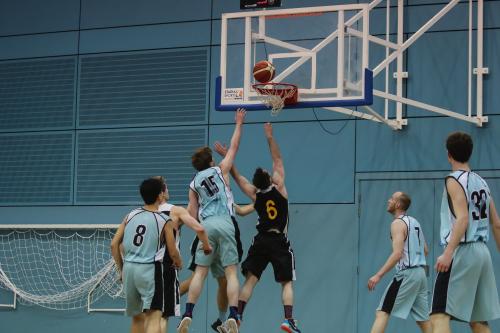 University of Cambridge 50
University of Glasgow 56
BUCS Basketball Trophy Quarter-Final
Cambridge University Basketball Club were narrowly denied a place in the last four of the BUCS Basketball Trophy by an energetic Glasgow University Basketball Club at the University Sports Centre on Wednesday afternoon. The Glaswegians' ability to retain their composure and intensity at key moments in the game ultimately handed them a 50–56 victory in an extremely close quarter-final.
The two sides entered the contest fairly evenly matched on paper, both lying second in their respective leagues and enjoying three consecutive wins, and so it proved on the court. The first exchange of blows saw neither team able to pull away and build a substantial lead, although the visitors managed to get their noses in front. Some incisive drives into the key, led by Steven Docherty and Borislav Gachev, and sharper work when contesting the rebounds helped to tee up Andreas Christopoulos in particular for some sumptuous 3-pointers that saw Glasgow go in 14–17 to the good after the first quarter.
The Light Blues picked up their intensity in the second quarter, drawing personal fouls from the Glasgow defence more frequently, and taking advantage of the resulting free throws. More robust defensive hustling and some inaccuracy from Glasgow stemmed the flow, while Luka Skorić started to accumulate more points as the two sides went toe to toe. A late 3-pointer from Glasgow skipper Chris De Souza allowed the visiting side to end the half with a slender 29–30 lead.
Although another Skorić 2-pointer gave Cambridge an early second-half lead, the pattern of teams being pegged back only continued. The Blues would lose more balls in transition and allow Glasgow to have more time and liberty to manoeuvre the ball and set up De Souza especially for 3-pointers and lay-ups.
Blues coach Tim Weil urged his men to switch the ball wide more often, rather than excessively focusing on screening and driving in the arc, but Cambridge were perhaps too anxious to attempt 3-pointers, with their point-scoring efficiency suffering as a result. Nevertheless, with the score reading 38–39 at the end of the third quarter, the match was still poised on a knife edge.
The pendulum kept swinging in a tense final 15 minutes. James Miller did well to score while pushed, but the brief Cambridge advantage was wiped out by more personal fouls committed by the home side, which allowed Colin McDonald and Docherty to fire Glasgow into a 42–47 lead: the biggest gap between the two teams so far.
With the clock ticking down to under five minutes, the Blues could not find the net with the ruthlessness they were seeking, whereas Glasgow's Christopoulos and De Souza were seemingly on hand more often to pick up the rebounds, and Kanyin Fagade's unerring free throws extended the Glaswegians' lead to 44–50. Another Miller 3-pointer for Cambridge kept them in touch, and by now the frequent timeouts and frantic hustling from both sides combined to create a thrilling climax.
However, Cambridge now had little margin for error, and Glasgow were good enough to force them into making mistakes as more lay-up opportunities were spurned, but the Blues will be disappointed not to have taken more of their free throws, including two from Dami Adebayo with 33 seconds remaining at 50–53. And when Christopoulos bundled home another 2-pointer with only 12 seconds left on the clock, followed by another Cambridge miss, the tightly fought tussle was effectively up as a final Docherty free throw ended the scoring at 50–56.
In an exclusive post-match interview with Varsity, Glasgow's captain, Chris De Souza, beamed: "Everyone contributed from our team. The guys really stepped up to the occasion; we stayed over last night – it was a 14-hour round trip – but the guys really brought it, and I think we deserved the win today."
But the skipper did not want to get too far ahead of himself: "We didn't know what to expect, because we didn't know anything about these guys, but obviously in the quarter-finals everyone can play. I think we wanted it more than them today. We're just taking it one game at a time, and two more and we win that trophy."
A visibly disappointed Blues captain, Patrick Lundgren, found the defeat difficult to digest: "They were ready," he admitted, "and I don't feel like we were really ready. They're a good team, but I feel like we could have won... I feel really disappointed right now.
"I feel we started poorly – the second quarter was not good – and they just out-balled us, it wasn't pretty. But you can't win all of them, I guess, and you've got to try and be positive."
Casting his eye to the big Varsity clash on Sunday against Oxford, however, the Robinson man remained positive: "We'll forget about it [the loss]. We're looking forward to Sunday, and I think we'll win it. It'll make us stronger, probably."
CUBC: Lundgren (c), Skorić, Clearman, Miller, Hauge, Bedell, Baptista, Walsh, Krstajić, Adebayo, Kurdi, Bernou
GUBC: De Souza (c), Docherty, Craig, McDonald, Dowling, Christopoulos, Gachev, Marshall, Podlunby, Fagade, Franzen