Fitzwilliam leave it late to triumph over Caius
Despite Caius' best efforts, they could not overcome the Light Blues quality possessed by a Fitzwilliam side who came out on top in a hotly contested Cuppers match, writes Imran Marashli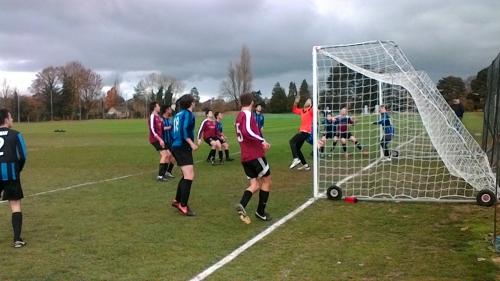 Fitzwilliam I fought hard to break down a dogged Gonville & Caius I to record a 2–1 home win and book their place in the next round of the CUAFL Cuppers tournament after a closely contested clash at Oxford Road on Sunday. 
In a match characterised by industry and passion from both sides, it was ultimately Fitzwilliam's University players' class and a couple of set-piece slip-ups from Caius that swung the result the home team's way despite a determined showing from the travelling Caians.
On paper, Fitzwilliam entered the tie as unquestionably the superior team. Boasting a host of University players – including the Light Blues captain Henry Warne in goal – and topping the league table after taking all nine points from their opening three games, they were expected to overcome their Caian adversaries more comfortably than they did. 
Football, however, is played on grass, not on paper, and the Fitzwilliam pitch was a perfect illustration of how theoretical prognostications barely correspond with the actual nature of the game. The small Oxford Road pitch meant that scarcely any space was available down the flanks or in behind; combined with Caius' 4-5-1 formation, this added to an already congested midfield tussle, and created what was a keenly contested and fairly even match.
Early on, the home side – as would be the case for most of the game – enjoyed more possession and set-pieces but struggled to create many meaningful opportunities. Alexi Spyrou warmed the hands of Caius' keeper Tom Steinemann with a stinging shot and went closer with a one-on-one that Steinemann also did well to smother. 
But the best chance of the half ended up going to Caius. Almost like the previous game against Downing, Angus Bain created something from nothing: as a bouncing ball from a clearance was hunted down with lightning speed, Bain burst through to create a one-on-one for himself, but his chipped finish on the stretch bounced agonisingly wide of the goal.
Undeterred, however, Caius took a half-time lead that, unsurprisingly, had Bain at its centre. A delicately chipped through-ball from Callum Parker was pursued relentlessly by Bain, who once again sprinted past the Fitzwilliam defence only to be clipped from behind by George Salmon. The resultant penalty was dispatched expertly by centre-back Mark Harvey to put Caius in front despite all of Fitzwilliam's patient but not quite so penetrating possession.
However, the cycle of the game resumed from then on, whereby Caius' dogged defence contained Fitzwilliam's pressure and possession, often limiting the home side to speculative shots from outside the area. As the second half wore on, the likes of Goéric Huybrechts, Rufus Saunders and Spyrou worked the Caius defence ever harder but still struggled to find an end product. The commanding Mark Harvey, in particular, was exceptional, seemingly ubiquitous in covering runs, clearing set-pieces and cutting out crosses with his head all game. And although Caius were limited to sporadic counter-attacks via Bain's blistering pace, Fitzwilliam's one-way traffic increasingly looked like becoming a rush-hour standstill.
It was, therefore, no coincidence that Fitzwilliam made the breakthrough via a set-piece, as a corner whipped in by Patrick Tice was nodded home by Saunders at the back post for a deserved Fitzwilliam equaliser. 
With the game poised on a knife-edge, a moment of massive contention then occurred. Purohit curled in a low cross after some enterprising work down the left wing, and, as Warne dived to claim it, he collided into a sliding Bain. What followed immediately sparked an uproar that saw almost every player engaged in a heated melee, as Warne appeared to throw a punch at Bain for what he felt was an unnecessary and dangerous challenge. Referee Chris Hussey had a dilemma on his hands, and, when tempers started to die down again, allowed both men to stay on the pitch after giving them a thorough talking to that ended with handshakes all round.
The real sucker punch – and what ultimately proved to be the knockout blow – soon came from another Fitzwilliam set-piece delivered by Patrick Tice, which sailed over a crowded penalty area and crept over the line via the inside of the far post. With only four minutes left, the ensuing bedlam among the Fitzwilliam substitutes and supporters indicated that that was the winning goal.
But Caius, having fought doggedly for the game's entirety, were not done yet and were a whisker away from taking the game to extra time. Straight after Harvey had cleared a Daniel Sandbach one-on-one off the line that would have sealed the contest, Bain was presented with a clear chance, but his volley on the stretch ballooned over the crossbar. 
Yet Caius were to come even closer. In the very last minute, Caius won a corner for which everyone – including keeper Steinemann – packed the box. Parker's delivery made its way to George Tuohy at the back post, who met it sweetly on the volley – only to be denied by an awe-inspiring reaction save from Henry Warne, who displayed his Blues class in incredible style by tipping the close-range effort over the bar. It was the last kick of the game and a fitting end that reflected the intense and entertaining nature of the Cuppers bout.
Henry Warne showed his Light Blue class with this save in the final seconds of the matchTom Dunn-Massey
The injured captains of both teams spoke with Varsity post-match, with Fitzwilliam skipper Tom Dunn-Massey relieved as well as satisfied: "Our main message at half-time was just to stay calm. We believed that we could go and get the equaliser, and we felt quite confident that we'd get a goal with the way the game had been going. We tried to push our wingers higher up the pitch, get their full-backs back a bit more, and then play the ball more in their half. Obviously, set-piece goals are always a bonus, but I'm just really happy with the result."
Gonville & Caius captain Ethan Sorrell was visibly disappointed but proud of his team's display, albeit resentful about the contentious scuffle at 1–1: "I'm really proud of how we played, other than just a couple of lapses of concentration on a couple of corners. That's all we lost the game to. We kept our cool and, despite the worst circumstances in the game, we were the better players. We were more sportsman-like – we didn't retaliate, we didn't punch back, so we dealt with that well. 
"It was compact everywhere on the pitch, but we used the wings well, and the wingers were very good in defence; throughout the game they worked well with the wing-backs. We had a really strong first half and most of the second half, but then got a bit rattled and things went downhill."
Fitzwilliam I: Warne (c), Gregory, Bell, Donnelly, Salmon, Ewen, Ellis, Sandbach, Spyrou, Saunders, Huybrechts
Substitutes: Butters, Shires, Burrows, Little, Tice
Gonville & Caius I: Steinemann, Khan, Harvey, Voice, Fletcher, Parker, Smith, Tuohy, Melling (c), Purohit, Bain
Substitutes: Jacques, Miller, Schlindwein
Referee: Chris Hussey