Visual Arts: il faut que je sois, King's Art Centre
Gabrielle Schwarz explores an arresting new photography exhibition
On Sunday evening I set off for the opening of a photography exhibition at King's Art Centre, il faut que je sois, running from 29th April to 13th May. After following a trail of images including a bowler hat, a pair of wire-framed glasses and a pocket-watch; I eventually arrived in a room whose walls were adorned with eleven black-and-white handmade photographic prints. They make up a series created by a Cambridge graduate researcher in visual perception, Roeland Verhallen (www.roelandverhallen.com).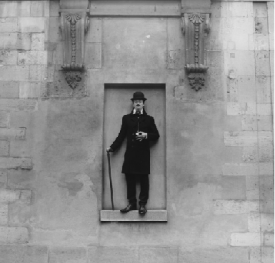 The photos themselves are a visually arresting spectacle. Each image stages the same model, wearing that familiar bowler hat and spectacle combination, in different locations around Paris: by ladders, on rooftops, suspended on a wall. They are each so meticulously and self-consciously staged that one cannot help but begin to search for a narrative or a deeper meaning beyond the striking aesthetics.
This seems to be not only what we are provoked to do but what the exhibition endeavours to do itself. Accompanying the photographs are eleven text fragments written by Simeon Koole, also a Cambridge graduate researcher working on photographic history and theory. In his writing, Koole applies what is clearly the result of much knowledgeable research to create a critical interpretation of the images, exploring ideas of "time, being and ancestry' as the exhibition's introduction boldly states."
At first, I felt a bit out of my depth. Reading Koole's interpretation, which drops names of thinkers and theories from Benjamin to Bergsonian time, I wondered if this complexity was overly distracting and if there was a contradiction built into the attempt to impose meaning on the image while also asking the viewer to construct their own interpretation. But, as Koole admits in the closing words of of his response to the seventh image: "Here my model is not such a close fit."
And so, the exhibition assumes the air of an intellectual experiment, a contemplation of what it means to find meaning. Verhallen relates how the collaboration occurred, born out of a conversation, in which it just happened that Koole's words seemed to articulate exactly what he was subconsciously thinking. But we, the new viewers, are asked to look at the images first before turning to the words. Similarly, he describes the process of constructing the series' structure as "fluid." There were certain fixed points, including the first image, and number six, which Koole interprets as "a definite break." But not everything was this certain; as is stressed in the Introduction, the series is "incomplete because photographic meaning is not the sole preserve of the photographer."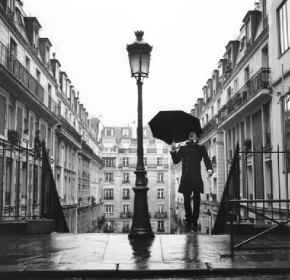 Another interesting feature of the exhibition, demonstrating again its thoughtful nature, comes at the series' end. Completing the paper trail we began with, we also find hung on the wall three objects: a hat, a watch, and a pair of glasses. The bowler hat belonged to Verhallen's great-grandfather, as did the watch in the photos. Suddenly, the decision to abandon digital and shoot using the black-and-white format with an old camera (a Hasselblad 503CX) and hand-make the prints, assumes new, weightier significance.
So is all the extra adornment really necessary? In light of the exhibition's aims, I think so. Verhallen wants to stimulate thought, creating an intellectual environment to suit the academic university setting of the exhibition. Don't miss a fascinating experience, I urge you now to go and follow the bowler-hat trail to King's Art Centre.