Statues from the past can inform our future
Columnist Nadia Hourihan argues that tearing statues down risks burying history when we should instead be learning from it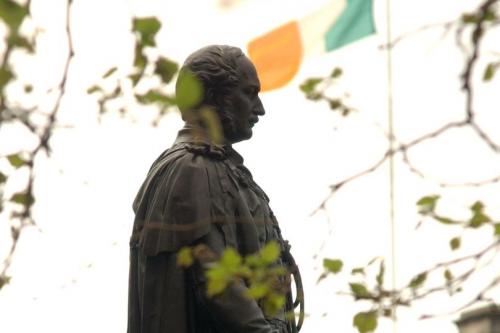 Earlier this month, a petition passed before the Oireachtas (government) Petitions Committee. The petition demanded that a statue of Prince Albert be chucked out of Leinster House because it celebrates a "monarch whose views are in opposition to that of the Irish Republic."
I used to walk past this statue every morning on the way to work. Never once did I pay it any notice. I'd nod at Oscar Wilde, resplendent in green nephrite jade, pink thulite and blue pearl granite, but I never once looked up at Albert.
I had to google the statue. It's a strange sight.
"We should we be troubled by the relics of the past, so that we might be troubled to think critically about them"
Prince Albert, resolute in his Victorian get up, seems unwilling to look left and survey the Irish flag billowing in the background. 'Not just yet' he seems to say, as his long brow wrinkles in reflection. Prince Albert looks lost in his surroundings. He's trying to figure out how he relates to the world around him.
Just like me. Just like us all.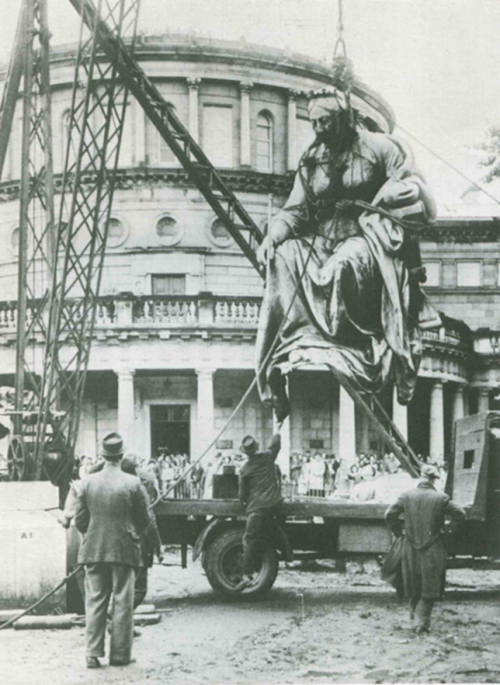 The meanings of statues change as their surroundings change. Today, it's impossible to look at Prince Albert's statue as just a celebration of the British Monarchy. What remains is more complicated than that.
Seán Sherlock, the Labour politician chairing the committee, remarked that "A civilised people does not tear out the pages of history but turns them over". We can continue to tell the story of Ireland without razing the monuments of the past.
I find this heartening; there's more of an opportunity for learning.
Before writing this article, I had never heard of John Henry Foley- the sculptor of the Prince Albert statue. He was born on Montgomery Street in Dublin, renamed Foley street in his honor. I'd never noticed, but Foley Street is right next to my bus stop. Every time I travel into Dublin, I'm only a few steps away from Foley's legacy.
Dublin is defined by Foley's art. He sculpted the statues of Edmund Burke and Oliver Goldsmith who shepherd students into Trinity College Dublin. He made the Daniel O'Connell that looms large over O'Connell Street- still blistered by the bullets of revolutionaries.
Why is it that Foley's name was as obscure to me as Prince Albert's statue? They each deserve more attention.
The last royal statue to have been erected in Ireland, of Queen Victoria, sat outside Leinster House from 1908 until 1948 (a car park now sits where she once sat). The statue, nicknamed "the auld bitch" by James Joyce, was was lugged by lorry to Kilmainham Gaol, and later to a yard behind a disused children's reformatory in rural Ireland. It struggled to find a more glamorous home until 1987, when it was welcomed to Sydney. There it has remained.
It's a pity "the auld bitch" was expelled to the other side of the world. The displacement of history is the displacement of heritage- warts and all. We humble our villains by the journeys we make them take. But those journeys do not have to be to the antipodes. We can tell tricky stories closer to home: in museums, in galleries, in reformatory schoolyards, or simply under the shadows of our flags.
We displace and efface history at our peril. It is surely better to keep it close, and to think carefully about how we relate to the past than to tear it down and chuck it out of sight. We should we be troubled by the relics of the past, so that we might be troubled to think critically about them.
Too often historical purity is just a synonym for historical amnesia