2018: The year in news
From drinking societies to divestment protests, Cambridge has witnessed no shortage of University-shaping, newsworthy events in 2018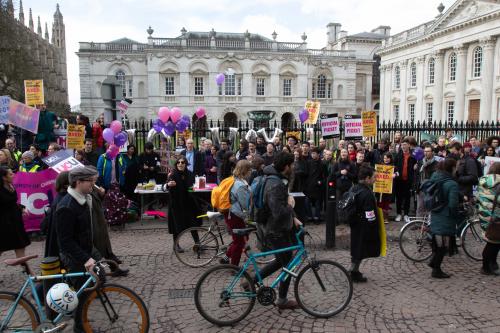 Decolonisation, divestment, drinking societies and more: the past year was jam-packed with news.
Industrial action struck the higher education sector
Lent term saw 14 days of escalating industrial action by members of the University and College Union (UCU), triggered by a pensions reform proposal from Universities UK (UUK), which would see 'defined benefit' pension schemes replaced with 'defined contribution' pension schemes for those on incomes below £55,000.
Unprecedented numbers of academic staff engaged in the industrial action, affecting a million students according to estimates by UCU. In Cambridge, many lectures and supervisions were cancelled, and staff and students took to the streets to demand preservation of the pension provisions.
'Students and workers, unite and fight!'Varsity
In June, Varsity revealed that Cambridge attempted to coordinate with Oxford to steer the national pensions dispute in their favour and to protect their financial position.
In October, despite 88% of voters in a UCU ballot voting in favour of strike action, it was determined that no further strike action would follow due to turn out failing to meet the legally-mandated 50% minimum.
Students occupied Old Schools in support of striking staff
A group of student activists staged a five-day occupation of Old Schools, which houses the central University offices and office of the vice-chancellor, in solidarity with the industrial action in protest against proposed pension scheme changes.
Occupiers saw continued solidarity from staff and other students, with multiple rallies taking place outside Old Schools, and emerged after five days to join a mass rally on King's Parade ahead of an open meeting with Vice-Chancellor Stephen Toope, arranged in response to the occupiers' demands.
The University refused to commit to full divestment, despite escalating student protest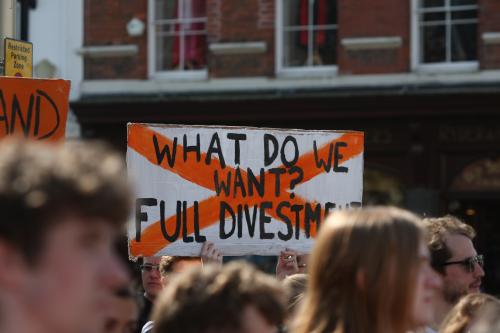 University Council voted against a commitment to full divestment from fossil fuel industries in a landmark decision this June, going against a three-year campaign by pro-divestment student activists and national calls for divestment.
The University's reluctance to commit to full divestment of its endowment was met with escalating protest action, including multiple protests consisting of several hundred students and staff, a seven-day occupation of Greenwich House, a University administrative building, and a six-day hunger strike by three members of pro-divestment group Cambridge Zero Carbon. 
In November, Christ's College rejected a motion put forward by its JCR to divest from all fossil fuel industries. However, Downing, Selwyn and Queens' Colleges all voted to favour divestment.
Pro-divestment student activists staged theatrical demonstrations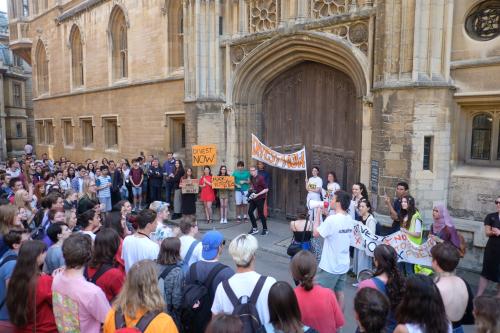 Pro-divestment student group Cambridge Zero Carbon played a significant role in climate activism over the past year, organising multiple high-profile theatrical demonstrations alongside rallies and occupations.
On Valentine's Day, members of the pro-divestment group performed a mock wedding between Cambridge University and Shell outside a meeting of the University's Finance and Business Committee, and earlier that same month protesters staged a crime scene outside the University Investment Office, calling for greater investment transparency.
In May, activists spray painted pro-divestment slogans and symbols onto the walls of Old Schools. They also dropped a banner demanding that 'Oxbridge divest' at the annual boat race Oxford and Cambridge boat race, as well as disrupting the Shell Annual Lecture in November.
Divestment rally outside University Council meetingVarsity
Varsity and Cherwell revelations in November concerning Cambridge colleges' investments in fossil fuel and arms companies saw further protests, sparking a march with hundreds of students in November.
A new spotlight was cast on drinking societies, with Grudgebridge launching a crusade against them
"What is the single biggest problem facing the Crescents in the modern age?", asked a Trinity Hall student in the now-infamous video of the drinking society's Caesarian Sunday gathering, in early May. His answer, "inclusivity", sparked an ongoing controversy about the existence of drinking societies in Cambridge, and led popular Facebook page Grudgebridge to dedicate itself to exposing, and taking down, drinking societies.
Serious allegations were made on the Facebook page, which allows anonymous submissions, about a significant number of different drinking societies, as well as other student groups and political associations.
The Trinity Hall Crescents disbanded following the leak of the controversial video. As of now, 28 drinking societies have committed to creating a code of conduct.
The 'Breaking the Silence' campaign to tackle harassment and sexual assault continued to gain momentum
'Breaking the Silence', which was formally launched last October, saw the University introduce its first staff-student relationship policy, along with a series of workshops focusing on equipping students to safely intervene in situations potentially leading to harassment or sexual assault. It challenged the University's previous comparatively weak engagement with the issue of sexual misconduct, and achieved strong support from Stephen Toope, the vice-chancellor.
Throughout the year, students campaigned to further the work of 'Breaking the Silence'. In May, a Senate House discussion was dedicated to debating whether the university should rely on the balance of probabilities – the civil standard of proof – for student disciplinary matters, or 'beyond reasonable doubt' – the criminal standard of proof which is currently used by the University. Cambridge is currently one of only a very small number of UK Universities to continue to rely on the criminal standard of proof in their internal disciplinary procedure, a system many activists argue dissuades victims of sexual misconduct from coming forward.
Cambridge launches campaign to combat sexual assault and harassmentVarsity
Shortly after the discussion, the University's Office for Student Conduct recommended a shift to 'balance of probabilities' if the policy found wide support among the student body, aligning with the stance of CUSU Women's Campaign which brought about the Senate House discussion by encouraging ten academics to write to the university draftsmen.
The Class Lists saga drew to a close, with the introduction of a simple opt-out system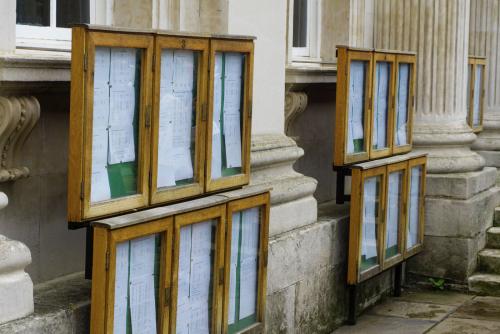 Following a University Council decision in December last year, for the first time students had the option to remove their names from the class lists for exams in Easter 2018, both in print and online, through a simple tick-box option. Previously a lengthy process of appeal was required, and it applied only to the physical publication of the class lists.
This decision drew the two-year class lists saga to a close, with the issue having divided the student body, led to a vote overturning both CUSU and University policy and raised concerns regarding new data protection regulation.
36.5% of students opted out of the class lists in the first year of this new procedure, with opt-out rates particularly high among first-year female students, and arts students. However, this now raises the question of how useful Class Lists are, particularly following the delayed publication of the lists in late November of this year.
Students continued to campaign for Cut The Rent as the disparities across different colleges were highlighted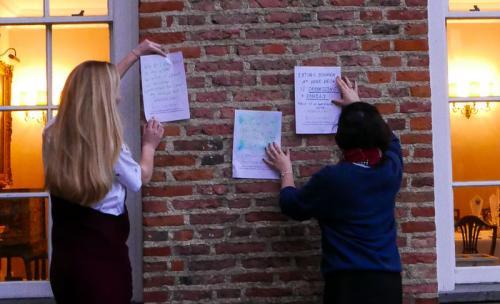 The huge variety in rent for Cambridge colleges has been a great cause for concern over this year. In February, Varsity reported that a 67% gap in rent charges between the cheapest, at Homerton College where undergraduates pay an average of £106.75 per week, and the most expensive, at Newnham, where undergraduates pay an average of £178.48 a week. A Varsity investigation also highlighted the differences within individual colleges, such as at Trinity Hall, where undergraduates rent prices vary by up to £1036.
Throughout the year, the Cut The Rent campaign has gained momentum, with students calling for lower costs and more equal accommodation. Banners were dropped at Robinson College stating "Rip Off Robinson" and a protest outside the Cambridge Property Awards criticised the housing situation in Cambridge for both students and the general public.
Complaints about accommodation were also raised with Medwards students living in temporary outdoor 'Bunkabins' due to ongoing renovations in college. Students at Kings also raised concerns about the impact ongoing construction work on Bodley Court had on residents' well-being.
Controversial appointments caused backlash among the student body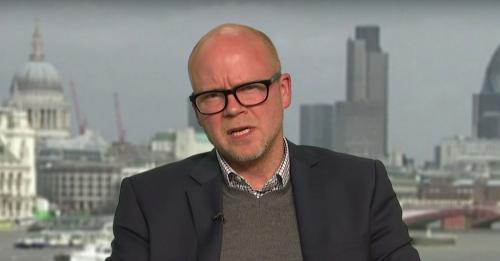 Appointments to academic staff positions within the University hit Varsity headlines in 2018, with several provoking backlash and protests amongst students and staff.
In January, nearly 100 academics called on Toope to condemn the appointment of Toby Young to the Office for Students, who came under fire for previous offensive tweets which led to a petition calling Young "a serial purveyor of misogynist, homophobic, racist and able-ist commentary".
The appointment of Aron Wall by the Maths Faculty sparked outrage due to his previous homophobic blog posts in which he described the process of transitioning for transgender people as "disgusting" and  accused the "gay community" of living a "notoriously promiscuous, reckless, and obscene lifestyle"
In December it was revealed that over 280 academics from around the world had signed an open letter against the appointment of Dr Noah Carl to a research fellowship at St Edmunds College, due to his past background in eugenics work. His work has been labelled by academics as "stoking xenophobic anti-immigrant rhetoric".
Access at Cambridge has taken centre-stage
In April of this year, once again Varsity revealed the extent of the access problem at the University, by reporting that 100 schools and colleges provided a third of all undergraduates at Cambridge over the last 10 years. Top independent schools were revealed as some of the most successful institutions, with Westminster College London having a success rate of 46% and having sent 872 students over the past 10 years.
To combat this, in May, the University announced a new transitional year scheme in which students from disadvantaged backgrounds will be able to undertake a three-week bridging scheme and full foundational year in order to go on to study a degree at Cambridge.
Famous figures have also intervened in the access debate; most notably award-winning grime artist Stormzy, who announced a scholarship in August which fully funds tuition fees and gives a maintenance loan for four black students, two of which were given this year.