Cambridge University Musical Society announces orchestra overhaul
The changes will create a new flagship symphony orchestra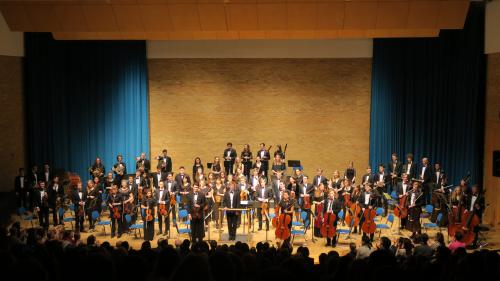 Cambridge University Music Society is to restructure its affiliated orchestras for the coming year, involving the expansion of its flagship orchestra. Meanwhile, its secondary orchestra is to be replaced with another symphony orchestra.
Cambridge University Chamber Orchestra (CUCO) has announced that it is be renamed Cambridge University Orchestra (CUO) from this October. The restructure will see it double in size from 35 to 80 players, who are to perform three times per year. It is hoped that the orchestra's increased size will enable it to play large-scale symphonic works, in addition to its existing repertoire of chamber music.
Until this year, students had also been able to audition for places in the Cambridge University Music Society Concert Orchestra (CUMSCO). However, under this year's restructure, this orchestra will be shut down. In their place, musicians will be able to audition for the new Sinfonia orchestra, aimed at players who "wish to play at a high standard but with a less intensive rehearsal schedule".
CUO, described as the University's "premier" orchestra, will provide students with exciting opportunities to work with world-leading professional conductors and their chosen repertoires. Plans for this year's programme include renowned figures such as Sir Mark Elder, a former musical director of the English National Opera, who will conduct a selection of Schreker, Debussy and Brahms in King's College Chapel this Michaelmas, and the internationally-acclaimed Jac van Steen, who will conduct Verdi's Requiem. Sir Roger Norrington, known for his interest in historically informed musical performance, will remain in his role as Principal Guest Conductor.
Other ensembles attached to the society include Cambridge University Wind Orchestra, which remains in place from last year, and a new Symphony Chorus.
Chloë Davidson, Executive Director of the Cambridge University Musical Society, said that CUO would allow "the best student musicians in Cambridge" to "stretch their talents by exploring symphonic repertoires," which had not been possible under the former structure. CUO will also offer those with conducting scholarships additional support and coaching.
Speaking to Varsity, Davidson said that the changes had been prompted by a high-profile visiting conductor, who commented on the University's lack of a unified top-level symphony orchestra.
Asked whether the closure of CUMSCO made high-level orchestral playing in Cambridge more inaccessible, Davidson responded: "We are happy that with the Sinfonia and the Wind Orchestra we are still providing the opportunities for performers of a wide of variety of abilities."
Students have welcomed the expansion, saying that it will result in opportunities to play a more varied and more complex repertoire. James Jones, a second-year violinist, commented that CUCO had already provided him with "unmatched opportunities to play ambitious programmes under esteemed professional conductors," but noted that the most recent developments mean "CUCO is set to be even more exciting and challenging this year."
However, the move has come under criticism from some students, who feel the restructure limits musicians' options. Lucy Dai, a second-year violinist who has previously played with CUMSCO, told Varsity that the ensemble "was the orchestra that had a more relaxed and less intensive atmosphere with weekly rehearsals, and therefore provided for many people a nice break each week to play some music together." Following its closure, she continued, "people won't have this opportunity anymore as both ensembles [CUO and Sinfonia] have intensive rehearsal schedules."
The first major symphony to be performed by CUO will be Mahler's Symphony No. 1 on 17th February, conducted by Ben Gernon, the new principal guest conductor of the BBC Philharmonic