Girton alumna Baroness Hale to become first female president of Supreme Court
It is the latest in a series of firsts for Hale, who topped the Law tripos in 1966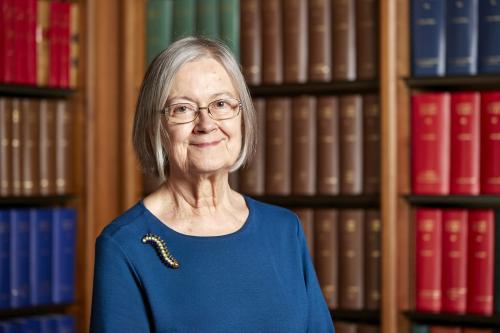 Brenda Hale, Baroness Hale of Richmond, an alumna of Girton College, will be the first woman to hold the position of president of the British Supreme Court, Downing Street announced today.
Hale, 72, who was born in Yorkshire, will succeed Lord Neuberger to become the third person to hold the position of president at the Supreme Court, which was established in 2009. She has been deputy president of the Supreme Court, which is the highest appellate body in the United Kingdom, since 2013.
She will officially take up the position on the 2nd October, at the same time the court, the highest in the UK, welcomes its second female member, Lady Justice Black. The October intake will also include Lord Justice Briggs and Lord Justice Lloyd Jones, an alumni of Downing College.
It is the latest in a series of career firsts for Hale, who was the first woman to be appointed to the Law Commission, and, in 2004, the first to be appointed as a law lord.
Matriculating into Girton in 1963, Hale was a standout student while at Cambridge, topping the Law tripos and receiving the only starred first in her year group upon graduation in 1966. She later went on to receive the highest overall mark when she passed her bar examination in 1969. Hale became an honorary fellow of Girton in 1995, and was elected Visitor in 2004.
In a statement, Hale said: "It is a great honour and a challenge to be appointed to succeed Lord Neuberger.
"I look forward to building upon his pioneering achievements, including developing closer links with each part of the United Kingdom, for example by sitting outside London, and improving the ways in which we communicate our work to the public.
"While I of course look forward to working alongside all my colleagues, it is a particular pleasure for me to be taking up the post at the same time as we welcome only the second ever woman to sit on the UK's top appeal court."
A long-standing champion of diversity in the judiciary, Hale has also been behind several significant rulings, including broadening the definition of domestic abuse to include non-physical abuse, and expanding what could be counted as 'deprivation of liberty' for people with mental health problems who are interred in homes or institutions.
Hale has previously been critical of Oxbridge domination in the highest echelons of British legal practice, referring in 2011 to the senior judges she has worked alongside as "quadrangle boys"  – referring to paths that took them through public schooling, followed by Oxbridge then entering the one of the Inns of Court. She acknowledged her own education at Cambridge made her partially complicit in that criticism, though she was educated at a grammar school.
She has a background in academia and education, having taught at the University of Manchester for 18 years before being appointed a High Court judge on the family circuit. She was appointed Chancellor of the University of Bristol in 2004, a position she held until December last year, and is also a visiting professor of King's College London.