Caius Master endorses Drury for CUSU Presidency
Professor Sir Alan Fersht praises Drury as a "very nice chappy" in a short and lighthearted video
Fersht describes Drury as "great company"Youtube/Jack Drury
The Master of Gonville and Caius College has endorsed Jack Drury in the race for CUSU President.
Professor Sir Alan Fersht, who has been Master of Caius since 2012, appears in a brief video released by Drury's campaign announcing his support for the candidate.
In the lighthearted video, Fersht, wearing his livery collar around his neck, claims to be "appalled" that Drury is running, before describing him as a  "very nice chappy", as well as "great company" and "a fantastic organiser", praising "the work he did for our May Ball".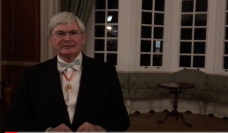 In mock horror at the prospect of Drury as CUSU President, Fersht describes him as a "skillful negotiator" who "ran rings around our senior bursar with the latest student rent review."
"I'm scared, I can't abide the idea that I'll have to negotiate with him", Fersht concludes, grinning.
Fersht previously backed Drury as he lead the ultimately victorious 'Save the Class List' campaign last December.
Speaking to Varsity about the endorsement, Drury said he was "glad that Alan is prepared to inject some humour into what's been quite a dry race.  But his message is serious.  At Caius, I've delivered a queue-less May Ball and low rent increases, through hard work."
"I'll work for CUSU and I'll deliver", he added.
Voting in the CUSU/GU elections opened this morning at 9am and closes on Friday at 5pm.
Drury is running for the position against Daisy Eyre and Keir Murison
Comprehensive elections coverage
The latest news and analysis on the CUSU Elections, all in one place.
Visit Varsity's Elections 2017 hub.