Cambridge lit up by E-Luminate festival
Some of the city's most iconic buildings have been given a new design in dazzling colour for five days this week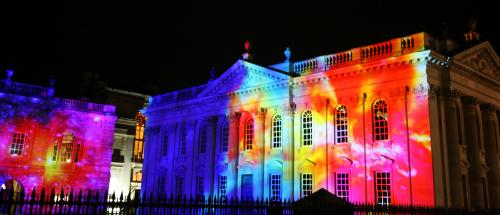 Central Cambridge has been lit up in dazzling colour for the E-Luminate Cambridge Festival.
E-Luminate, which ran from 10-15th February, was a celebration of light and the intersection between art and science. Its most prominent feature has been the lighting up of iconic buildings, like Senate House and King's Chapel, each evening.
The festival has run since 2013 and this year the theme was 'play'. The Festival Director, Alessandra Caggiano said "I am particularly excited about the theme of 'Play' as it allows us to shine a light onto two very important aspects of Cambridge which we had not yet fully engaged with in previous editions: gaming and sports." Caggiano is curating the festival with the writer Pat Kane, whose book 'The Play Ethic' emphasises the power and potential of play in business, culture and society.
The festival centred around a series of light installations, mostly involving projections on to many of the historic buildings that make up the centre of the city. The scale of these installations varied from small-scale works, such as a tribute to John Venn in the entrance to Gonville & Caius College, to displays lighting up the whole side of a building, including St Mary's Church and King's Chapel. There were also special events run all over the city centre, with a concert titled 'Dark and Light' being held on the opening night at the Corn Exchange.
Perhaps most impressive was the installation on Senate House and the Old Schools. Named 'Spiritus', it involved a complex, animated visual display projected on to both buildings to create a two-sided light show. The installation also used original music.
The 'Spiritus' piece was the work of 'The Projection Studio', a company that specializes in providing large-format projections. The leading artists behind it, Rosh Ashton and Karen Monid, said it was a 'fusion of the medieval and modern views of cosmology'.
According to the pair, their display is the product of a collaboration with the 'Ordered Universe Project', an interdisciplinary initiative that is investigating the work of medieval scientist Robert Grosseteste. Grosseteste put forward a theory of physics in which light played a fundamental role. The artists wanted to 'reflect the way the medieval mind was looking at the universe' and then combine this with the imagery of modern cosmological simulations.
A particularly striking aspect of the installation is the music that accompanies the visuals. Karen Monid, who was responsible for producing this original soundtrack, said that she aimed to reflect this fusion of medieval and modern by combining Gregorian Chant melodies with a synthesised backdrop. She wanted people to not only see the display but be 'able to feel it' and 'enjoy it for what it is'.
The festival promotes the use of 'green' technology and aims to showcase recent advances in photonics (the science of light). The organisers cite the huge importance of this industry to the UK, which contributes £10.5 billion to the national economy