Laura Marling: an intimate performance
Tom Ronan was captivated by a concert that displayed the breadth and depth of the singer's talent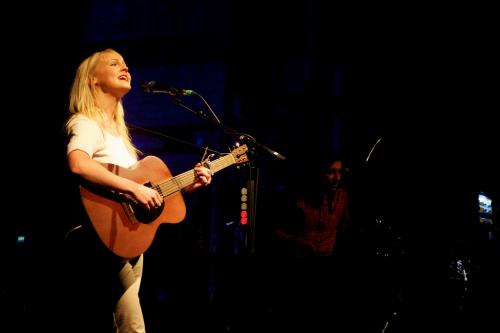 "She'd like to be the kind of free/Women still can't be alone" sings Laura Marling in a lyric that typifies the themes of Semper Femina, her most recent full-length release. Marling's new album is a finely crafted masterpiece that sets femininity firmly at the centre of its sights. The lyric in question is taken from 'Nouel', a bittersweet ode directed towards another woman, floating in a deliberately ambiguous space between friendship and desire.
Yet the lyric seems, at least to my ear, to point towards Marling's own experiences in the US. Searching for solitude, she embarked on a self-organised tour across obscure venues in the American West, soon encountering the unsavoury realities faced by solo female travellers. She cut a lonely figure onstage when I had the pleasure of seeing her live last week. Her concert in Bury St Edmunds was one of many smaller solo dates peppered throughout her tour schedule, following a similar vein to her stateside shows. Those in attendance were treated to an intimate performance combining well-known tracks and new material, as well as a number of unusual rarities that displayed the breadth and depth of her talent.
"She held an entire audience captive with unwavering grace and power, her voice swinging assuredly from soaring trill to sarcastic drawl"
Marling's most recent batch of songs stem from what she calls a "particularly masculine time in her life". She initially found herself writing about women through the lens of the male gaze, at times taking on the role of the troubadour – that most masculine of musical tropes – moving through towns and women as dispensable and passing muses. Marling commands the stage with a presence paralleled by only the folk greats, and is probably the only singer of our generation worthy of her endless comparisons to Joni Mitchell. At 27 she already comes across as a matriarch of the musical world, and has the unenviable task of selecting a limited setlist from her extensive back catalogue.
The audience are treated to familiar favourites like 'Sophia' and 'Rambling Man', though there are inevitably some disappointing absences in the hour-long set. But what is lost in the brevity of the concert is made up for by the inclusion of numerous gems, including a cover of Leonard Cohen's 'Avalanche' and a live premiere of music commissioned for the theatre production Mary Stuart.
Other highlights include the jaunty B-side 'Daisy' and the new track 'Next Time'. Both of these numbers see Marling's fingers darting across the fretboard of her guitar, showcasing her often overlooked technical ability. Semper Femina features some of her most original musical compositions to date. Marling worked closely with session guitarist and producer Blake Mills, whose musical style leaves an indelible mark on the album. Lead single 'Soothing' is a notable omission from the setlist, though it is difficult to imagine how its sultry bass guitar melodies would have translated to a solo acoustic performance. It is clear that this new material has been crafted with precision – hidden depths of complexity are harboured by broad musical and lyrical brushstrokes.
Laura Marling continues to move from strength to strength as both an artist and performer. At this concert she held an entire audience captive with unwavering grace and power, her voice swinging assuredly from soaring trill to sarcastic drawl. It is hard not to be drawn in by a singer who manages to cultivate such a playful and nuanced interface with her listener. Her songs and performances are trenchantly reflective and brooding, yet not straightforwardly confessional. There are always elements of play, performance and fiction to cloud the picture, leaving her audience leaning in closer and closer