Review: To Hell and 'Hacksaw Ridge' again
A film of two halves, both just as good as the other says Ankur Desai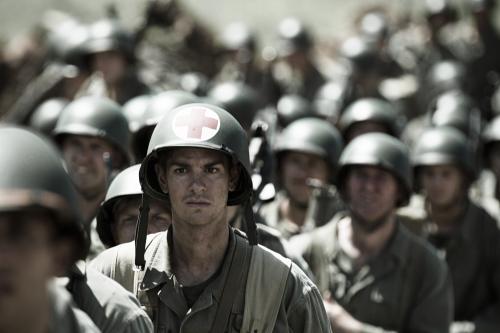 In any war, the individual can often be lost. The chaos of politics can often shroud the immense bravery of soldiers, fighting for what they believe in. In any conflict, the most remarkable stories often come from the ground.
Hacksaw Ridge is such a tale. It chronicles the life of Desmond T. Doss, the first ever conscientious objector to be awarded the Medal of Honor. A Seventh-day Adventist and firm believer in non-violence, he refused to carry a weapon into battle, and still managed to save dozens of lives. It's a story worthy of a great biopic. Mel Gibson achieves this, and more.  
"The whizzing of bullets in surround-sound paint an immersive picture, as if (as I can only imagine) you were on the battlefield, too"
The film is essentially split into two parts: the first half chronicles Doss's enlisting and training in the military, while the second shows his heroics on the front line. Andrew Garfield plays the role of Doss, and it is easy to see why he has garnered Academy Award and Golden Globe nominations for his performance. Putting on a Southern drawl, so different from his native Surrey accent, he has created a character that the audience can warm to – good natured, if at times slightly goofy and awkward. This is a film built around one person and, as such, relies heavily on Garfield's performance. He does not disappoint.
If the first half of the film belongs to Garfield, then the second is a testament to Gibson's skills as a director of war. The film takes a step back from Doss here, as Gibson creates battle scenes of epic proportions. Explosions and gunfire abound, and the amount of gore and violence on display is not for the fainthearted. In order to truly do the film justice, it is imperative to watch it at the cinema. This is mainly due to the realistic sound editing: the whizzing of bullets in surround-sound paint an immersive picture, as if (as I can only imagine) you were on the battlefield, too. The visuals are also fantastic, with the attention to detail creating a setting we're only familiar with from the history books.
The film's main theme is of conflict – not only in battle, but also in Doss' struggles to have his principles accepted. Both Gibson's casting and the film's script aid this. Doss's fellow soldiers are more muscular and brutish than the protagonist, their accents and dialogue more macho. There were some good supporting performances – I was impressed with Luke Bracey's performance as Smitty, and although I was initially sceptical of Vince Vaughn playing a semi-serious character, by the end of the film I found I warmed to him.
This was a story that required a great film – anything else would have been an injustice. Mel Gibson has done just that, and created a drama of epic proportions. Gripping to the last, this film tells the story of an extraordinary individual in an extraordinary manner