Celebrating Rihanna's eternal style
Rihanna, one of the world's most famous figures in music, turned 30 last month. In celebration of her continuously flawless style, Gian Hayer looks back on some of her best ensembles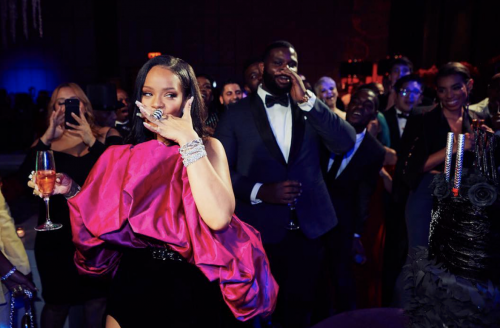 Accepting her award for Style Icon at the CFDA Fashion Awards in 2014, Rihanna revealed to the world her mantra: "She can beat me, but she cannot beat my outfit". It was a statement that has continued to be impossible to deny, with her faultless confidence forever being able to carry the performer's eclectic style. Therefore, in the light of the queen recently turning 30, here is a countdown of the ten most flawless fashion moments from Rihanna's career.
1. London Premiere of Valerian and the City of a Thousand Planets, 2017
Donning a scarlet red gown with an off-the-shoulder neckline from Giambattista Valli's Autumn/Winter 2017 couture collection, Rihanna made sure that she was the centre of attention. While her shapeshifting character in Valerian wouldn't hesitate to change her identity, here Rihanna was distinctly her ethereal self. The look was so well-executed that the evening transformed from a premiere into a one-woman fashion show...and no one was complaining.
2. Met Gala 2009
There's no denying that Rihanna is the queen of the Met Gala. Here, Rihanna took a unique interpretation of the theme 'The Model as Muse: Embodying Fashion' by opting for a black puff-sleeve suit and bow-tie from Dolce & Gabbana's Autumn/Winter 2009 collection. The androgynous look marked a change in the performer's style as she moved towards her darker Rated R era, setting in stone her status as a fashion idol for years to come.
3. Crop Over Festival, 2017
The Crop Over is a festival held annually in Rihanna's home country of Barbados that celebrates the end of a successful sugar harvest. Attending the Crop Over for the fourth time since being in the spotlight, the singer wore a stunning, colourful outfit that epitomised Bajan culture. Her attention to detail together with her immense pride for her country resulted in a jaw-dropping look that made everyone wonder whether Rihanna was actually a goddess living amongst us. 
4. Parsons Benefit, 2017
Being honoured at the Parsons School of Design Benefit for her fashion influence and philanthropic work, Rihanna told millennials in the audience "You should be celebrated for your creativity, for your fearlessness, for your persistence and determination." The singer's unwavering support for young designers was also reflected in her outfit, wearing an oversized tan pantsuit designed by 2014 Parsons graduate Matthew Adams Dolan. 
5. Cannes Film Festival, 2017
Rihanna arrived on the red carpet in a breath-taking white Dior Haute Couture strapless gown with thin white sunglasses that only she is able to pull off. She also showed off jewellery from her new 'Rihanna loves Chopard' collection, looking effortlessly chic in the Southern French sun.
6. Grammy Awards, 2013
Having won eight Grammys so far over the course of her career, Rihanna is no stranger to this particular red carpet. Wearing a beautiful sheer red dress designed by the late Azzedine Alaïa, and pairing it with Neil Lane jewellery, the performer captured everyone's attention. She ended the event with a Grammy in hand and the knowledge that she was most definitely among the best-dressed of the night. 
7. Met Gala, 2017
At the 2017 Met Gala, Rihanna was widely acclaimed for having adhered most closely to the theme 'Rei Kawakubo / Comme des Garçons'. Her Comme des Garçons ensemble was pure artistry, with floral-print fabric and flower petals covering her body. With Le Vian jewellery to complete her striking look, Rihanna's experimentation with fashion shone through, firmly securing her place as a co-host for the event in 2018.
8. Grammy Awards, 2015
Arriving fashionably late to the event, Rihanna stepped out of the car looking like a princess. The fact that the performer researched and found her pink Giambattista Valli Haute Couture strapless dress online shows the personal input and investment she has in her fashion. Her Chopard jewellery added to the Cinderella moment as she made her way down the red carpet looking positively regal.
9. CFDA Awards, 2014
This Adam Selman sheer gown was the perfect choice for Rihanna as she picked up the award for Style Icon. The star literally sparkled as she flaunted the 230,000 Swarovski crystals that were hand-embroidered onto her gown. Her unflappable confidence made for a moment that would become just as iconic as her music.
10. Met Gala 2015, theme – 'China: Through the Looking Glass'
If Rihanna looked like a princess at the Grammys in 2015, at the Met Gala she became a queen. The moment she stepped onto the red carpet, it was as if everything in the world stopped. She stayed true to the theme 'China: Through the Looking Glass' with a magnificent imperial yellow, fur-trimmed cape and headdress – a piece of Chinese couture by Guo Pei. Her ensemble would not only go down as her best look, but also as one of the most significant moments in recent fashion history. And since a picture cannot properly do justice to the overwhelming elegance of the outfit, here's a video posted by the queen herself