Milan Fashion Week: the highlights
Following on from London, Kate Hammond briefs us on the glitz and glamour of Milan Fashion Week, which celebrated the beauty of fashion and femininity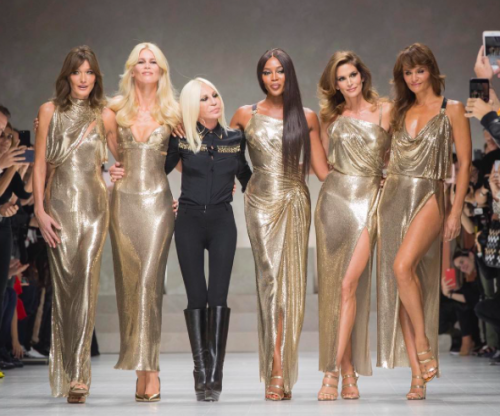 Milan Fashion Week was a glorious celebration of the beauty of femininity. This manifested itself differently at every show; Prada gave us pop-art kick-ass female superheroes, Fendi presented us with blue-haired trench coat-wearing businesswomen, and Moschino transformed their catwalk into a meadow of female flowers. At every show we saw magnificent innovation and originality – the week was a celebration of the classic elegance of Italian style and the artistic integrity of many Italian designers.
Pop art illustrations at Prada took centre stage, with Miuccia Prada featuring the work of eight female artists to create a collection straight out of a comic book, however in this story the females were the ones saving themselves. Accented by sharp oversized jackets, thick ball-worthy skirts and tough leathers, this collection was a modern take on feminist pop culture.
"The week was a celebration of the classic elegance of Italian style and the artistic integrity of many Italian designers."
Another tribute to pop-culture of the past was that of Versace's show, which sent out models in bodysuits with past issues of Vogue sewn into the designs. A moment that particularly stood out was Kaia Gerber in a bright yellow bodysuit emblazoned with images of her supermodel mother, Cindy Crawford, in various Vogue editorials from the 90s.
Joy and energy were baked into the designs of Milan and an optimistic warmth spread throughout the city. Tomas Maier of Bottega Veneta explored the positivity and energy that fashion can bring; a playful and colourful collection with statement pieces such as an apricot leather trench coat, a silk blush coloured playsuit and a lavender fringed dress were seen on his catwalk.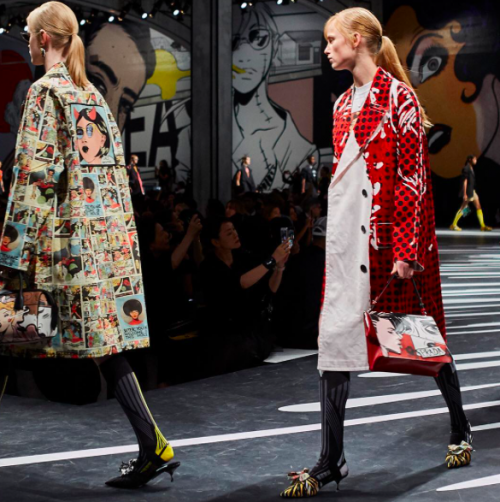 The colours of spring continued to bloom quite literally over at Moschino. Jeremy Scott's ingenious and outrageous take on 'florals for spring' was given a new meaning as models stepped out in life-sized bouquet dresses and petal-like gowns. Blumarine continued with its floral-rooted designs, showing whimsical organza dresses in seafoam green and peony pink, decorated with the most beautiful elements of nature's playground: stitched-in blue butterflies, pink-embroidered blooms and wreathed eucalyptus-shaped leaves.
Fendi's geometric patterns that covered flounced dresses, structured blazers and skimming pencil skirts brought an Italian modernity to workwear dressing, and Max Mara's minimalist chic style was perfect for the sophisticated urbanite, accessorised with red lips, bold brows and sharp cheekbones.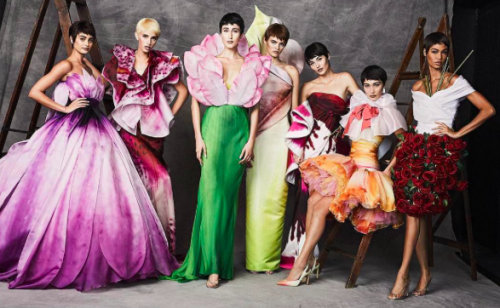 There was glitter glamour from Gucci, a hypnotic show that played on mysticism and 80s rock and roll. No. 21 gave us baby-pink satin gowns, a quintessential Italian 'dolce vita' look, while from Francesco Scognamiglio we received opulent fabrics of leather and lace to give way to a classical, renaissance inspired beauty. Alberta Ferretti also mixed in shimmering lacquer-like fabrics on tied-up shirts and cigarette pants in hues of dusty blue and lavender purple.
---
London Fashion Week: the highlights
Perhaps the most dazzling moment, however, was the tribute to the late Gianni Versace when his sister Donatella sent down the runway five iconic supermodels of the 90s: Cindy Crawford, Naomi Campbell, Carla Bruni, Claudia Schiffer and Helena Christensen were a vision in gold shimmering gowns, transporting us straight back to the glory days of Gianni's Italian glamour for which he is famed.
The mood across the week of Milan could be summarised in three words: powerful, eclectic and original. Whatever the designs, the shows were filled with a joyful energy. It was a week about capturing the beauty of clothes and exploring the art of fashion