Theresa May is weak, but the left's optimism is fuelling her cabinet
Recent scandals and reshuffles have left the Prime Minister in a weakened position, but Beth Bhargava explains why this may not necessarily pave the way to a Labour government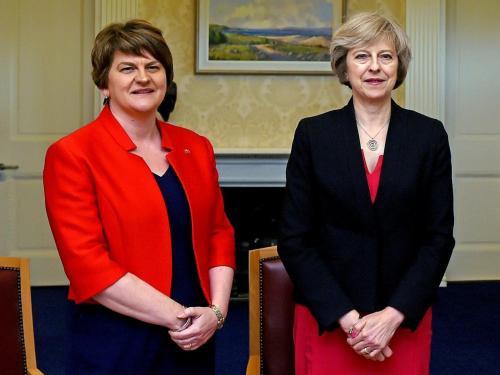 Though the Week Five blues may finally be over for us here at Cambridge, there has been no immediate reprieve for Theresa May. After last week's bewildering flurry of scandals and multiple cabinet resignations, the Prime Minister has since faced reports that up to 40 of her Conservative colleagues may be ready to engineer her own.
In this context, it would be very easy for those on the left to embrace a triumphalist narrative, viewing each new crisis as The One that will finally sink the Conservatives. Yet this may not reflect political realities so much as our own desires.
It is easy to see why the left longingly theorises about governmental collapse. The alternative – the survival of the status quo until the next election mandated by the Fixed-term Parliaments Act 2011 – presents a grim picture. Five years is a long time. Though the Labour Party is doing exceptional work to try to maintain voter engagement, it is inevitable that momentum would be lost over the course of half a decade. It is bitter to realise that rather than capitalising on present successes, we may be forced to fight our next election in the distant future, under circumstances we cannot yet anticipate.
"The stakes are so high that it is difficult to see how even the government's most hare-brained (and straw-haired) careerists and hard-Brexiteers would be willing to make unnecessary gambles"
More traumatically, we must confront the possibility that a government whose policies – from the botched implementation of Universal Credit to the chronic underfunding of our mental health services – are having a genuinely fatal impact may be able to continue its criminal neglect of the British people for the foreseeable future.
Yet for those of us who need comfort, considering this bleak vision, there are more realistic scenarios for us to pin our hopes on than the undermining of the Tory government from within, which remains unlikely at best.
Just over a year ago, I attended a rally in support of Jeremy Corbyn's continued leadership of the Labour Party, as he faced off against Owen Smith. There, a prominent trade unionist reflected on Labour's troubles, observing mournfully that such internecine conflict and leadership challenges only ever seem to sink the left's chances of gaining and maintaining power. Ultimately, he claimed, the Tories always hold together in an expression of class solidarity. It is clearly not that simple, and yet despite all appearances, the Conservatives do even now remain united by powerful sentiments of fear and self-interest.
With all recent polls suggesting a Labour lead, it seems probable (though not certain) that, were a general election to be held tomorrow, a Labour government would result. Specifically, this would be a Corbyn-led government, shattering almost four decades of neoliberal consensus which many of those now in power consider their life's work. Yet the very fact that a socialist administration now seems a real possibility is what will bind the Tories together, driving them to cling defiantly to power.
At this stage, the stakes are so high that it is difficult to see how even the government's most hare-brained (and straw-haired) careerists and hard-Brexiteers would be willing to make unnecessary gambles, knowing the immense potential cost. It is entirely possible that the Conservatives will weather the present storm, suppressing the impact of internal strife just enough to stay afloat in a kind of depressing, Thatcherite version of Life of Pi.
Therefore, those eagerly awaiting the fall of the government would do better to shift their focus and hopes away from the executive, and towards Parliament.
With the media spotlight currently turned on the internal affairs of the Conservative Party, it is easy to forget that they do not rule alone, being entirely dependent upon the co-operation of the DUP. The DUP have already inflicted unanticipated defeats on the Conservative Party by backing Labour proposals to increase NHS workers' pay and scrap the tuition fee rise, standing by the anti-austerity commitments made in their manifesto.
These were non-binding votes, but it is not unreasonable to expect that the opposition may yet be able to further exploit divisions between the two parties, and with more significant results. With discussion continuing over the implications that Brexit will have for Ireland, worries mounting over the possibility of a hard border, and the floundering negotiations failing to deliver any real clarity on the issue, it is inevitable that tensions will continue to rise.
To me, a parliamentary vote of no confidence backed by the DUP, though still a very distant possibility, presents the most significant hope for a premature end to the present government and all the sufferings it has engendered. I will continue to observe the practical operations of the 'confidence and supply' deal with (desperate) interest