Live: The Boat Races 2022
Varsity brings you live action from this year's Boat Races on the Tideway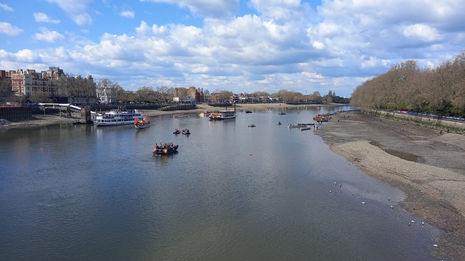 Live Text
(Refreshes automatically)

Join Varsity for up-to-the-minute coverage of the 167th Men's and 76th Women's Boat Races.
Returning to the Championship Course for the first time since 2019, Cambridge won the 76th Women's Boat Race, while Oxford emerged victors of the 167th Men's Boat Race.
Want to see what Cambridge's rowers and coaches had to say before the clash? Read our Boat Race preview here.
Check out all of our coverage of this year's Races, from the Trial VIIIs ties back in December to March's classy crew announcement.
4:50pm 
As we thank you for joining us on this day of turbulent emotions down on the Thames, take a read of the Women's and Men's race reports.
4:15pm 
Champagne sprayed, trophies presented, and coxes hurled into the river - that's an end to The Boat Race 2022! 
3:46pm 
Questions will now be asked of Cambridge's initial decision to choose Middlesex over the more popular Surrey station, but Oxford ultimately put on a textbook performance and stuck to their rhythm to take the victory.
3:45pm 
Luca Ferraro has his head in hands, as the Light Blue rowers endure a tough moment on the river.
3:44pm 
Cambridge will be devastated with the losing result against today's favourites.
3:42pm 
As Oxford snap their losing streak that dates back to 2017, Tobias Schroder breaks down in tears of joy and relief.
3:42pm 
OXFORD HAVE WON THE 167TH MEN'S BOAT RACE!
3:42pm 
The Dark Blues pass the finish line, raising their arms and oars in celebration!
3:39pm 
It'll be mixed fortunes for the Parish family today, with cox Jasper winning the Women's Race but brother Ollie staring at defeat in the 167th Men's Boat Race.
3:38pm 
Cambridge trail by 6.7 seconds just a couple of hundred metres from Barnes Bridge - a near-impossible deficit to overcome at this point.
3:36pm 
Oxford are sitting in a reasonably comfortable position as the race is nearing Barnes Bridge.
3:34pm 
Pinsent warns Oxford to return to their station.
3:33pm 
It's do or die for the Light Blues right now, as Oxford are moving away at a 3.3-second lead approaching Chiswick Pier.
3:33pm 
Oxford are preferring shorter, more aggressive strokes, really working the shoulders, while Cambridge are gliding with longer strokes.
3:32pm 
There's now open water between the two crews just after Hammersmith Bridge, as the pair's contrasting styles is coming to the fore.
3:31pm 
Oxford are on the brink of breaking clear of an entire length, as Cambridge find themselves in dangerous territory.
3:29pm 
Coming into the Hammersmith bend that favours the leading Oxford crew, both boats are really pushing the tempo.
3:28pm 
The men are struggling with a stronger head wind than the women had to face, as Oxford cox Jack Tottem is level with Cambridge bow Luca Ferraro as they pass Craven Cottage.
3:27pm 
Cambridge will have the inside advantage in the first bend, as Pinsent warns the two crews of their positioning for the third time.
3:26pm 
Approaching the Middlesex bend, Oxford has a 0.25-length lead.
3:26pm 
The Dark Blues are fractionally quicker than Cambridge in the stoke, as umpire Pinsent urges the two boats apart.
3:25pm 
Cambridge get away very cleanly, but Oxford look to be taking inches out of the Light Blues.
3:24pm 
Umpire Matthew Pinsent prepares the two crews, as we're moments away from the start.
3:24pm 
The current men's record stands at 85-80 in favour of Cambridge.
3:22pm 
The two crews are eagerly lined up on the water, with both coxes' hands raised. 
3:21pm 
This year's matchup is looking particularly appealing, given there are five Olympians across the two crews.
3:16pm 
Oxford's crew: (Cox) Jack Tottem, (Stroke) Tobias Schroder, (7) Angus Groom, (6) Charlie Elwes, (5) Roman Roosli, (4) Jack Robertson, (3) Barnabe Delarze, (2) David Ambler, (Bow) Liam Corrigan.
3:15pm 
Taking a look at the crews, Cambridge's men will line up like so: (Cox) Charlie Marcus, (Stroke) Ollie Parish, (7) James Bernard, (6) Tom George, (5) Ollie Wynne-Griffith, (4) Simon Schürch, (3) George Finlayson, (2) James Hunter, (Bow) Luca Ferraro.
3:11pm 
As celebrations continue at the end of the Championship Course, all eyes now turn back to Putney, as the 167th Men's Boat Race is just over ten minutes away from starting.
2:54pm 
Tew continues: "We just went out there and did exactly what we planned to do."
2:52pm 
Speaking to Varsity after the race, Ruby Tew affectionately describes Parish as "a little legend", dismissing any claims of dangerous steering from the Cambridge cox.
2:47pm 
As the two crews dock at Quintin Boat Club, applause deservedly bursts out for both sets of athletes.
2:46pm 
Some aggressive steering from Parish will draw competing opinions, but ultimately the Light Blues were the faster boat on the day and would have won either way.
2:45pm 
A time of 18:22.8 marks a new course record for the Light Blues, breaking their previous record of 18:33 back in 2017.
2:44pm 
Cambridge makes it five in a row with this afternoon's victory, while Imogen Grant notches up a hat-trick of Boat Race wins - a truly monumental achievement.
2:43pm 
Oxford cox Joe Gellett complains to the umpire after the Race regarding Parish's aggressive steering, but no disqualification in order.
2:42pm 
CAMBRIDGE WIN THE 76TH WOMEN'S BOAT RACE IN RECORD TIME!
2:41pm 
With gritted teeth, Cambridge's Grant and Grace Prendergast are blitzing it towards the finish line.
2:40pm 
500 metres remain. The gap between the boats has remained stable since Hammersmith Bridge.
2:39pm 
Parish will now be looking to keep the crew under control and eliminate the risk of any late mistakes and disruptions to their furious pace.
2:39pm 
Barring a catastrophe, Cambridge are set to win the 76th Women's Boat Race!
2:38pm 
Just under a mile remains in the race, as both crews are maintaining similar pace.
2:37pm 
The Oxford crew are rowing superbly, but have simply been outgunned by a very strong Cambridge boat.
2:36pm 
Coming up to Barnes Bridge, Cambridge's lead remains healthy, as Parish urges his crew on for what could be a record-breaking time.
2:34pm 
Cambridge's lead now looks insurmountable for Oxford, as the Light Blues have settled into a dominant rhythm.
2:34pm 
At just over halfway, Cambridge have edged a 1.7-length lead, as the crews once again switch stations as they approach Chiswick Pier.
2:33pm 
Some bold coxing from Cambridge's Jasper Parish saw the boats switch stations going into Hammersmith.
2:32pm 
Coming out of Hammersmith Bridge, Cambridge are about a length ahead of Oxford, with a 3.8-second lead on the Dark Blues.
2:32pm 
We're back after some technical issues!
2:25pm 
Both crews have settled down, as Cambridge have put themselves in a nice half-length lead going into the first Middlesex bend.
2:24pm 
The Light Blues have pulled a slight lead, as the umpire warns Cambridge to get out of Oxford's water.
2:23pm 
Cambridge had the slower start but caught up extremely well, as we now go past the first few hundred metres.
2:23pm 
It's neck and neck from the start, as both crews get away well.
2:23pm 
All falls silent on the river, and we're off!
2:22pm 
Conditions on the Tideway are good and primed for a great race!
2:22pm 
The two Women's crews are ready on the Tideway, as the cox's arms are raised.
2:20pm 
Oxford's Amelia Standing, however, is the reigning World Champion in the Coxless Four after taking gold in the U23 2021 World Championships.
2:19pm 
The Kiwi Olympian pairing of Grace Prendergast and Ruby Tew will also offer the Light Blue power in abundance.
2:19pm 
Cambridge stroke Imogen Grant brings Team GB experience to the crew after racing in Tokyo last year, narrowly missing out on a medal in the Lightweight Double Sculls.
2:17pm 
As for the Dark Blues: (Cox) Joe Gellett, (Stroke) Annie Anezakis, (7) Erin Reelick, (6) Gabrielle Smith, (5) Anastasia Posner, (4) Anja Zehfuss, (3) Christine Cavallo, (2) Amelia Standing, (Bow) Julia Lindsay.
2:15pm 
Looking at this year's crews, Cambridge will consist of the following: (Cox) Jasper Parish, (Stroke) Imogen Grant, (7) Grace Prendergast, (6) Sarah Portsmouth, (5) Bronya Sykes, (4) Ruby Tew, (3) Paige Badenhorst, (2) Caoimhe Dempsey, (Bow) Adriana Perez Rotondo.
2:08pm 
Meanwhile, Cambridge's men won their toss and surprisingly chose to start on the Middlesex station. The 167th Men's Race will take place later on at 15:23.
2:06pm 
About an hour ago, Cambridge's Bronya Sykes lost the traditional coin toss. Oxford subsequently chose to row Surrey side, which will give them the inside advantage going under Hammersmith Bridge.
2:05pm 
The Light Blues will be looking to make it five wins in a row, while Oxford will be hoping to snap their losing streak.
2:04pm 
We're less than 20 minutes away from the start of the Women's clash.
2:02pm 
Good afternoon from the Championship Course in London, the historic home of the annual Boat Race, where Varsity eagerly awaits the 76th Women's and 167th Men's Races!
Varsity is the independent newspaper for the University of Cambridge, established in its current form in 1947. In order to maintain our editorial independence, our print newspaper and news website receives no funding from the University of Cambridge or its constituent Colleges.
We are therefore almost entirely reliant on advertising for funding and we expect to have a tough few months and years ahead.
In spite of this situation, we are going to look at inventive ways to look at serving our readership with digital content and of course in print too!
Therefore we are asking our readers, if they wish, to make a donation from as little as £1, to help with our running costs. Many thanks, we hope you can help!