A stone's throw from Craven Cottage in South West London, photographers and press piled into the historic London Rowing Club, vying for quotes, exclusive pictures, and predictions from this year's Boat Race crews. Ahead of Sunday's (3/4) clash on the Tideway, Cambridge University Boat Club's (CUBC) rowers and coaches talked about what, for many, will be the biggest race of their lives.
Cambridge stroke Imogen Grant is a two-time Boat Race winner, but hasn't rowed for the Light Blues since 2018 after intermitting for three years. She is hardly rusty though. In her time away, she competed for Team GB at last summer's Tokyo Olympics, narrowly missing out on a medal in the Lightweight Double Sculls. However, she did watch Cambridge's Boat Race victory last year from afar: "Watching the Boat Race when you're not in the crew is so nerve-wracking because you have no control over results. But, it was awesome to watch the win after what was such a difficult year."
Grant is the only member of the Cambridge Women's crew to have raced on the Tideway in the Boat Race, but she doesn't think that'll be an issue for the team: "I think we've all brought something slightly different to the boat.
"When the flag goes up to start the race, the entire area goes silent. As soon as the flag drops, it's this cacophony of noise"
"We've got a lot of international experience, plus mine and Adriana's experience of the Tideway [Adriana Perez Rotondo raced for Cambridge's reserve boat, Blondie, back in 2019], then a lot of returning Blues, as well as the experience of training through Covid and dealing with uncertainty and adapting to that." CUBC Women's President Bronya Sykes, Caoimhe Dempsey, Sarah Portsmouth, and Rotondo are all returning Blues after racing on the River Great Ouse last year.
"Obviously on the Tideway it's a bit different," Grant continues, "and so hopefully I've been able to impart little bits and bobs. Whether it's just how the water feels differently or where the tide's fastest - that sort of thing."
In her experience, the crowd adds a different dimension to the race too: "For most rowing events, it's pretty quiet. But, the noise you get during a Boat Race is like nothing else." For Grant, it's a motivator: "When the flag goes up to start the race, the entire area goes silent. As soon as the flag drops, it's this cacophony of noise."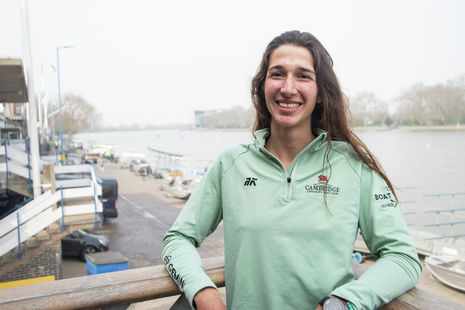 Club President Skyes feels the same about the West London crowd: "The team will really enjoy having the crowd there and it hypes everybody up." She's thrilled about moving back to the Thames from Ely too: "The Tideway is the home of the Boat Races and being able to race here on the Championship Course makes a huge difference. It's just really exciting.
"There's always going to be a bit of nerves coming up in front of thousands of people and being in such an important race, but I don't think it makes any difference in terms of being in Ely or here."
Sykes also touches on her crew's overall confidence for the race: "We're just having the best time and I think that really shows in our rowing. We're just nice and relaxed and enjoying being out on the water together. It's been going really well and we're feeling really positive about it."
"We've never had a Grace Prendergast or an Imogen Grant post-Olympics before [...] If the stars aligned, this crew could have a crack at the record"
Does Oxford feature in their headspace in the days before the race? For nearly everyone, it's a resounding no. "We don't really talk about them that much," says Sykes, "we can only change our own rowing and how fast we're going. We can't change how fast they're going, so there's not really much point focusing on them.
"There might be a discussion [about Oxford] between the cox and our coach, but for the most part it's thinking about what is the fastest way on this river. We'll race whoever shows up on that start line, we just want to race."
CUBC Women's Chief Coach Patrick Ryan counters this, however, emphasising that the attention paid to the Dark Blues in their preparation is "absolutely none", as he elaborates: "I can't control what Oxford do. I know it's a bit of a thing to put 'GDBO' [God Damn Bloody Oxford] at the bottom of an email, but you don't get that from me. I want a great race. I want to win the race, but I want a great race.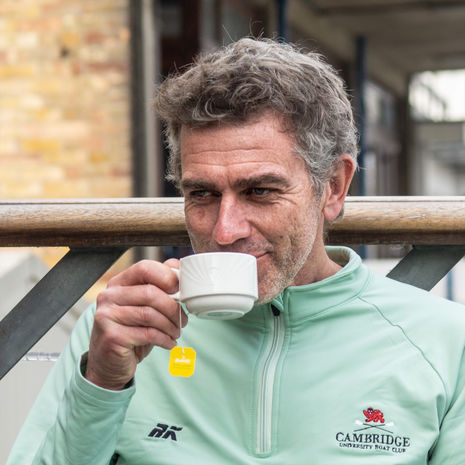 "That's the one thing the Women's Race hasn't had since it's moved to the Tideway. I want to respect my opposition. They've got Olympians, they've got a World Champion [Amelia Standing], they've got class everywhere."
Looking at Cambridge, Ryan is glowing about his team: "We've never had a Grace Prendergast or an Imogen Grant post-Olympics before. It's my first Blue boat, and it's an extraordinary crew. If the stars aligned, this crew could have a crack at the record. The two former crews that really stand out are 2017 and 2018, and I would hold this in that group."
Light Blue three-seat Ruby Tew, a fellow Kiwi Olympian with Prendergast and now studying for an MBA at Queens' College, was not a Cambridge student before this year, but says the previous Blues have helped in preparation for the race: "They've told us about all of their experiences. Also, watching past videos has been helpful to see the scale of the whole event."
Like many of her teammates before the showdown, Tew can't wait to get underway: "The last few days are always the fun part." So, any nerves? "Not yet," she replies, "probably as we count down the days I'll definitely get a bit nervous, and I think especially on the day when there are so many people around it'll be a totally different game."
"Even in the world of rowing, which is quite a unique sport, the Boat Race is such a unique experience"
Glancing over at the Men's crew, bow Luca Ferraro has particularly enjoyed a meteoric rise to the Blue boat. Standing out amongst the likes of ex-Olympians, Ferraro is just twenty-years-old and a second-year undergraduate studying Classics at King's College. More remarkable, however, is that despite representing Team GB at youth level back in 2019, he has not represented Cambridge in either the Blue or reserve Goldie boat before this year's Boat Race. What does he put his incredible rise down to then? "It's hard to say," Ferraro explains, "in rowing with trialling, we just try and stay process driven.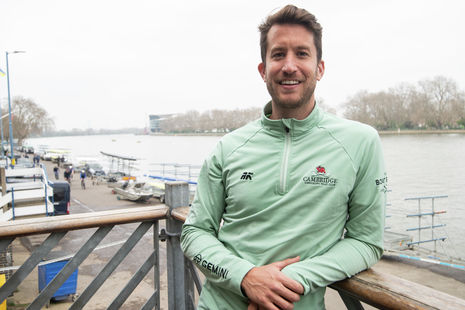 "I can't say there's anything in particular beyond doing the training day in, day out that has got me to this point specifically. We just keep reassessing and moving the goal posts a bit further out and seeing what I can do by just doing the training. We didn't put any limits on how far I could go with it."
Ferraro's been improving "more than expected" and believes he is well prepared for this Sunday despite his inexperience: "Even in the world of rowing, which is quite a unique sport, the Boat Race is such a unique experience. Through the fixture season, we've been simulating the process, simulating how it feels to get out there in a crew and line up. It's just about drilling the routines so, when it comes to race day, it's all second nature."
But, even in situations of second nature, nerves will inevitably creep in. "I'd be lying if I said I wasn't nervous," confesses Ferraro, "but most of all I'm just so excited. This is a truly phenomenal crew to be a part of and I feel lucky and privileged to be a part of it. It's so exciting how much it's improved."
"We had a training camp last week [in Switzerland] and went into that seeking to step on every session we had, and I think we really achieved that. We're in so much better a place now than two weeks ago. That trajectory is so exciting. It's really making Sunday an appealing prospect."
Like Patrick Ryan, Men's Chief Coach Rob Baker, who has been with CUBC for the best part of two decades, is equally positive about his crew: "I think it's the fastest crew I've seen. I would not just say that for the sake of it. We have four Olympians [Tom George, Ollie Wynne-Griffith, Simon Schürch, and James Hunter] and two guys who are the fastest pair in the country at the moment [George and Wynne-Griffith]. We've got experience in each seat. We have the right people for the right seats."
So, what will the last few days before the race hold in store for the men? "A few important training pieces," describes Baker, "the guys are ready to race, but there's a final few pieces to put together. There's some serious talks to have about the gravity of the race and what it means to people, and then it's about calming that process down and trying to be methodical and professional about how to get the best out of ourselves. At the end of the day, you've just got to row really well."
Baker's careful blend of pragmatism and confidence has certainly rubbed off on his crew: "I'm confident in what the guys can do and deliver, and that's what we're focused on. I don't know how fast Oxford are, so I can't tell you 'we're going to win by whatever' or that 'we're going to win'. But, I can tell you we're going to be pretty good."
Join Varsity from 2pm on Sunday 3rd April for live coverage of The Boat Race 2022.