BUCSCast: Lent Gameweek 7
Alongside the University Sports Service, we bring you all the highlights and the lowlights of a Light Blue week in BUCS.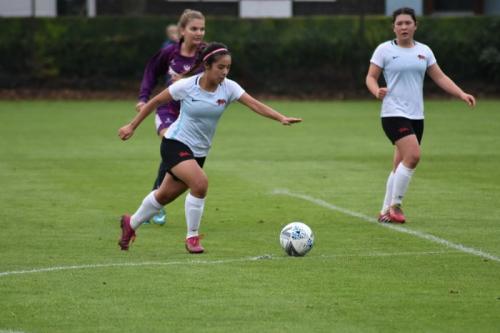 Lent Gameweek 7 saw many Light Blue sides take to action for the last time with a view to ending their 2019/20 season by securing survival, promotion or a firm place in-between. Here, we look at five such bids.
Football – Warwick vs Women's 1st – Result: Win  
Cambridge Women's 1st had the exciting prospect of a title deciding fixture to build excitement on their journey to Warwick, a team they had been firmly dispatched by earlier in the season. Keen to ensure history didn't repeat itself, the Light Blues played with a coolness and composure which saw they come away 3-1 winners. Captain Connie Buettner (Lucy Cavendish) tucked away an eight penalty of the season whilst top scorer Sophia D'Angelo (Queens') bagged another two for her tally. With the title firmly in their hands, Women's 1sts are now set to make a triumphant return to Midlands Tier 1 in the 2020/21 season.
Basketball – Women's 1st vs UEA – Result: Win
Ensuring another league title makes it way back to Cambridge were the Women's 1st basketball team, who overcame East Anglian rivals UEA in a tight 58-48 encounter to seal promotion back to Midlands Tier 1. All of this came after a busy week for the Light Blues, which had previously seen them shooting 24,000 hoops in 24 hours (eventually smashing the initial target) in order to raise some funds for new kit as well as the Cambridge Adult Disability Multi Sport Club (CADMuS) based at the Sports Centre. Ensuring no rest for the wicked, the team heads off to take on Loughborough over the weekend before travelling to UEA for the Conference Cup Final on Wednesday 11th March.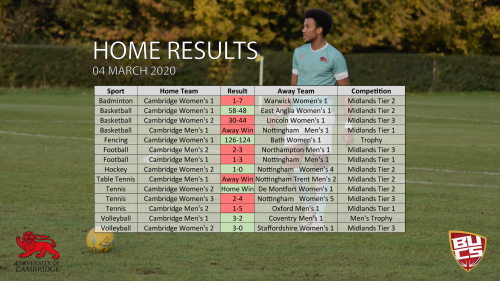 Fencing – Women's 1st vs Bath – Result: Win
A tense afternoon at the University Sports Centre saw Cambridge take on a Bath side they are likely to face again in next month's promotion playoff. On this occasion Cambridge edged a nail biter and a half 126-124, with the final result coming right down to the final thrusts. The Light Blues were to victory led by captain and UCAPP athlete Maddy Lee (Jesus), whose side are now set to travel to Nottingham to face the University of Glasgow in the annual BUCS Big Wednesday on 25th March.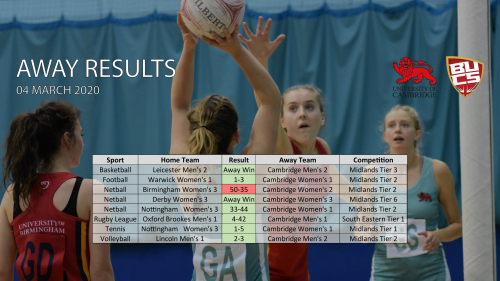 Volleyball – Mens 1st vs Coventry – Result: Win  
Joining Fencing at the BUCS Big Wednesday are the Men's 1st Volleyball squad, who overcame challengers Coventry to claim a hugely entertaining encounter. A real back and forth tie saw Cambridge get ahead in the tie break before clinching a very satisfying win to cement their status as one of the top university teams in the country. The Light Blues next face league rivals Derby in the grand finale.
The winning point is well worth a browse...
Rugby League – Men's vs Oxford Brookes – Result: Win
In their final game before a hotly anticipated Varsity clash, Cambridge Rugby League travelled to face an Oxford Brookes side who had already been crowned champions of the South East Tier 1 league. Sensing an opportunity to get one over on two Oxford teams in two weeks, captain Jack Beevers (St. Johns) set his team on demolition mode to come out with a marauding 42-4 win. Now just the matter of carrying this momentum on to the Varsity away to Oxford on Saturday 14th March, as Cambridge seek their first Varsity win since 2009.
Full results, fixtures and tables available on the BUCS Play website.