Cambridge fall to defeat in 137th Varsity match
An experienced Oxford side overcame battling Cambridge to win back the Varsity crown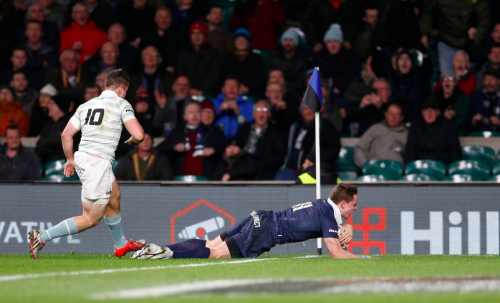 Despite a strong start from Cambridge, Oxford beat Cambridge 38-16 to exact revenge for last year's 20-10 loss and win the 137th Varsity match in front of a crowd of 21,893.
"To Cambridge's credit, they displayed admirable tenacity and determination even in the face of a looming loss"
Oxford, captained by 31-year old Heineken cup winner Dom Waldouck and containing 33 year-old ex-England international George Robson, were strong favourites going into the game, with Cambridge captain Nick Koster even commenting: "We are very firmly the underdogs because Oxford have got six or seven players with professional experience. Our team is largely a team of undergrads that is willing to learn with every game" And, indeed, Oxford's wealth of experience eventually proved the difference.
Cambridge, however, started superbly and immediately put Oxford on the back foot.
Excellent work from the forwards at the breakdown in the opening 10 minutes allowed Cambridge to win two early penalties, which were both converted by Mike Phillips to put Cambridge into an early 6-0 lead. Though a penalty from a Cambridge high tackle allowed Tom Humberstone to halve the arrears, a sustained spell of Cambridge pressure followed, and Cambridge were unfortunate not to score the first try of the afternoon when the Nigel Owens harshly adjudged that winger Elliot Baines was not in control of the ball. Instead, play was pulled back for a penalty and Cambridge were forced to settle for three-point rather than the try.
This moment, however, proved something of a turning point in the game, and, encouraged by this slice of fortune, Oxford  began to assert themselves in the game. A moment of magic from ex-Saracens and London Irish full back Ben Ransom, who was a constant thorn in the Cambridge defence with his pace and strength, allowed Oxford to score the afternoon's first try. Picking up the ball 25 metres out, Ransom danced away from a tackle, leaving a clear path for Oxford winger Dan Barley to touch down in the corner, and Humberstone duly kicked the conversion to give Oxford a narrow 10-9 lead at the interval.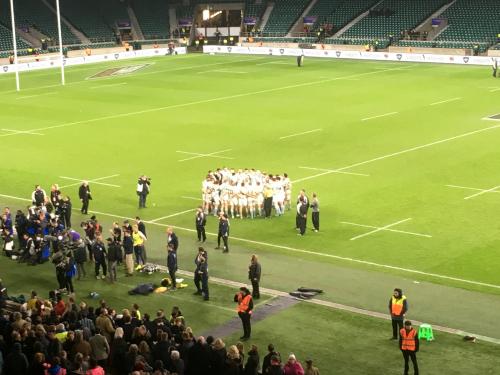 Oxford, however, buoyed by taking the lead on the stroke of half-time, quickly extended their lead.  After a Cambridge player knocked-on following a high kick into Cambridge territory, a dominant scrum and maul from the Oxford forwards meant that Charlie Pozniak, a former Sale-Sharks under-18 captain, was able to bundle over in the corner. And when Humberstone again converted with aplomb to give Oxford a 17-9 lead, Cambridge faced an uphill battle to retain their Varsity crown.
The task got even harder ten minutes later when a well-worked move among the Oxford backs, again initiated by the mercurial Ransom, left Oxford winger Tom Stileman free to score in the corner, and Humberstone again converted to put Oxford 24-9 up.
Things went from bad to worse for Cambridge when an incredible solo run from well-deserved player-of-the-match winner Ransom was only stopped when Phillips illegally pulled him back, and he was sent to the sin bin by Owen to give Oxford a numerical advantage. Oxford immediately capitalised on this advantage from the resulting penalty, when another well-executed move from the Oxford backline put Dan Barley through for his second try of the night, giving Oxford a seemingly unassailable 31-9 lead with just 20 minutes to play.
To Cambridge's credit, they displayed admirable tenacity and determination even in the face of a looming loss, and they were rewarded for their efforts when captain Koster touched down in the corner following a scrappy ruck. By now, however, Oxford were rampant and again scythed through the Cambridge back-line, with fly-half Humberstone this time finishing off the move to score Oxford's fifth try.
Oxford, then, were able to celebrate their 60th Varsity victory, while the despondent Cambridge players were left to rue what might have been on an afternoon when Oxford's individual star quality proved the difference.