Let the boys play? Let the girls play too
Saudi Arabia is taking steps towards integrating its sport, by allowing women into football grounds, but there is much more still to be done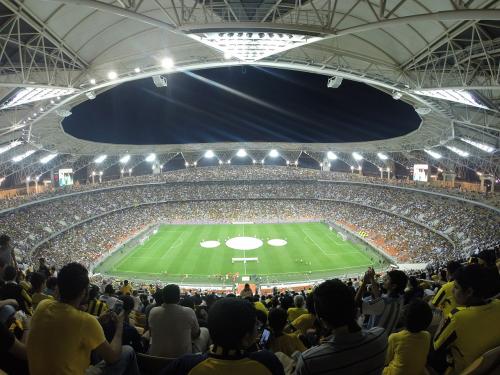 On Friday 12th January 2018, in Jeddah, Saudi Arabia, football fans flocked into the King Abdullah Stadium to watch a match between Al Ahli and Al Batin. Team colours bisected the ground as two of the Kingdom's top sides fought it out over 90 minutes. Just another league fixture, except this was not. For the first time, women were in the crowd.
The measure was first announced in October. The King Abdullah Stadium was the first to open its turnstiles to women, swiftly followed by grounds in Riyadh and Dammam on Saturday 13th and Thursday 18th respectively.
There is, however, still progress to be made within the ground. Men are women are still segregated, entering separately with women confined to family areas. Such family areas are ubiquitous in Saudi Arabia, they can be found in restaurants, banks and hospitals. Despite receiving much attention in the international press, the family section was less than half-full on Friday, but at least the provision for women was there. The hope is, more women will start to attend these matches; women will have more opportunities to do so as well, as the rest of the Kingdom's major grounds open their gates to all.
This change may seem like a small step, but it represents much more for women in Saudi Arabia. Admitting women into football grounds conveys a willingness to integrate them into society and gives them the chance to work towards an equal footing with men. It also represents an important opportunity for women to have a greater public presence. The change received much support on social media. During the match a hashtag, which translates as 'the people welcome the entry of women into the stadiums' was used by tens of thousands of people on Twitter. Lamya Khaled Nasser, a football-loving woman who was delighted to be at the ground, told Agence France-Press: "this event proves that we are heading in the right direction."
This was not the only revolutionary change on Friday. The morning before the football match, the first car showroom dedicated to female customers was opened, following announcements that Saudi women will be permitted to drive in June. This development is part of a wider program of loosening strict laws in this conservative, Muslim country. Last year, for example, the ban on cinema was lifted and Saudi Arabia hosted its Comic Con Convention. The Crown Prince Mohammed bin Salman is thought to be the pioneer behind these reforms. As 50% of the Saudi population are under 25, there is a definite hunger for change. This desire is gradually being realised by the Crown Prince, who has vowed to make Saudi Arabia more moderate.
Despite changes to spectators' rules, female sportswomen themselves remain a rare species in Saudi Arabia. At London 2012, Sarah Atter and Wojdan Shaherkani made history becoming the first female athletes from the Kingdom to compete in the Games, in athletics and judo respectively. Part of Atter's motivation was to inspire other Saudi women. In an interview with Runner's World, she said: "it's important for girls to keep seeing women athletes who look like them." Even more impressively, these women achieved this feat without support from the Saudi Olympic Federation. During the Opening Ceremony, Atter and Shaherkani were forced to walk behind the male athletes. At Rio 2016, the number of female competitors from Saudi Arabia doubled to four, and in Tokyo 2020, Atter hopes to reach the qualification time for the Olympics rather than receive a wildcard. This would make her the first Saudi Arabian woman to do so.
Yet, despite these pioneering women, domestically not much has changed for women wanting to participate in sport. An independent study published for the Centers for Disease Control and Prevention found that 34% of women in Saudi Arabia are obese. There is no official ban on women playing sport, but women are certainly not encouraged to participate. Deterrence begins at school where there are no scheduled sports lesson for girls. Going to the gym has become slightly easier for Saudi women: in 2015, a handful of new gyms for women were opened, whereas previously, private gyms were almost exclusively for men. Much more needs to be done, however, to encourage Saudi women to take part in sporting activity: it's not just about sending Saudi Arabian women to the Olympics, but about implementing changes domestically to enable every woman to feel confident enough to join in. 
Sport is by no means the only arena which requires change with women in mind in the desert Kingdom. Women are still prevented from doing many everyday mundanities that are basic rights elsewhere: without the permission of a male family member, they are unable to apply for a passport, travel abroad, marry, or open a bank account. There may be a lot to do for women's right in this country, but football stadiums opening their doors to women spectators show that Saudi Arabia is beginning to move in the right direction