Squads announced for Varsity Matches
Will Briggs features in a record seventh Varsity Match while there are twelve returning Blues in the women's team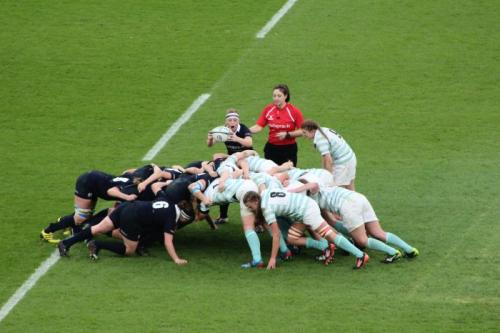 The squads for the eagerly awaited Varsity matches taking place at Twickenham on Thursday 7 December have been announced.
Women's captain Lara Gibson starts in the 13 jersey alongside eleven other returning Blues, with one more set to come off the bench in replacement hooker Emma Pierce. Winger Bluebell Nicholls, loosehead prop Jenny Oriss and blindside flanker Fiona Shuttleworth will all earn their first Blue having earned their spots in the starting XV. The selection of Shuttleworth, along with that of her twin sister Jenny who will start on the bench as back-up scrumhalf, continues the familial trend of the Varsity matches, with last year's victorious Cambridge men's team containing twin brothers Lola and Lare Erogbogbo.
Gibson's charges go into the game against their Blue counterparts seeking to avenge last year's defeat, where a single penalty from the boot of outhalf Catherine Wilcock handed Oxford a 3-0 victory. The score line could not have been more different from the Light Blue's 52-0 win the year before, and heading into this contest Cambridge have been replicating their high-scoring form. In their BUCS league campaign thus far this season, the side has put in some scintillating attacking performances, racking up a over 100 points against Bournemouth and Nottingham Trent respectively, and almost achieving a hat trick of centuries against Leicester in a 97-0 win.
Their 61-0 victory over University of East Anglia at home two weeks ago pales in comparison. Given their try-scoring form, no doubt they will be looking to repeat the trick come Thursday 7 in London, especially with the good form of fullback Alice Middleton. Her clash with opposite number Sophie Trott is keenly awaited; they are the last two winners of the 'Pegers-Bunting Award' for the player of the match, and will lock horns once again in Twickenham.
On the men's side, Charlie Amesbury will lead out seven returning blues in the starting line-up with one more on the replacements bench. It will be a record day though for prop William Briggs, when he makes his seventh appearance in this fixture, the most ever. The 27 year-old Magdalene College Medic who made his debut in 2011, matched the figure of six matches during last year's 23-18 triumph, Briggs' first in his Cambridge career, but come the end of this match he will stand alone.
Both sides boast plenty of professional experience in their respective line-ups. Amesbury himself is a former England sevens and Bristol player, and he is joined by fellow ex-sevens member Ollie Phillips, who starts on the wing. Another ex-Bristol pro Nick Koster starts at second row, while Harlequins academy star Jake Hennessey starts at 12. The Trinity MML student is partnered in midfield by fellow Scotsman Archie Russel, brother of current Scotland and Glasgow outhalf Finn. The side is given an even further Scottish flavour with the selection of former U20 international Buchan Richardson at No. 8.
On the dark-blue side of the ball, captain Conor Kearns calls upon England Sevens international Sam Edgerley at full back, ex-England Saxons player Andy Saull at openside flanker and Italy Under 20 cap Rob Talotti at blindside. Canadian international Dan Moor starts in the 13 jersey, but current Newcastle Falcons centre, Saxons cap and Heineken Cup winner with Wasps Dom Waldouck can only make the bench after only making one appearance in the build-up to the clash due to injury.
The 31st Women's Varsity Match and 136th Men's Varsity Match returns to Twickenham on Thursday 7 December, with women kicking off at 11:30 am, and the men at 3pm.
The teams:
Women's: 
Cambridge (15-1): Middleton* (Lucy Cavendish), Farrant* (Emmanuel), Gibson* (Lucy Cavendish – captain), Coleman*, Nicholls (both King's), Donaldson* (Clare), Marks* (Murray Edwards), Pratt* (Emmanuel), Withers* (Fitzwilliam), F. Shuttleworth (Pembroke), Nunez-Mulder* (Emmanuel), Elgar*, Banner* (both Girton), Gurney* (Newnham), Orriss (St Catharine's)
Replacements: Pierce* (St Catharine's), Chan (Churchill), McCoig (Downing), Bramley (Girton), Spruzen (Queens), J. Shuttleworth (Churchill), Graves (Girton), Gimson (St Catharine's)
Oxford: Trott* (Wadham), Smart (Mansfield), Simpson (St Edmund Hall), Bunting* (New), D'Cruz (Keble), Dombrowski (Kellogg), Metcalfe-Jones* (Christ Church), Behan* (Edmund Hall – captain), McArdle* (Green Templeton), Cooper* (Worcester), Collis (Lincoln), Haste (Trinity), Odgers* (Lady Margaret Hall), Bidgood* (University), Ellender (Pembroke)
Replacements: Cartwright (New), Leong (St Hugh's), Matte-Gregory (Mansfield), Male (St Edmund Hall), Rees (Keble), Mingay (Pembroke), Fenwick (Exeter), Bamber (St Peter's)
Men's:
Cambridge: Amesbury* (captain), Phillips (both Queens'), Russell (St Edmund's), Hennessey (Trinity), King* (St Catharine's), Phillips* (Emmanuel), Bell (Girton), Richardson (Selwyn), Leonard (Emmanuel), Watson (Corpus Christi), Hunter* (St Edmund's), Koster (Queen's), Dixon* (Downing), Burnett* (Jesus), Briggs* (Magdalene)
Replacements: Huppatz (Downing), Dean (St John's), Troughton (Robinson), Rose (Jesus), Hammond (Queen's), Elms (Magdalene), Griffiths (St John's), Triniman* (Hughes Hall)
Oxford: Edgerley (St Catherine's), David* (St Hilda's), Moor (Christ Church), Moorby (Queen's), Stileman* (St Peter's), Kearns* (Jesus, captain), Kershaw* (Worcester), Wilson* (Keble), Saull (Kellogg), Talotti (St Peter's), Pozniak (St Benet's Hall), Fifita (St Edmund Hall), Ball* (Trinity), Elvin (St Hugh's), Henry (Somerville)
Replacements: Thornton* (Lady Margaret Hall), Miller (St Peter's), Parker (Brasenose), McPherson, Adams, Hogg* (all Lady Margaret Hall), Waldouck (Kellogg), Barley (St Edmund Hall)
*Denotes blue