Propping up England: Hartley vs. George
Ben Cisneros looks at battle between Jamie George and Dylan Hartley to be England's first choice hooker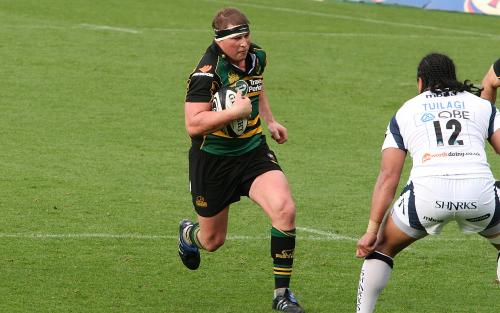 Last weekend saw Northampton demolished by Saracens for the second time in as many months. So far outplayed were the Saints that the much-hyped battle between Saracens' Jamie George and his opposite number Dylan Hartley never really materialised. Yet at international level, the battle has never been so fierce.
Hartley is England's incumbent hooker and captain, appointed controversially to the role by Eddie Jones some 22 months ago. In the time since, he has led England into each of their 20 tests and has emerged victorious in all but one. The record states he is now England's most successful ever captain and England's most capped hooker (86 caps).
George, meanwhile, can now proudly attest to being the Lions first-choice hooker. He may have won all 17 of his England caps from the bench, but Warren Gatland picked him to start all three games against the All Blacks this summer, as they emerged from the series with a draw. He is also part of a fierce Saracens pack which has won back-to-back European Cups, and he scored a hattrick two weeks ago against Wasps.
It's broadly accepted that George is the better player. He offers more in the loose as a ball carrier and has a real turn of pace - the try he scored in the 2015 Premiership final against Bath is not one you're likely to see Hartley finishing. He's arguably stronger in the scrum, and lost only his first lineout of the season last weekend. Hartley's ill-discipline is also well-documented, albeit in a Saints rather than England shirt.
Jamie George has scored 120 points for SaracensPremiership Rugby
However, there is no doubting Hartley's leadership qualities. Jones wanted a talisman around whom to build his pack, and found exactly that in Hartley. The England head coach probably sees something of himself in the Northampton hooker; abrasive, fiery and determined in the way he goes about his business. He wanted someone who would set the tone for how he wants England to play and Hartley has done that, no question.
The typical England game-plan sees Hartley start, with George coming on between the 47th minute (versus Wales in 2017 Six Nations) to the 55th minute (against Italy). George is one of Jones' 'finishers' – members of the squad who came to England's rescue more than once during the Six Nations.
The big question is; don't you want your captain to be on the pitch as long as possible? There were not many times when Richie McCaw, or Martin Johnson were subbed before the hour mark.
"George's dynamism makes him a great impact substitute. Hartley doesn't have this quality. If he doesn't start, it's debatable whether he would make the matchday squad at all."
If Hartley is taken off early in the second-half, who then becomes captain? Owen Farrell seemed to fill that role during the Six Nations so was, in reality, England captain for almost half of the tournament. Changing the captaincy halfway through seems unnecessarily disjointed. If Farrell is worthy of the captaincy, why not give him the armband from the start, given that he invariably plays the full 80 minutes?
And why not play your best players from the start? If Jamie George is the better hooker, surely it is in England's best interests that he plays for as long as possible? The argument might be that Hartley's leadership sets the team up to be in a winning position, before George and co. seal the deal. But in four out of the five Six Nations games, the result was very much still in doubt when the change was made.
You have to feel for Jamie. The record for the most international caps without starting a game is not one that you would want to hold. To his credit, though, he continues to keep his head down and work hard rather than be deterred by his role within the team.
But do Hartley's leadership qualities outweigh George's performances? Jones has often commented on how good a leader Hartley is, and how good he is with people, and this is hugely important for the squad. As the most-capped player in the squad, he has natural authority and the experience to know exactly what is required to fire England up. To lose so many caps from the starting line-up would be significant. New Zealand had 982 when they won the World Cup in 2015, far more than England currently possess. That said, they did have their 113-cap hooker, Kevin Mealamu, on the bench…
George holds the record for most international caps without a test start at 17Raw Rugby
If Hartley is to lose his starting place, who becomes captain? Owen Farrell seems to be the leading contender. The authority with which he plays at Saracens makes him a natural on-field leader, and he is undoubtedly one of players Eddie Jones thinks has the potential to become world class (if he isn't already). He defends aggressively and, as an inside-centre for England, leads the defensive press. In any event, having a leadership group is probably key.
But what of Hartley? Is he really a 'finisher'? George's dynamism makes him a great impact substitute. Hartley doesn't have this quality. If he doesn't start, it's debatable whether he would make the matchday squad at all. Tommy Taylor or Luke Cowan-Dickie might be more appropriate substitutes, but they are both injured at the moment.
The reality is that England need Hartley. Dropping the most experienced player in the squad two years out from the World Cup would be a very risky call. And if he is in the squad he will surely be captain, such is the presence he has developed. And if he is captain, he must start, else his authority off the pitch will be diminished.
There is clearly a huge decision to be made. South Africa had a similar dilemma in 2007, when their captain and veteran hooker, John Smit, was being pressured by the young, explosive Bismarck du Plessis. South African head coach Jake White, supported by none other than Eddie Jones, stuck with Smit and they won the tournament. Du Plessis played only 5 minutes in the final.
Like du Plessis, I think George will be made to wait. Starting Hartley and bringing George on after 50 minutes gets the best out of both players. Hartley is reliable if not flashy, and leads from the front, while George can be a game-changer from the bench.
George's time will come, but for now he continues to be always the bridesmaid and never the bride