Thirteen-man Robinson make history
Harry Normanton reports on a historic afternoon for Robinson as they ran out 17-15 winners against St John's in their first ever victory over the college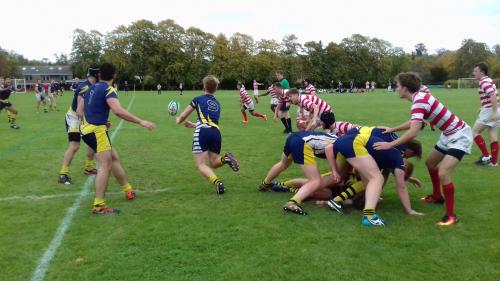 St John's 15
Robinson 17
A missed conversion from the final kick of the game handed Robinson rugby team their first ever win over St John's. Having played most of the game with thirteen men, and spent most of the final fifteen minutes frantically defending their line, Binson seemed to have been denied at the last when the Red Boys' inside centre crashed over to bring them within two points. But the conversion pinged off the right hand post, prompting wild celebrations from the team in blue and yellow.
Going into the game, the odds seemed stacked in St John's favour. After claiming a clean sweep of trophies last season, and winning the start-of-the-year sevens tournament last week, Cambridge's traditional rugby powerhouse must have been confident, especially given their opponents were only able to field fourteen players, seven of whom were playing their first game for Robinson. But it was Binson who started strongest. A combination of decisive running from the backs and indiscipline from John's won them a penalty on their opponents' five-yard line. They opted to tap and go, forgoing the chance of three points in pursuit of five, and their bravery was rewarded when lock Alfred Jacquemot, playing his first game for Robinson, blasted his way over from three yards out after picking the ball up at the back of a ruck. Wing Edward Butler-Caddle missed the conversion. Robinson led 5-0.
Their score came at a cost, though. Talismanic number eight Max Kotz was injured in the build up to the try and forced off for the rest of the match. Undaunted, Binson proceeded to dominate the half. The Red Boys levelled at the twenty-minute mark, but Robinson hit straight back, flanker Piers Crowther – excellent all game as the only member of the Binson back row – scooping up a loose ball and diving over in the corner. Butler-Caddle made a stupendous conversion from the far-left wing, and Robinson led 12-5. That would be the score going into half time, as St John's's attempts to attack were frustrated by a stream of knock-ons and penalties. After the match the Red Boys' captain, Russell Hughes, would point to these lapses as the main cause of his side's defeat.
St John's came out for the second half seemingly determined to make amends. A series of bullocking runs took them deep into their opponents' 22. Although they won a string of penalties, though, a knock-on conceded a scrum from which Robinson fly-half Will Birch was able to thump an emphatic clearing kick. And for all John's's renewed intensity, it was Binson who struck next. Picking up the ball from a ruck on the halfway line, scrum-half Max Orviss darted past the first defender then swerved around two more, before releasing Butler-Caddle, arriving inside at pace. The wing pounded into his opponents' 22, and his deft offload to Birch just before he was brought down took Robinson to the brink of the Red Boys' tryline. After a succession of short blasts from the forwards, John's resolute defensive line finally cracked, and Jacquemot burrowed over for his second try of the game. A missed conversion meant the score was 17-5 to Robinson with 25 minutes remaining.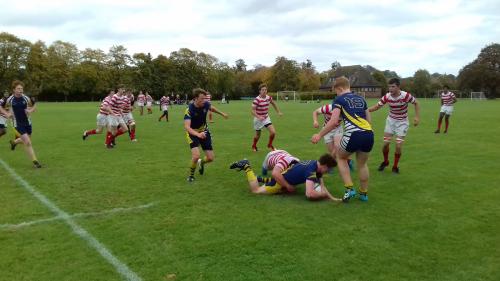 John's were not going to go down quietly, though. They continued to run with determination and were more disciplined at the breakdown. At the same time, Robinson, who had been two players short for most of the match, were tiring. They were buoyed by the belated arrival of Alistair Dewhurst, but their two-man disadvantage was quickly restored when captain Rowan Saada was shown a yellow card for a desperate high tackle. A long period of sustained pressure culminated in the Red Boys ploughing over in the right-hand corner. After missing a difficult conversion, that made the score 17-10 to Robinson with ten minutes to play.
And now the game descended into the surreal. Having held out heroically, Robinson were falling to pieces. Every time the ball went out of play, several players went down with cramp. Half of the team was hobbling, more than running. But still, they kept hurling themselves before wave after wave of John's's attackers, who, sensing an unlikely victory, were crashing into contact with renewed vigour. After the game, as Butler-Caddle remembered: "People were packing up all over the place, but no one wanted to go off, we all wanted to do our bit." On his own outstanding defensive contribution, he laughed: "I don't remember holding the ball for the last 20 minutes! I couldn't think of anything else, just tackling."
As fatigue turned into exhaustion, though, Robinson's defence became increasingly undisciplined. With three minutes to play, Birch was shown a yellow card for a high tackle, hauling down the Red Boys' right winger just short of the line. Within the next two minutes, two more Robinson players were shown yellow cards for repeated infringements, as John's won penalty after penalty in search of the final breakthrough.
When St John's finally broke through as the clock expired, the Robinson 22 resembled something like a battlefield, strewn with the exhausted, broken bodies of defenders. But despair quickly turned to elation as the conversion was missed, securing a victory that will go down in college folklore.
Speaking after the game, St John's captain Russell Hughes said he was not disheartened: "The first match of the season is all about seeing whether the freshers have brought into the team, and the way we came back into the game in the second half and gave Robinson a run for their money… I'm really proud of them."
Robinson, meanwhile, were simply euphoric. Captain Rowan Saada captured the mood best when addressing his team in the immediate aftermath of victory: "That was team sport at its best boys. It's beautiful. It's just beautiful."