Clare student breaks rowing World Record
Tim Tito Rademacher's achievement is a superb display of determination and dedication to his sport, writes Keir Baker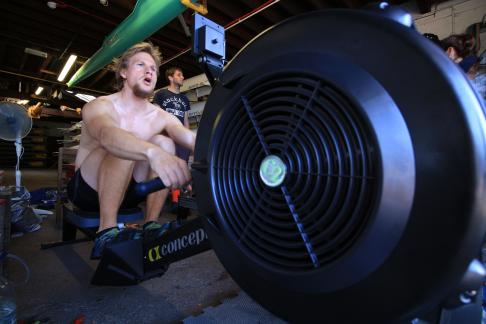 A PhD student at Clare College has broken a world record in a gruelling 24-hour ultra-distance rowing race. Between the 2nd and 3rd of September, Tim Tito Rademacher rowed over 284 kilometres to claim the world record for the greatest distance rowed over the course of a day in the lightweight men's 20-29 age group category.  
The rowing marathon, which took place in Clare College's boathouse and saw the Tripos supervisor row at an average of 2 minutes and 32 seconds per 500 metres, was broadcast live on YouTube. Rademacher – who had provisions of food and water within easy reach of his erg – was accompanied by friends, who took it in turns to row alongside the German: fellow rower Ben Leitch took the 5am graveyard shift, enjoying what he described as a "post-Spoons, vodka-induced" 30-minute stint.
Attempting to break this record had been long in the pipeline for Rademacher. Indeed, his journey towards doing so was the intended subject of a documentary that looks set to be released in December 2016. Entitled 'Unkaputtbar' – which means unbreakable in Rademacher's native German – the film sees several scientists and film-makers following Rademacher as he balances his relentless training schedule with the writing of his PhD thesis, an examination of the impact of vegetation dynamics on the global carbon cycle.
Despite the magnitude of his achievement, Rademacher displayed great humility as he spoke exclusively to Varsity. Far from celebratory, he lamented the fact that he had missed his target of reaching 300 kilometres within the 24 hours. "If I did it again," he said, "I would love to get closer to the 300-kilometre mark".
Rademacher's sporting pedigree certainly cannot be disputed. Alongside his numerous rowing feats, he represented the University in rugby league in 2011 but was forced to quit after suffering an ankle injury while playing for the German national side against Serbia. Meanwhile, in 2012, he pulled on the Light Blue shirt for the handball team and, a year later, represented the University with the men's lacrosse team too.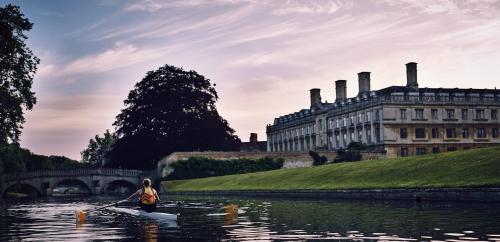 And though his Cambridge sporting career was put on hold for a term-long medical intermission, his return to the University in 2014 saw the start of his rowing career which began first in May 2014 with Clare, followed by a place on the Cambridge University Lightweight Rowing Club (CULRC)'s development squad that summer. A year later, he rowed at bow as part of the Cambridge crew that prevailed over Oxford at the 2015 Henley Boat Races. 
And Rademacher's rowing accomplishments look set to continue further: this is just one of a number of ultra-distance rowing world records that the German is attempting to break this autumn. Indeed, he told Varsity, "the 24-hour world record was never the focus of my training," describing it as a mere "stepping stone" towards the reaching of his two ultimate goals: the one million metre record and "actually producing the documentary, which is proving a big challenge with training, degree and having a life".
Even though "the documentary was only ever intended to be about 20 minutes at most, for quality over quantity," Rademacher is concerned that the realisation of this initial plan "is uncertain because we are currently lacking the necessary resources." 
But Rademacher remains confident that there will be a documentary in one form or another, and acknowledges that there were always going to be difficulties with its production. "We still intend to put something together but it might be a slimmed-down version," he says. ""In fact, the challenge of selling the erging visually was part of the reason why we wanted to do this in the first place. There is no need to bore people with lots of footage of one of the most boring sports on earth!"
Nonetheless, Clare College's official Twitter page congratulated Rademacher on his "amazing achievement". Indeed, this accomplishment caps a successful few months for Cambridge University's second-oldest college: its 1st Men's VIII, of which Rademacher was part, were awarded Blades following their performance in the Bumps of Easter Term 2016, which also saw Clare's 2nd Men's, 3rd Men's, 1st Women's and 3rd Women's VIIIs gain places up the river. Clare were the only Oxbridge college to qualify for this year's Henley Royal Regatta, and also beat the course record for Champs Head in Cambridge.
A short film documenting Rademacher's journey is set to be released in December 2016. A teaser of the film is available on the project's website.