Merciless Jesus scupper Selwyn in Cuppers semi-final
Imran Marashli reports as Jesus defeat Selwyn 4-1 in the first Men's Hockey Cuppers semi-final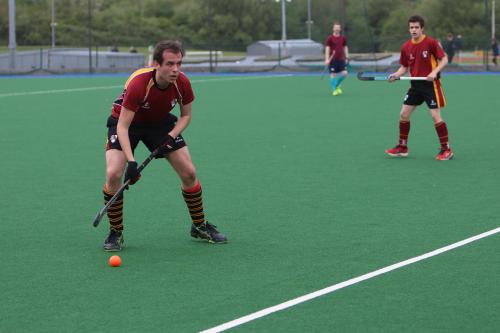 Jesus 4
Selwyn 1
Hockey Cuppers semi-final, Wilberforce Road
Jesus College men's hockey team reached yet another Cuppers final after overcoming a spirited Selwyn side 4-1 at Wilberforce Road on Saturday afternoon. The college hockey heavyweights were made to work hard for their victory, but, able to marry silky attacking with a steely defence, they emerged the worthy winners.
The Jesuans came into the last-four clash as the undoubted favourites, winning the double as recently as 2013 and claiming the league in 2015. But Jesus and Selwyn had both played in the mixed Cuppers semi-final earlier in the day and so had to quickly recuperate their energies for an intense 70 minutes of hockey.
It was the underdog Selwynites, looking for their first Cuppers final place in six years, who started more brightly, with captain Elliot Wilde leading by example with some labyrinthine dribbling and Tom Higgins Toon providing pacy trickery on the left flank. However, disappointingly symptomatic of the entire game from a Selwyn point of view, a single Charlie Stone reverse-stick shot, which was straight at the keeper, was all the Selwynites had to show for their efforts.
And Jesus made them pay dearly. Selwynite keeper Keir Baker was on top form to deny Olivia Shears and Tom Atherton on two separate occasions, the second a brilliant one-on-one save after a looping Devavrata Soni aerial ball bypassed the entire defence. But it was third time lucky for Jesus when, prising open the Selwyn defence, Atherton found himself in space on the left of the D. His shot was well saved by Baker, but the Selwyn shot-stopper was left helpless when the awkward ricochet was bundled in by Allen at the back post.
Selwyn did not feel sorry for themselves, though, and responded positively with more aggressive and intense hockey, led by Blue Edward Bottomley on the right wing and some consummate counter-attacking play initiated from the back thanks to accurate long passes from Alex Harper and Wilde. 
Jesus then doubled their lead on the stroke of half-time to once again burst the burgeoning Selwyn bubble. Allen found himself in space on the left of the D, and his cross-goal shot was tapped home by Soni lurking at the back post. It was perhaps undeserved, but it underlined the Jesuans' clinical ruthlessness up front that ultimately decided the game.
Selwyn looked to regroup at the beginning of the second half but were once again caught out by the Jesus sucker punch at the first opportunity. Baker was called upon to make a superb smothering save from Shears and Soni, and, from the resultant short corner, threw himself to his right to deny Jesus again, but the rebound was tucked away by Chris Lewis-Brown to give Jesus an seemingly unassailable 3-0 lead.
Nevertheless, Selwyn, left with a mountain to climb, gave a commendable go at scaling it. The second half therefore showcased Jesus' iron fist to their attacking velvet glove as they soaked up Selwyn pressure aplenty. And when the defence was breached, Selwyn were further frustrated by an inspired Manu Ratnayake in the way. Two short-corner opportunities came and went, with Atherton denying his opposite number David Cadman after Ratnayake had flung himself left and right to deny Selwyn. Harper, operating in a more offensive role, displayed some of the most eye-catching dribbling all afternoon to make incisions into the Jesus backline, but still Selwyn failed to profit, with one exquisite Bottomley reverse-stick cross flashing across the D with no-one there to poke home.
With 10 minutes left on the clock, the deserved Selwyn goal arrived thanks in no small part to the explosive Bottomley, whose irrepressible dribbling when cutting in from the left earned a short corner. The injection reached Harper, who then bamboozled the Jesus defence with delightfully magical stick skills to set up Adam Shafiq for a simple back-post finish and give the onlooking Selwyn contingent something to cheer after all.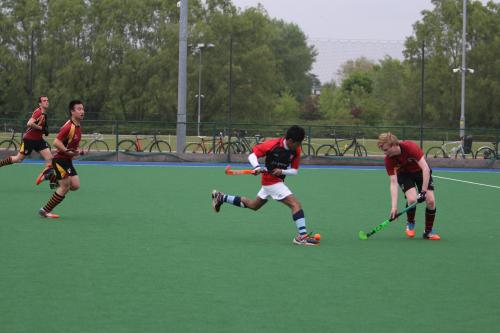 Having finally got their reward, Selwyn had their tails up, but their hopes were dashed for good in the game's last play. Jesus were once more clinical in exploiting the spaces left by Selwyn's late gambles, efficiently taking advantage of the overload to slip in skipper James Douie, who slotted the ball into the far corner and put the icing on the Jesuan cake.
Speaking with Varsity, Selwyn captain Elliot Wilde regretted his side's inability to make the most of their promising moments. "We were particularly unlucky with the first goal, it just rebounded awkwardly. Our defence ran out of steam a bit, and we struggled to score. I thought we held it really well together at the back, and then it got scrappy. When up front, we struggled to get any goals in, so we're a bit disappointed with that. But credit to their forwards because they have some really strong players up front: they're really quick and move it around quite a lot."
Overall, however, it has been a strong season for Selwyn, having made it to the men's and mixed Cuppers semi-final. Wilde added: "[Richard] Wang's been here five years or so and we've never got this far, so it means a lot! But we've got here now, and hopefully we're not losing too many people next year, so if we get a couple of good freshers in we'll definitely be up there next year."
James Douie, on the other hand, could savour the prospect of yet more silverware for Jesus hockey: "I'm really proud of the guys. We did what we needed to do. People all pulled something out of the bag: it was really good. I'm proud of the team – it should be a good final.
"We kept our composure; we were pretty strong throughout", he enthused. "We defended very well; every time they got the ball through to our half they were just man-marked; we never allowed overlaps – nothing, they weren't getting through anywhere. And then on the counter-attack we were quite quick as well. We had Manu in goal doing some beautiful saves – it could have been a very different game if he hadn't done that. Then we worked it through to our forwards; our counter-attacking was quick, and I think that's what got it."
Jesus: Ratnayake, Stoddart-Stones, Graff, Johnson, Parker Humphreys, Edgerton, Hudson, Soni, Allen, Douie (c), Shears, Lewis-Brown, Atherton
Selwyn: Baker, Wilde (c), Webb, Harper, Higgins Toon, Downing, Wang, Masson, Shafiq, Stone, Bottomley, Cadman, Stephenson, Mackey, Hyman