Fraser Gillies kicks CURUFC to first Varsity title since 2009
The Light Blues won the 135th men's Varsity Rugby Match to end a run of six consecutive OURFC victories, writes Paul Hyland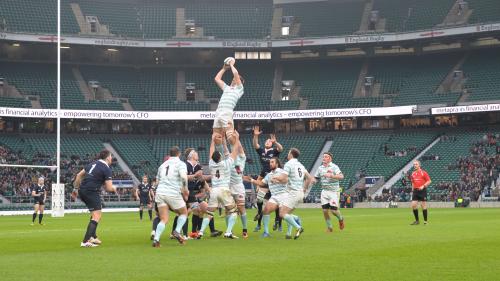 It had been seven years since Aussie Dan Vickerman captained Cambridge University Rugby Union Football Club (CURUFC) to their last victory on the Twickenham turf. But today, a CURUFC side with plenty of international experience has managed to put an end to a run of six consecutive Oxford University Rugby Football Club (OURFC) wins at Twickenham by a score of 23–18.
When the Light Blues last won this fixture in 2009, they did so with the help of a captain who had finished his career with 63 international caps for the Wallabies. Though the pedigree of Tom Stanley, former pro at Hawke's Bay in New Zealand, and Charlie Amesbury, on-loan from Bristol Rugby, does not quite compare, the result was much the same.  
The match's start – however – was not auspicious. It had taken a quarter of an hour for the OURFC's women to get ahead on the scoresheet, and it was even less for the men. On six minutes, Tom Stanley left hands carelessly in a ruck and gave Dark Blue fly-half Basil Strang the opportunity to put his side three to the good. But his penalty bent just outside of the post.
Nonetheless, a second bite at the cherry was quickly forthcoming: with a quarter of the first period gone, CURUFC collapsed a scrum to concede a penalty in much more familiar territory for Strang. And he was never going to miss the chance to make it 3–0 from straight in front of the posts.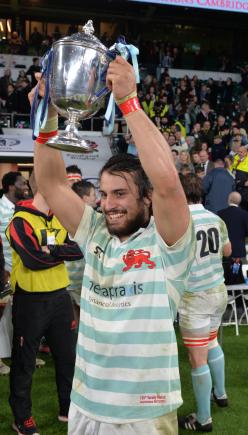 Indeed, the Dark Blues controlled the first twenty minutes, and a try for them felt in the offing as their wingers caused Cambridge a host of problems at the back. Tom Stileman and Ed David looked the likeliest in the first period, but the Light Blues' Michael Phillips was on hand to take David into touch when OURFC looked set to make this pressure count.
And moments later, Phillips' vital intervention paid dividends as – after a few 'nearly' moments, including Simon Davies conceding a scrum for an apparent knock on near the Oxford line – the man from Emmanuel College gave CURUFC the lead thanks to a moment of madness from OURFC scrum-half Henry de Berker. His pass inside his own half, too slow and too flat, was easily intercepted by Phillips, who had a free 30-metre run, and enough time to pick his spot under the posts, allowing Fraser Gillies an easy opportunity to take a 7-3 lead into the break.
But two minutes was all the Dark Blues needed to find themselves breathing down Light Blue necks once again, however. A simply unbelievable kick from Strang, from all of 50 metres, brought his side to within a point.  
Then, the match burst into life. A CURUFC maul - the sort that broke OURFC lines throughout the whole of the contest - yielded a penalty when the referee spotted a Dark Blue player failing to roll away in the ruck. Gillies put the Light Blues four ahead once again.  
And Gillies was at the double not long after, as the Dark Blues took a man down from a lineout just outside their own 22. The angle did nothing to faze the CURUFC fly-half, who scored his third kick and second penalty of the day.  
Though the Light Blues were leading, OURFC's Henry Hughes came close to forcing the issue with most of the second half left to play. The Magdalen man escaped a ruck with the ball and burst clear to deliver the ball to teammate Matt Geiger. The Dark Blue-full back could taste the five points, but was carried out of play by the outstanding Gillies and Charlie Amesbury. The CURUFC back line celebrated putting the ball into touch like they'd just scored a try.
Amesbury himself was utterly brilliant. Just ten minutes in, he sprinted thirty metres just to let Basil Strang know he was there. Not long after, thousands of people in the Twickenham stands let out a collective wince when he put in the biggest hit of the day on Ed David. 
"He ran onto my shoulders a bit," laughed a bloodied and exhausted Amesbury in the mixed zone. "I got hit hard in that game but then it's to and fros, it's a physical game, and you get passionate in those games and the big hits come so I'm just happy I could put in my challenges."
Yet Amesbury could do nothing though to stop Henry Hughes nipping in behind the CURUFC defence from a simple pass to knock down for 11-13. Game back on, and Basil Strang's unerring conversion confirmed what a superb spectacle this occasion had become.
This spectacle was enhanced by Gillies. Though he skewed his third penalty kick high and wide, he did what was needed of him with eleven minutes on the clock. Strang had held onto a ball in the ruck, and there was no mistake from Gillies this time.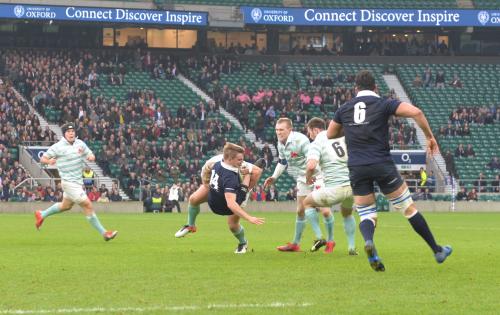 But the Light Blues were fortunate to see their 16-13 lead remain intact when Basil Strang's imperious right boot betrayed him at the sort of penalty you'd expect him to score. The ball squeaked just to the right of the far right post.
Strang would live to regret it. The play of the afternoon was instigated by a marvellous kick from Gillies that found substitute winger Lare Erogbogbo across the width of the pitch. A pass inside to Rory Triniman saw the CURUFC centre collect, spin once and slam the ball down. A nerve-wracking visit to the video referee confirmed it. Try.
Gillies' converted from the tightest possible angle. "Fraser had a great game, he picked out that kick and he slotted most of his kicks barring one," said Amesbury. "When he banged over that extra penalty, it felt like, 'Wow, we've definitely got this.'"
And "got this" they had, even after OURFC's Nic Roberts-Huntley had drawn in two Light Blue defenders before releasing Ed David to narrow the deficit with a well-worked try which Strang, his kicking deserting him, failed to convert what would have been a consolation when the final whistle sounded two minutes later.
So how did the CURUFC team feel after their first Twickenham victory in seven years? "It's just relief," said Amesbury. "The guys are so tight, and the fact that we could win at Twickenham with the blue and white shirt on for Cambridge, it's massive, it's part of history and definitely up there for me."