OURFCW win 30th Women's Varsity Match
CURUFCW fall to an agonising 3-0 defeat after struggling to penetrate the Other Place's defences, writes Paul Hyland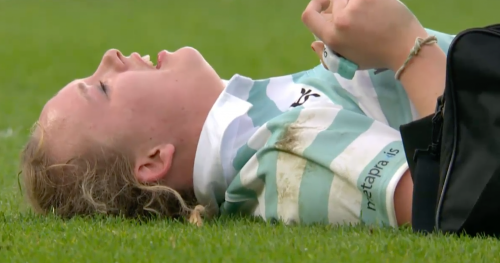 Oxford University Rugby Football Club's Women (OURFCW) have won the women's Varsity Match against Cambridge University Rugby Football Club's Women (CURUFCW) at Twickenham Stadium for the first time in their history. 
In an unlikely repeat of February's BUCS encounter between these two sides, a try-less match finished with the score at 3–0 in the Dark Blues favour. A 15th-minute penalty from OURFCW fly-half Catherine Wilcock well and truly avenged last year's 52–0 humiliation, as the Dark Blues' number 10 calmly dispatched the penalty kick just outside the CURUFCW 22-metre line after referee Claire Hodnett spotted an infringement from the Light Blues' lock Gabriella Johansson, drafted into the starting line-up in the absence of scrum-half Lydie Thorne.
Despite some brilliant runs from both Alice Middleton and Sophie Farrant, as well as some superb forward movement from vice-captain Jess Charlton, the game lacked energy from the very beginning.
CURUFCW played far too much rugby in their own half, generally opting to break forward instead of kicking. Even where the Light Blues managed a rare foray into the enemy half, it would be inevitably brought to a halt by disappointing bits of handling. 
Though the match burst into life in the final ten minutes, with CURUFCW desperate for a try, it simply was not to be for last year's champions: the closest they came to crossing the Dark Blues' elusive try-line came as Chloe Withers – try scorer on this occasion last year – was frustratingly held up on the line. 
Indeed, CURUFCW's failure to spend any meaningful period time in the Dark Blues' territory was punished, as they ultimately failed to overturn the 3–0 deficit at halftime, with the most resilient of OURFCW defences – inspired by the superb Sophie Trott – refusing to yield at any point.
As impressive in defence as she was in attack, Trott put in a player-of-the-match performance (more than worthy of this contest and this arena) to become the first OURFCW captain to lift the trophy at Twickenham.
The Men's match will begin at 2:30pm. Following Varsity's live blog here!