CURUFC announce Varsity match line-up
In an attempt to end their six-year losing streak to their Dark Blues rivals, CURUFC have packed their Varsity match squad with experience and a touch of professional class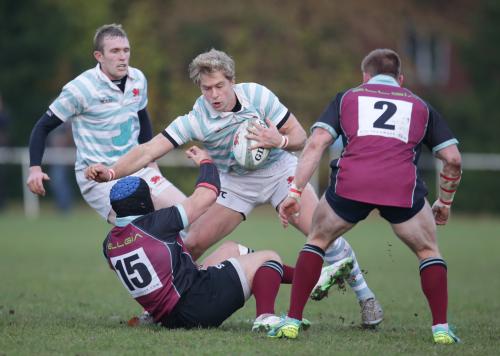 Cambridge University Rugby Union Football Club (CURFUC) have announced their squad for the 135th Varsity Match against their University of Oxford rivals that will take place at Twickenham Stadium on the 8th December at 2.30pm. 
The squad, which contains eight players who have been awarded Blues for appearing in past Varsity matches, represents a strong line-up that will be aiming to try and end CURUFC's six-match losing streak. Indeed, the Light Blues will go into the big game on the back of a four-match winning run that culminated in a 52–26 win over the Steele-Bodger's XV. 
There are a number of notable selections in the line-up, perhaps none more so than the confirmation that Bristol Rugby full-back Charlie Amesbury will follow in the footsteps of Jamie Roberts as the second Queens'-College-based professional in as many years to represent CURUFC. The 30-year-old will line up in his usual position of full-back at Twickenham as one of nine new Blues in the CURUFC starting XV before heading back to Bristol the following week to prepare for a European Rugby Challenge Cup clash with Pau.
Amesbury, a former England Sevens international, has been playing with the Light Blues this term, having been given two months off from his professional contract by Aviva Premiership side Bristol to compete for a Blue and studying  a two-year Master's degree in Social Innovation at the Judge Business School with an eye on moving into business or farming after rugby.
Professional experience can also be found in the CURUFC line-up in the form of Tom Stanley, who was understudy to current Leicester Tigers back row man Brendon O'Connor when he was captain of Hawke's Bay Magpies. The 26-year-old, who already has a First Class honours degree in engineering from Canterbury University, is studying alongside Amesbury at the Judge Business School and is one of six new Blues in the Light Blues' forward pack.
There will be two Irishmen joining Stanley in the Light Blues' back row in former Trinity College, Dublin flanker Brian du Toit and Belfast-born skipper Daniel Dass. Dass will lead the side from No 8 and will be hoping it is third time lucky for him after ending up on the losing side in 2014 and 2015. 
"Even though we lost, 2015 was a fantastic experience and a great game. It was so disappointing to lose, but it was still a great season that built us as a team and me as a person," said Dass.
 "We've gathered a bit of momentum with four wins in a row, but we know that that still won't be good enough on the day against Oxford. Their first-phase defence and desire will be much greater than we have faced recently. We will have to play better than we have been doing to win at Twickenham. We've had some highly competitive games and when we stick to our structures, we look really good."
Elsewhere, CURUFC's loosehead prop Will Briggs will complete the remarkable achievement of equalling the record of six Blues shared by Herbert Fuller (Cambridge, 1878-1883) and Lewis Anderson (Oxford, 2010-2015) as he goes in search of his first win in his final Varsity Match. And the 31-year-old Richard Bartholomew will be aiming to win his fifth Blue off the Cambridge bench, while Lola Erogbogbo will be hoping his identical twin, Lare, can come on to make it a family double after he won his Blue as a replacement last year.
CURUFC Varsity Match 2016 Team:
15. Charlie Amesbury (Queens')
14. Simon Davies (Jesus) *
13. Rory Triniman (Hughes Hall)
12. Michael Phillips (Emmanuel) *
11. Henry King (St Catharine's)
10. Fraser Gillies (Hughes Hall) *
9. Sebastian Tullie (Emmanuel) * 
1. Will Briggs (Magdalene) *
2. Andrew Burnett (Jesus)
3. Jonny Dixon (Downing) 
4. Andrew Hunter (St Edmund's)
5. Tim Bond (Pembroke)
6. Tom Stanley (Magdalene)
7. Brian Du Toit (St Edmund's)
8. Daniel Dass (St Catharine's, captain) * 
Replacements 
16. Simon Hugkulstone (Wolfson) 
17. Henry Somers (Hughes Hall) 
18. Demitri Moros (St John's) 
19. Lola Erogbogbo (Clare) * 
20. Richard Bartholomew (Jesus) * 
21. Chris Bell (Girton) 
22. Lare Erogbogbo (Jesus) 
23. George Griffiths (St John's)
* Denotes Blue