Alice Middleton: 'I reckon there'll be tries, and I hope they'll be Light Blue tries'
Paul Hyland talks tactics, tries, and Twickenham with the CURUFCW skipper ahead of the imminent Varsity match against Oxford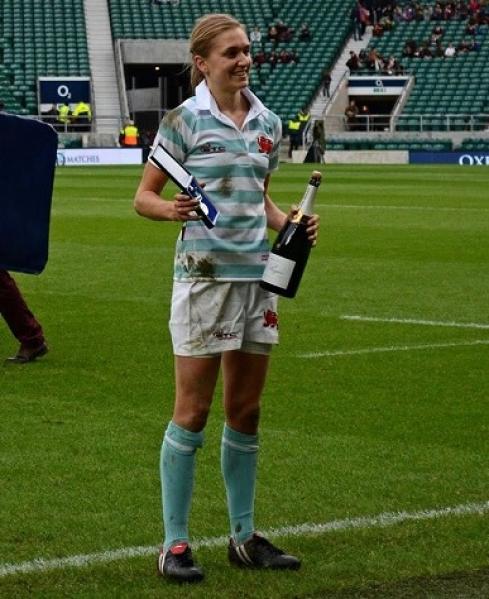 It is 70 minutes into the first ever Women's Varsity Match at Twickenham Stadium between Cambridge University Rugby Union Football Club's Women (CURUFCW) and their Oxford rivals.
The Light Blues are ahead 40–0, while their opponents are shattered. Alice Middleton collects the ball 50 metres from the Oxford try line. In the blink of an eye, she has surged past all 15 Dark Blues and slammed the ball under the posts for a historic hat-trick. Where on earth did that come from?
"I always just go for it," she says. "It was off the back of a move that I knew we were about to do, so I knew I was going to get the ball in a position where there might be a gap, but obviously I knew there might be a fullback or a forward I'd need to beat still, I knew I'd gain some ground, so I just went for it. Then I scored it and I just thought – cool!
"I remember in a number of our league matches I had scored tries. Generally speaking I was in the position near the line, and we'd made the break or the cut that meant we got a try. I thought, 'Do you know, if we're going to score any tries, the chances I'll get a try are quite high!  How cool would that be if I scored a try at Twickenham?'"
In the end she scored three. The postgraduate medical student, who will be captaining the Light Blues in two weeks' time, was responsible for more than half of her team's points in a 52–0 drubbing of Oxford last December – the greatest ever margin in the fixture. Did CURUFCW really see that coming?
"I felt confident going into it, just because I felt like I really backed all of our players, so it's still a bit of an unknown. I didn't really know what was happening at the Other Place. And then once we started, after 10 minutes or so I felt more relaxed, because I felt like we had it in the bag if we just carried on. But, yeah, I didn't know we'd ever by that much!"
The teams have met since. The first clash between the two sides since last year's Twickenham bout was a surprise 3-0 win for Oxford on their home turf, a game which Middleton remembers for being disjointed, as well as for a series of decisions which seemed to go against the away side. But November brought the opportunity to settle the score. "We played them at Grange Road three weeks ago," she says, "and we beat them 22–0, so we took confidence from that and we're working from there."
From Grange Road in November to Twickenham in December – surely that cannot have worn off? "No!" she insists, "It's still ridiculous. So it's two weeks away now, and I was watching the autumn internationals at the weekend, and I was just thinking it's so insane. We're so lucky to be in that position that we can go to Twickenham, and it definitely doesn't wear off. And I don't think it ever will, because for however many years you do it, it's still Twickenham.
"Last year I was excited because I love playing rugby, but I was still nervous because of the occasion and where we were playing. But as I ran out of the tunnel I just couldn't stop smiling, it was just such an amazing experience, and even though I was half crapping myself, I was also half beaming. It just felt like 'Wow!'."
Last year's talismanic try-scorer has also become this year's captain, taking up the mantle from teammate Nikki Weckman. And it is a role she is relishing: "It's exciting because the squad is in a really good position. We're a really tight squad, we're all really good mates and spend so much time together. All put together, we know each other pretty well. So it's nice and I feel honoured to be almost a leader amongst that.
"People at the hospital will ask if I do any sport, and I'll tell them I do rugby, and they'll say 'Oh, ok, what position do you play?' Anyway, it comes around to the fact that I'm captain and they're like 'Oh, wow, that's pretty big!' And I'll think, ok, it's big, but on the other hand it's just what I do. It feels like it's what I do, and I love doing it. I feel like I'm doing a decent job, but it's really difficult to tell. Nikki did such an amazing job last year, I feel like we're a slightly different sort of captain, so I don't think I'd ever try and match her, but I do my own things my way and hopefully it's still a positive thing. And our vice captain is Jess Charlton, who was fantastic last year. She's previously been captain as well, and she's just cracking on the pitch. And we've still got Nikki, so it's just a really good squad to be part of because we've got all these leaders."
With last year being Middleton's first appearance in the fixture, it's fair to say she was a bit of an unknown quantity. Not anymore. If Oxford want to come away from Twickenham with a victory, they'll have to find a way to keep her quiet. Middleton, though, is well prepared. She thinks back to that narrow defeat away to the Dark Blues this February, and recalls how she and Anna Wilson, who also scored a hat-trick in the Varsity match, were marked much more tightly than normal. "But they should have done that anyway!" she says, "You always expect to be tackled no matter what, I don't expect them to think 'Oh, we don't know who she is, we'll let her go past.' That's never a thing in rugby. Their fullback was looking for where I might make my run, and they were starting to mark that. But if we execute our moves well, it's very hard to tackle a well-timed run anyway. And if they leave players to mark me or Jess [Charlton], it'll suck in players and leave space for the rest of the team."
I recall meeting the CURUFCW team just weeks before their first Varsity appearance, and their optimism that it would help increase the profile of the sport. One year on, that optimism has been rewarded. "People are just more and more aware of women's teams in various sports," she explains, "so we've found that people are getting more interested in rugby. We've had big numbers at all of our development days for freshers to come and try rugby. And I think some of that is because people now will think of it as a sport. People are now thinking, hey, maybe rugby! And especially if you've got the chance to play at Twickenham on the horizon, if you train hard for the next three years. So it's definitely helped. It's really exciting, and hopefully it'll continue to grow."
There's even time for some predictions. "I back my vice captain Jess Charlton to have a cracking match. She's been training so positively and playing really well in all our matches, so I think she'll make her mark. Nikki will have a smashing game as well, she's such a consistent player. Predictions?  I think it'll be an exciting game again. I reckon there'll be tries, and I hope they'll be Light Blue tries."