Commanding Caius shock off-colour Downing
Caius's strong defensive performance and a bit of fortune up front saw them stride to a 2–0 win over the misfiring league leaders, writes Imran Marashli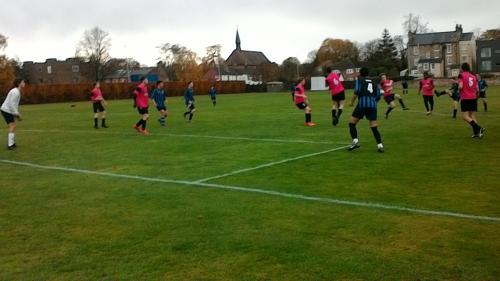 A disappointing Downing I outfit fell to a surprise 2–0 loss, as they were comfortably outplayed by a confident Gonville & Caius I on Saturday afternoon at Barton Road. Barring a few sporadic threats, Caius contained a blunt Downing attack and sealed a convincing win with two first-half goals from Rob Melling and George Tuohy to further rehabilitate their CUAFL Premier League campaign.
Both sides came into the match with some momentum. Downing had only one loss to their name against Jesus I, while Caius came off the back of a well-earned 1–0 victory over Churchill I. Another intriguing subplot to the game could be found in a fraternal battle down the left wing, as Caius' Rob Melling jousted with his brother Adam. Ultimately, it was older brother Rob who ended up with the family bragging rights.
It was actually Downing who had the upper hand in the game's opening exchanges: the rapid and dynamic counter-attacking combination of Adam Melling, Alex Sawyer, Chidera Egbujor and Siddharrth Chandra got in behind the high line and high press of Caius' 4-5-1 formation. 
Two pacy breaks in particular gave Egbajor two golden opportunities to fire at goal from within the penalty area. Frustratingly for Downing, however, Ollie Smith nipped the ball away from him at the last moment on the first occasion, while his shot was too tame to beat Caius keeper Tom Steinemann on the second. Caius looked unsettled, and Downing were certainly the more potent attacking threat for the first 20 minutes.
Inexplicably, however, Downing seemed to fade as a serious threat for the rest of the game as Caius gradually established an ascendant foothold that they would not relinquish until the final whistle. A scramble from a free-kick in the Downing area presented Rob Melling with a golden chance, only for his effort to be deflected wide by Ryun Pang – his own teammate – via the outside of the post. Looking to atone, Pang manoeuvred himself with some skilful footwork in behind the Downing defence by the touchline, but his cut-back proved too hot to handle for an onrushing Melling, with the ball hitting him and rolling agonisingly wide from point-blank range.
Eventually Caius' pressure bore fruit with two goals in quick succession before half time. Their energetic and intense high pressing was epitomised by the indefatigable Angus Bain: he robbed Downing's centre-backs of a bouncing ball just outside the area and slid it through for Rob Melling, who produced a slick finish from the angle to put Caius in front. 
And a few minutes later Caius doubled their lead, albeit in fortuitous circumstances. Caius won the second ball from a free-kick, and the ball dropped on the edge of the area for George Tuohy. His sweetly struck volley took a wicked deflection off Jasper Rossi, looping over a helpless Joel Rogers in the Downing goal and nestling into the back of the net.
In truth, the majority of the second half was mostly an uneventful and drab affair. But no news was good news for Caius as Downing's replacements struggled to change the course of the game. Caius' central trio of Tuohy, Smith and Parker out-passed and out-battled the Downing team, who failed to test Steinemann meaningfully throughout the half or stretch a watertight Caius defence that thoroughly deserved their second consecutive clean sheet.
Caius were disappointed not to have killed the game more decisively, though, spurning a number of chances to add icing to the cake. They regularly got in behind the Downing back four and retained possession confidently as Melling and Parker both went close, while another shot from Parker smacked the inside of the post and somehow stayed out. Parker later slid a ball through for the tireless Bain, whose angled shot was superbly tipped wide by Rogers. Bain almost burst clear once more, but was denied at the last moment by a fine challenge from Green to ensure that the score finished 2–0 to the home side.
Speaking with Varsity post-match, Downing captain Thomas Ingham conceded his opponents' superiority. "Caius deserved to win by more. We didn't turn up today. It's just a shocking performance, and we're all really disappointed. I can't really explain it – it was just a terrible performance. We weren't in the game from any point.
"We played some okay-ish stuff in the first 20 minutes, but it wasn't anywhere near what we have been in the past few weeks, where we've been dominating the game for the full 90 minutes. Caius did a really good job. They were really fit, and were on us every second. Maybe it was complacency – we didn't expect to win, but I think maybe we were a bit too confident."
Caius' recovering captain Ethan Sorrell was delighted with his team's second league victory on the trot, identifying the effectiveness of the 4-5-1 formation and the now settled nature of the team as the key to the performance. He remarked: "My biggest regret is that I didn't get to play! We could've won by more, but we didn't need to. We defended well, as we needed to do in the second half – I couldn't really be much happier with how we played today. If we play like we did today next week, then we should be making it to the next stage of Cuppers."
Gonville & Caius I: Steinemann, Khan, Voice, Harvey, Fletcher, Parker, Tuohy, Smith, Pang, Melling (c), Bain
Substitutes: Ashton, Miller, Purohit
Downing I: Rogers, O'Connell, Rossi, Green, Armstrong, Melling, Glasgow, Sawyer, Ingham (c), Egbujor, Chandra
Substitutes: Rumun, Naik
Referee: Chris Cope