Theatre: A Night at the Opera
Rebecca Roseberg enjoys an exhilarating evening of polished student opera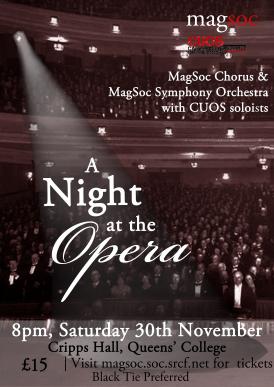 St. Margaret's Society of Queens' College and Cambridge University Opera Society (CUOS) joined forces to put on a night of arias from popular and well-known operas from Mozart to Bizet. The evening promised to be diverse, with the use of different conductors, soloists and leaders in the orchestra.

The night started immediately with the Overture to Le Nozze di Figaro. The triumphant piece was played with gusto, conducted energetically by Alastair Chilvers and led by violinist Lucy Morris. It set the tone for the evening with a professional and rousing performance.

The third excerpt from Handel's Acis and Galatea conducted by Nick Morris with soloist Dionysios Kyropoulos, was a particularly engaging performance with Kyropoulous mastering the drama of the piece. He performed the role believably with emphatic leaps and bounds on stage. His performance in 'The Polovstian Dances' from Borodin's Prince Igor was rendered in a similarly professional manner. He performed from the balcony of Cripps' Hall, giving his role a regal air; there was even a royal wave during his performance. Nicholas Doig also gave a standout performance as the soloist for "Largo al Factotum" from Rossini's Il barbiere di Siviglia. He commenced the piece while in the audience and leapt onto stage, gesticulating passionately and moving with confidence. His engaging performance was the highlight of the evening, and gave an insight into the theatrics of opera.

Olivia Bell and Alexander Gebhard gave a believable performance of "Libiamo Brindisi" from Verdi's La Traviata, who seemed to share several flirtatious moments on stage. Susan Thampi also gave a delightful performance of "Habanera" from Bizet's Carmen. The renowned excerpt was performed with less passion than the other soloists but still did justice to the piece.

The MagSoc choir performed consistently throughout the evening. Particular highlights include Verdi's "The Anvil Chorus" from Il Trovatore, which also featured (amateur) musical involvement from the Senior Tutor of Queens' College, adding comedy to the already jovial piece. The choir's prowess was clearly demonstrated during 'Chorus of the Hebrew slaves' from Verdi's Nabucco, the choir, orchestra and conductor Nick Morris all showing professionalism during the triumphant, epic moments as well as the softer, calmer sections.

Overall the evening was enjoyable. Any opera fan from the enthusiastic beginner to the seasoned connoisseur will have loved the diverse selection of music, the various accomplished conductors and soloists, as well as the use of the choir who performed their pieces with gusto, but also fleshed out the programme and the night with climactic moments. Due to their consistency throughout the repertoire, the orchestra became the backbone, without which the evening would not have been such a satisfyingly professional experience.

All in all, MagSoc and CUOS filled Cripps' Hall with rousing, triumphant music that made for an elegant and exhilarating Saturday evening.