TV Round-Up: The Crown
Does Netflix's new costume drama live up to its previous successes? Samuel Weinberger sits down and finds out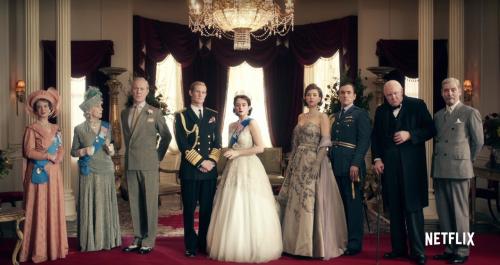 When the publicity material for a show focusses on its budget, you know you're watching a Netflix production. However, this one has a pedigree, coming from the pen of The Queen and The Audience writer Peter Morgan. Although The Crown starts a bit slowly, if you stick with it you'll be in for a royal treat.
"it felt like we were watching a depressing (and much inferior) sequel to The King's Speech"
The first episode was, indeed, a 'slow-burner,' i.e. nothing really happened. Elizabeth got married, everybody smoked and coughed like they were in a public health ad and King George almost died, but didn't. This rendered the whole episode practically pointless, because Elizabeth's story couldn't get started. I found this focus on King George's lung cancer somewhat baffling; it felt like we were watching a depressing (and much inferior) sequel to The King's Speech. Although the sets, costumes and cinematography were all exemplary, without a gripping story all it amounted to was window-dressing. While the second episode did focus more on the royal couple, on safari in Africa, I still got the impression of being taken for a ride in the royal Jeep, and not in a good way.
It wasn't until the death of King George in the fifty-ninth minute that the story began. In episode three, Elizabeth became the protagonist and we could really empathise with her doubts and insecurities as she grew into her new role, battling with her pushy spouse and patronising prime minister: taking centre stage forced her to become a fully rounded character rather than a cardboard cut-out, and Claire Foy's acting took on an astounding level of nuance, so that we could tell exactly what Elizabeth was thinking in every scene.
The plotting became much more focussed, too. Whereas in episodes one and two we were unsure where the story was going, in this episode each scene contributed to the overall plot arc and watching it unfold was genuinely satisfying. The dialogue also took on a layer of subtext that had been all but absent before, one stand out scene being the confrontation between the Duke of Westminster, he of Wallis Simpson infamy, and the Queen Mother, ahead of King George's funeral: You could really feel the daft Duke squirming under his mother's unremitting barbs. Could Eileen Atkins' Queen Mother be the heir to Maggie Smith's Countess of Grantham?
The strong story kept us involved and really made us feel part of the royal household; suddenly all the fantastic costumes and meticulous research flourished: I couldn't stop watching. The only place this episode dragged was an extended and wholly unnecessary montage of various couples dancing, which was a shame because it detracted from the intensity of what had gone before. The Crown was so nearly a royal flop, but it was saved by good writing and good plotting. This just goes to show that, no matter how much money you throw at it, what really draws in the viewers is an engrossing story. I can't wait to see what happens next. Verdict: Long live The Crown